On Wednesday April 4th, thousands of civil rights advocates gathered at colleges, town-halls, city parks and places of worship throughout the American homeland to take part in a day-long tribute to Rev. Martin Luther King Jr. (MLK) on the 50th anniversary of his assassination.
From coast to coast, communities were encouraged to join in the nationwide network of 'Freedom Bell' ceremonies to honor Dr. King's legacy while recommitting today's social activists to the task of creating a world embraced by peace, equality, justice and humanity. Cities and supporters marked the anniversary with commemorative presentations, speeches, musical performances and scripture readings. The respectful moments of silence observed during reverent events of the past were replaced with the joyful ringing of bells to salute King's sacrifice to non-violence and justice.
MLK observances were scheduled that day, from Memphis where Dr. King was killed by a bullet on a balcony, to King's hometown of Atlanta, where Commissioner Avery D. Niles of the Department of Juvenile Justice (DJJ) was given the high honor of serving as Master of Ceremonies over the 2018 Freedom Bell event at Stone Mountain. The Georgia State Patrol Honor Guard conducted the occasion with full public honors, presenting the colors in special recognition of Atlanta's fallen "apostle of non-violence".(1)    
The Atlanta MLK commemorative event was organized by the Martin Luther King, Jr. Advisory Council, appointed by Governor Nathan Deal in remembrance of the extraordinary life and good works of Dr. King. Advisory Council members are responsible for planning and presenting the Stone Mountain program each year to help promote Dr. King's beliefs in non-violence and dignity as the means to achieve equality for humankind, irrespective of race, beliefs or social status.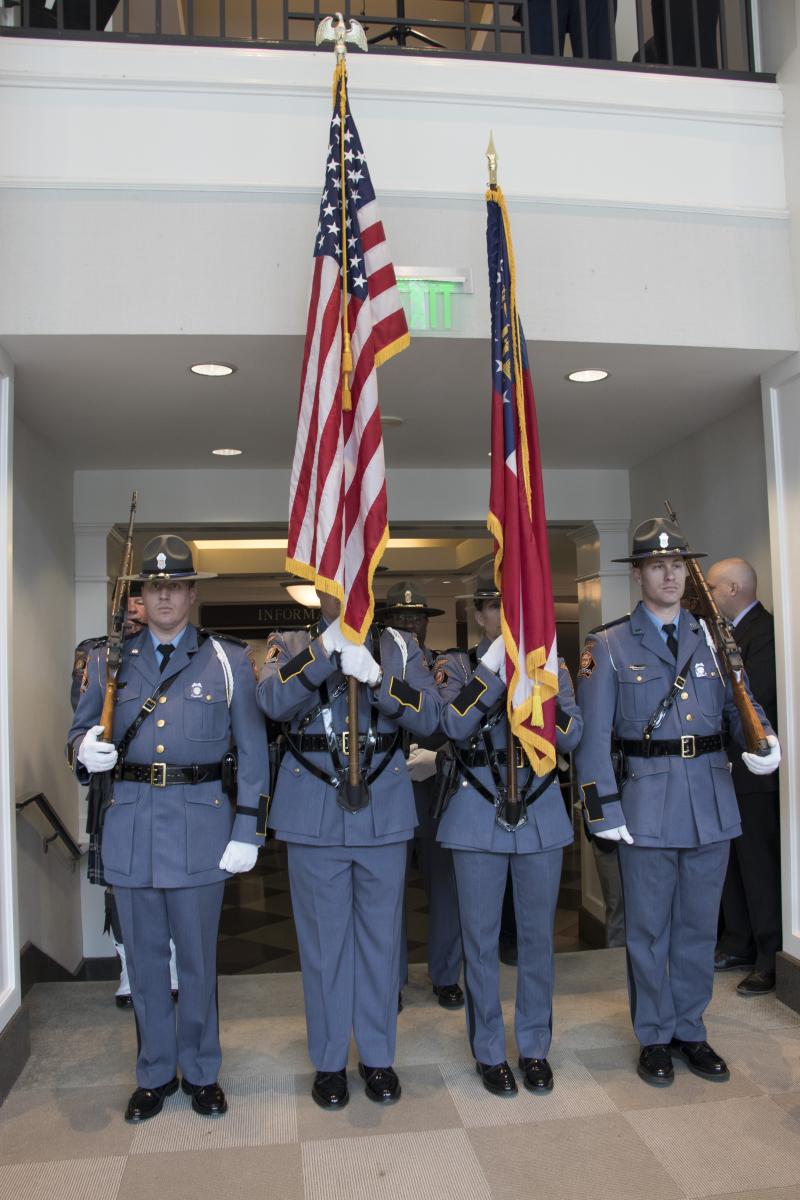 Georgia State Patrol Honor Guard
Commissioner Niles told the standing-room-only crowd that even after half a century, the people of the State of Georgia still "keep a special place in their hearts and in Atlanta history for Dr. King."
Commissioner Niles said, "Standing in the shadow of Atlanta's celebrated Stone Mountain, we remember these watchwords from Dr. King's famous 'Dream Speech': 'Out of the mountain of despair, a stone of hope'."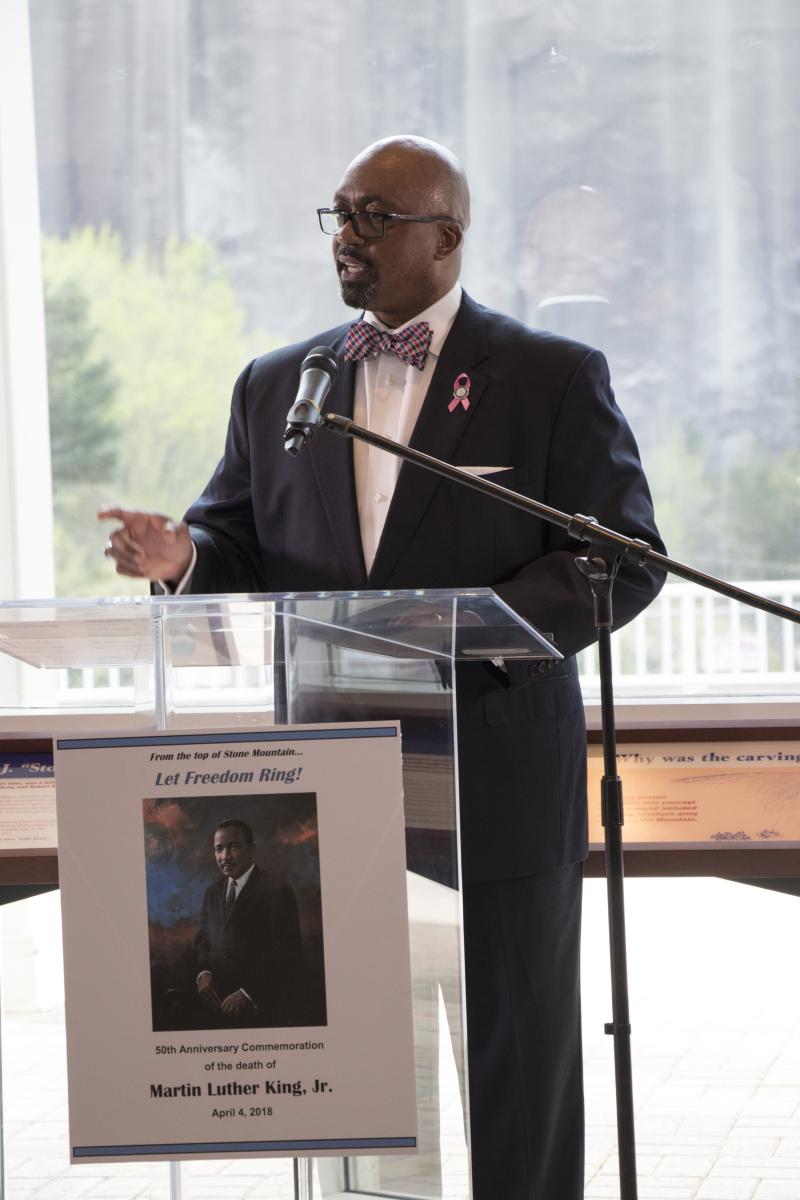 Georgia Department of Juvenile Justice Commissioner Avery D. Niles
Commissioner Niles told his audience that while growing up in a single parent home, he was personally familiar with the kind of struggle faced by a poor kid in a tough neighborhood, while searching for a mentor and the right direction in life.
Niles said as a youth, he was profoundly impressed by the examples of Dr. King's life and message in the state where he was growing up.
"Dr. King's message still resonates today," the Commissioner said, "Though many tasks are left undone." 
Niles said as a boy and later as a leader, he has frequently drawn inspiration from Dr. King's words, "Injustice anywhere is a threat to justice everywhere."
Niles explained that when his career path led him to the Department of Juvenile Justice, he found new opportunities as Commissioner to work on behalf of Georgia's at-risk youth and for communities that have been impacted by injustice and juvenile crime. Niles had high praise for more than 4,000 juvenile justice professionals at DJJ who also serve as change-agents for justice in the lives of Georgia's young offenders.
"My spirit is lifted by the good works produced by the modern juvenile justice reforms put in place by Governor Nathan Deal and the Georgia General Assembly. The justice system reforms championed by Governor Deal have helped us re-shape the way we educate, rehabilitate and re-direct the youth in our custody and care," Commissioner Niles said.
Niles explained that juvenile justice advances made during the 50 years since Dr. King's death have made it possible to incarcerate far fewer of today's young offenders behind the razor wire and steel doors of secure detention in Georgia.
He said most low-risk juvenile offenders are unlikely to break the law again. So they are less frequently placed by the courts in secure detention facilities where they would be more likely to be influenced by the negative behaviors of high-risk offenders. Instead, Niles said low-risk youth receive supervised treatment in their own communities.
On this historic occasion Niles challenged his audience to remember Dr. King's words about helping your neighbor. "Life's most persistent and urgent question is, 'What are you doing for others'?"
Niles said, "As a community, in memory of Dr. King, it is our duty to support Georgia's returning youth who have served their time and give them the chance to come home, to get a job, start a family, and finally embrace life as productive law-abiding citizens." 
Commissioner Niles read a special proclamation on behalf of Governor Nathan Deal, delivered in official observance of the 50th anniversary of the assassination of Rev. King and the special Freedom Bell ceremonies at Stone Mountain to honor the memory of Dr. King.
Niles helped distribute small shiny hand bells among every member of the audience and then stood with the crowd listening as each member of a line of 39 participants read an inspiring sentence to describe King's legacy as they rang their bell. The bells tolled 39 times at Stone Mountain, and throughout the nation, to mark the age of the Rev. King at the time of his assassination.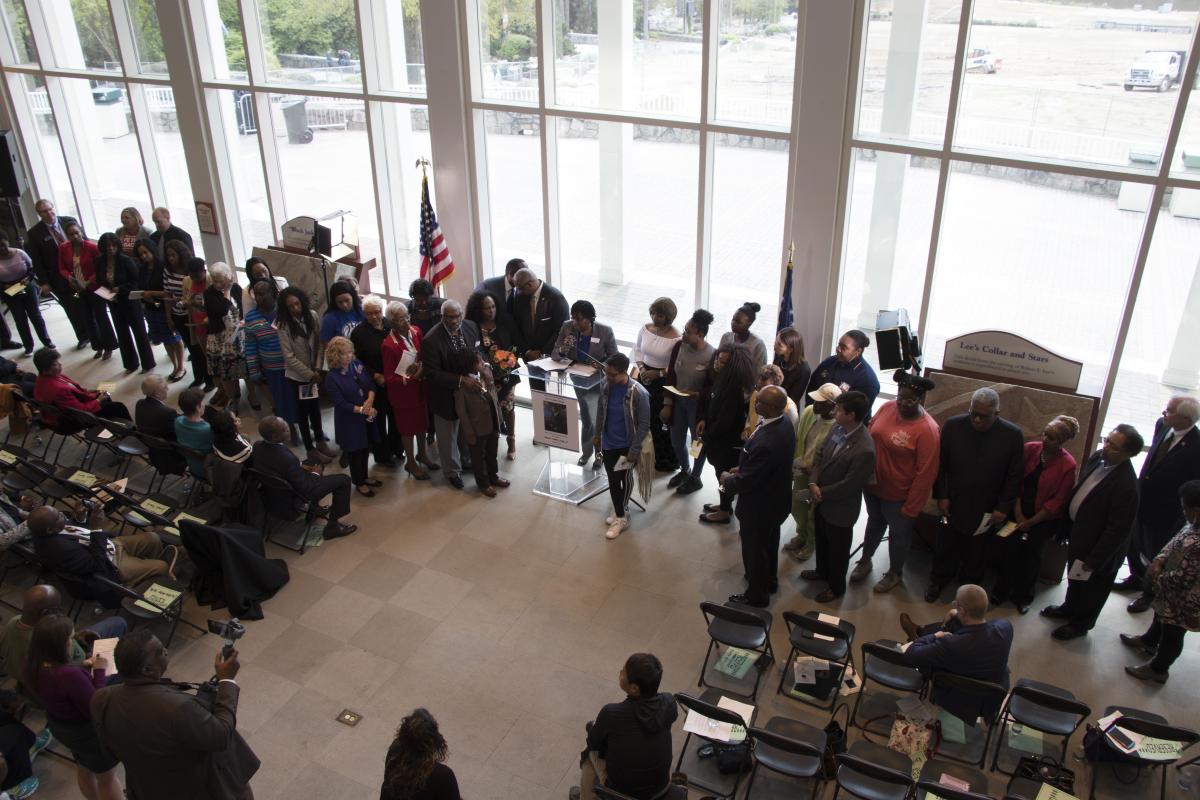 Attendees ring bells to honor the legacy of Martin Luther King, Jr.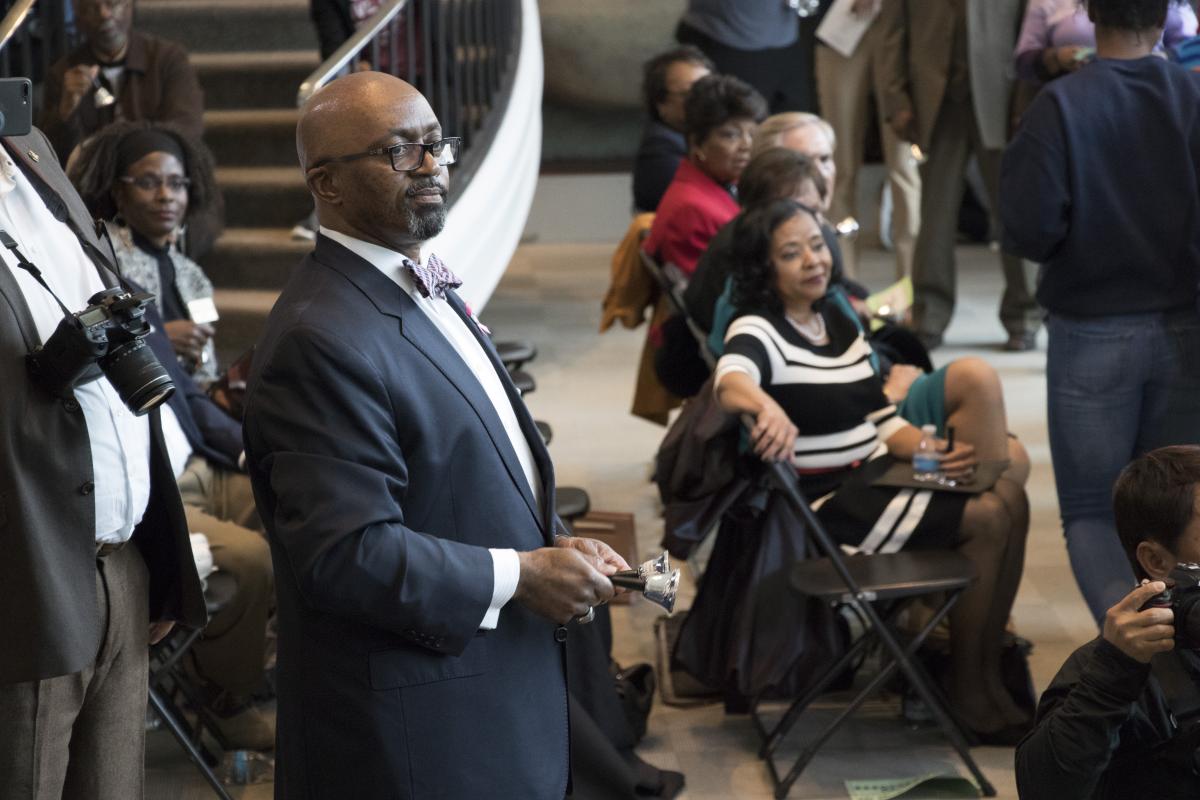 "We share his enduring message of racial equality and his abiding belief in justice for all men each time we meet our challenges at DJJ," Commissioner Niles said at the end of his memorial address. "At DJJ we say, 'Each One. Reach One. Teach One. Keep One.' And half-a-century after Dr. King's death, we would like to think that's how Dr. King might have approached our work too. 'Let Freedom Ring' from this very mountain top and help us preserve the legacy of Dr. King."
The Stone Mountain memorial program was a well-attended two-hour event that featured national, state and local officeholders and notables from Georgia's civil rights, faith and academic communities.
Civil rights speakers included: Kristie C. Raymer, vice president of the National Center for Civil & Human Rights; Teresa Hardy, president of the DeKalb County Branch of the NAACP; Senator Lester Jackson, who represents Georgia State Senate District 2 (Savannah) and appeared on behalf of the Georgia Legislative Black Caucus; and Representative Sandra Scott, who represents Georgia House of Representatives District 76 (Rex) and is also a member of the Legislative Black Caucus.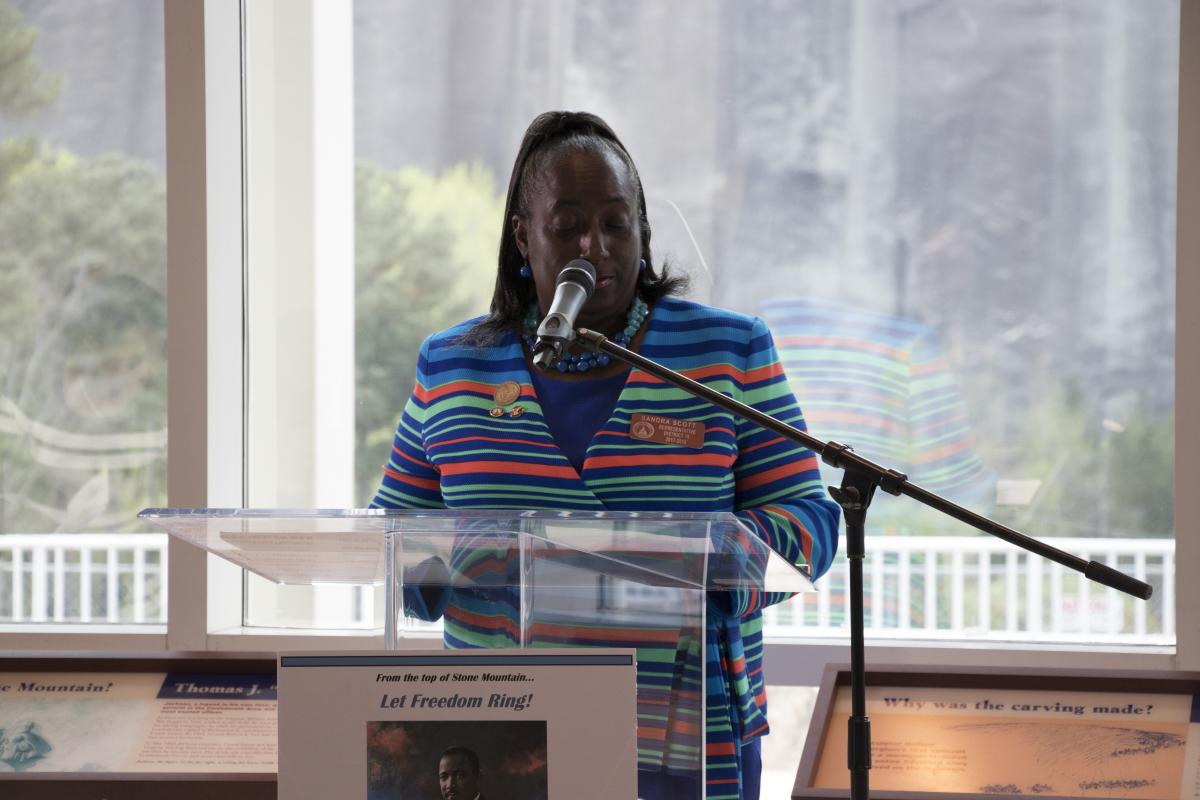 State Representative Sandra Scott
Faith community speakers included: Jerome Ware, Sr. of Shiloh Baptist Church; Marquil Chandler of E2VG Church; Dr. Reverend E.W. Lee, pastor of Shiloh Baptist Church; and Judy C. Marx, executive director of the Interfaith Community Faith Initiatives.
Included on the list of educators were: Kelvin Jones of Carrollton Middle School; Camryn McGregor of the University of West Georgia; and Deidre Rouse, director of Diversity Education at the University of West Georgia.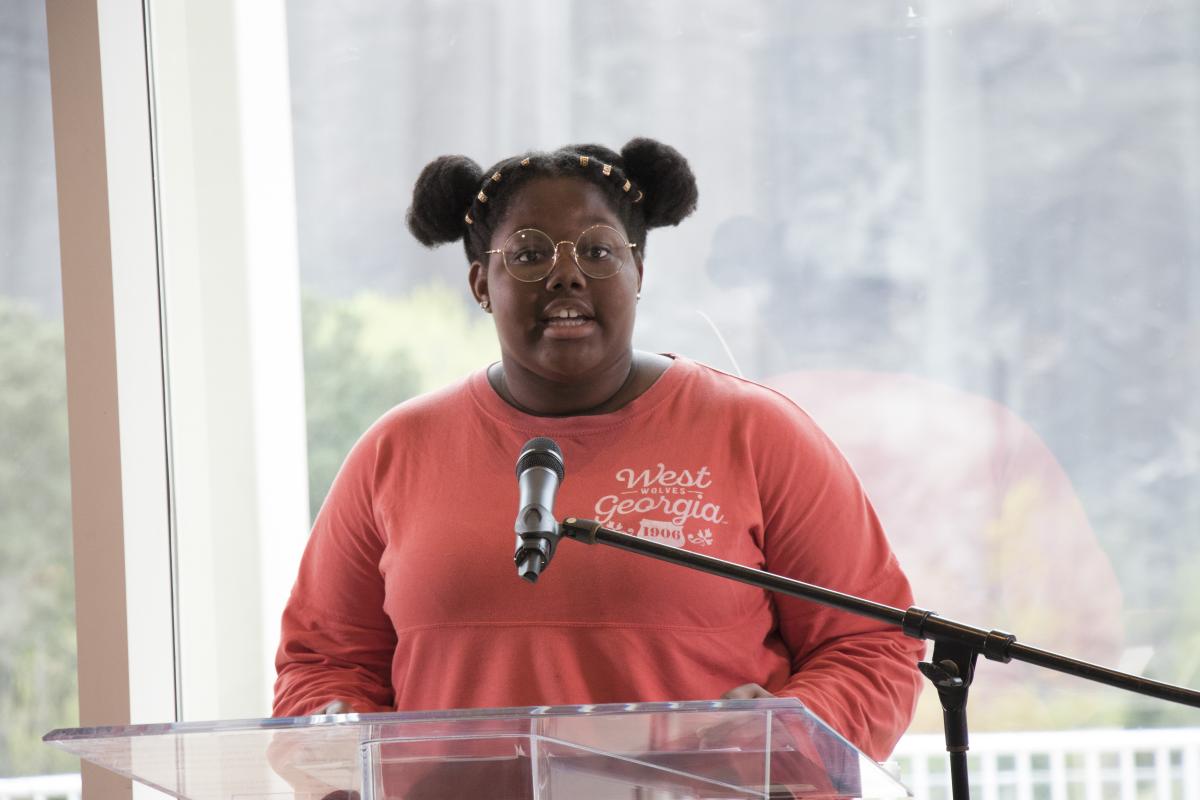 Camryn McGregor of the University of West Georgia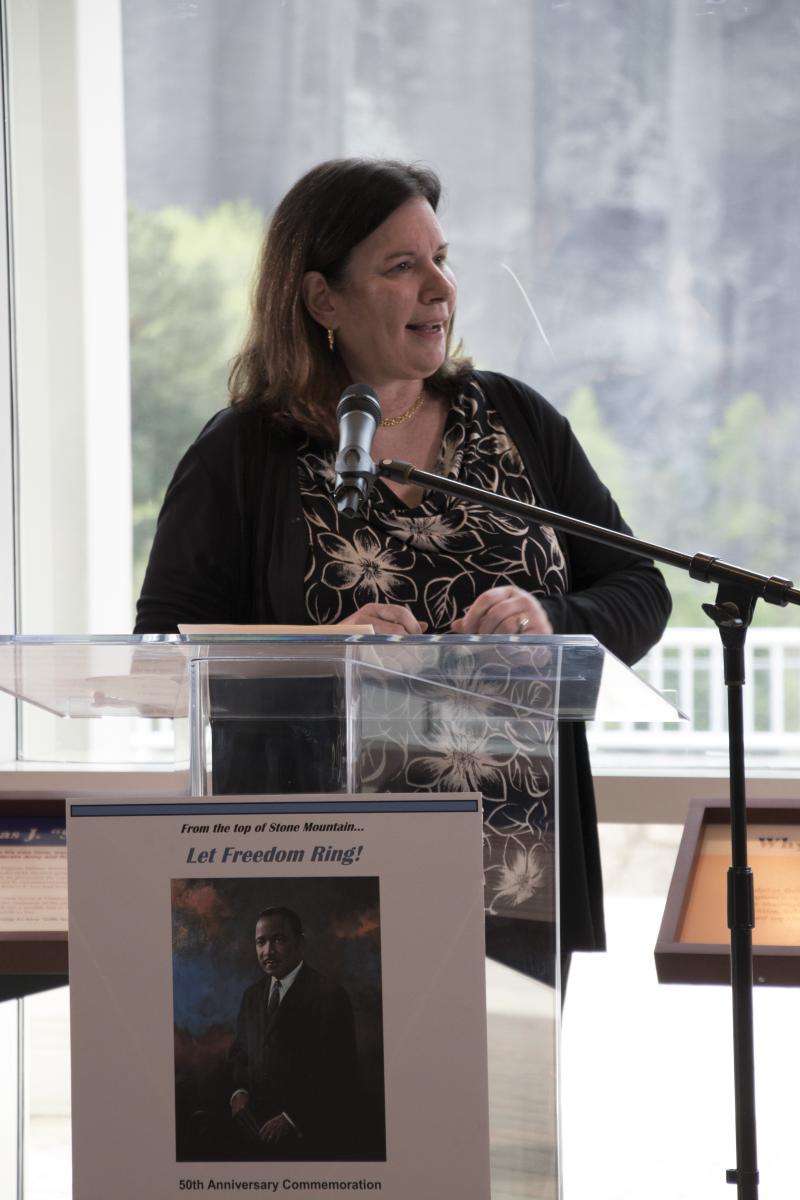 Judy C. Marx, Executive Director of the Interfaith Community Faith Initiatives
Other elected office holders included U.S. Representative Hank Johnson, who represents Georgia's 4th Congressional District; Patricia Wheeler, mayor of the City of Stone Mountain; and Michael Thurmond, DeKalb County CEO.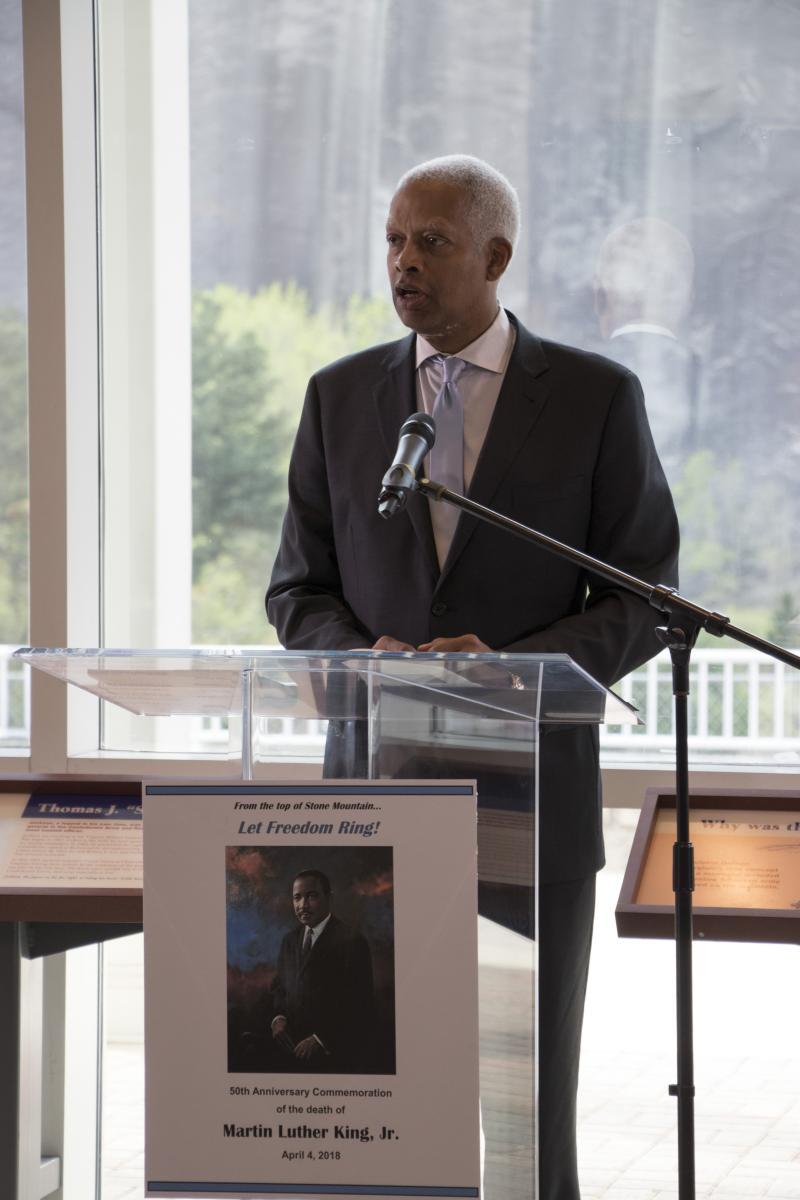 U.S. Congressman Hank Johnson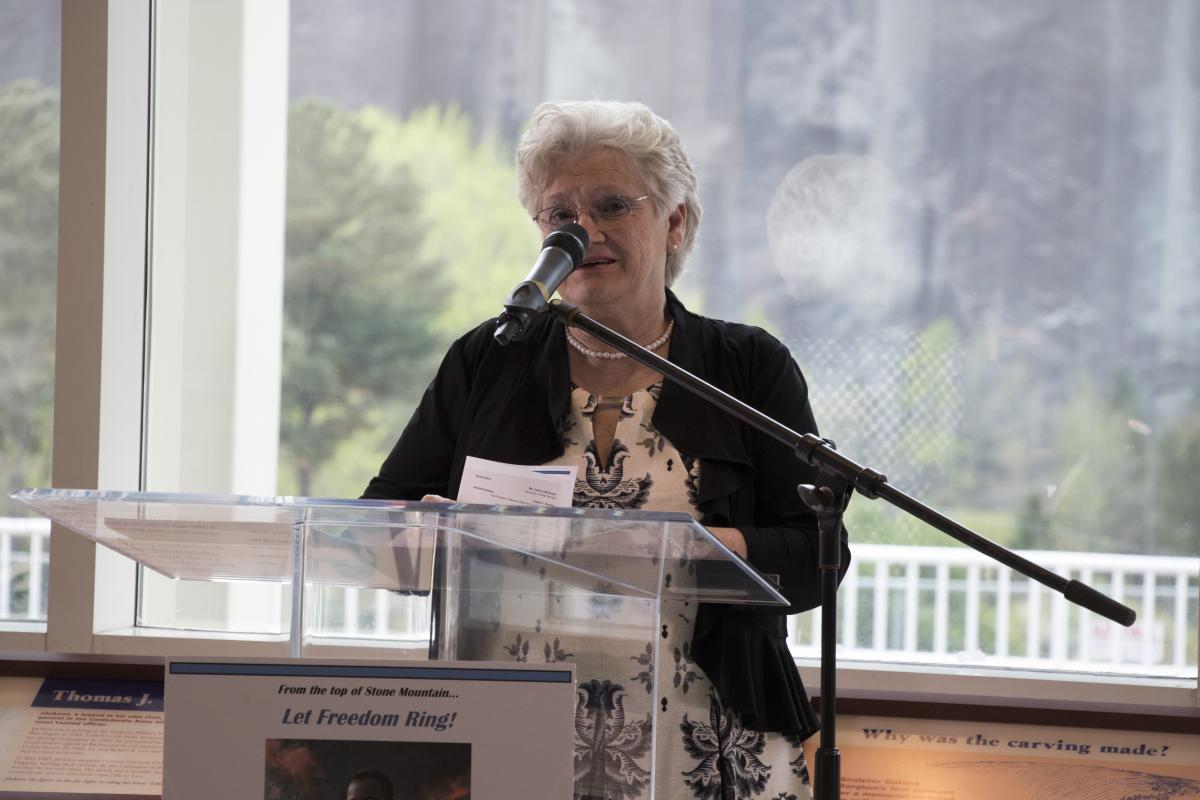 Patricia Wheeler, Mayor of Stone Mountain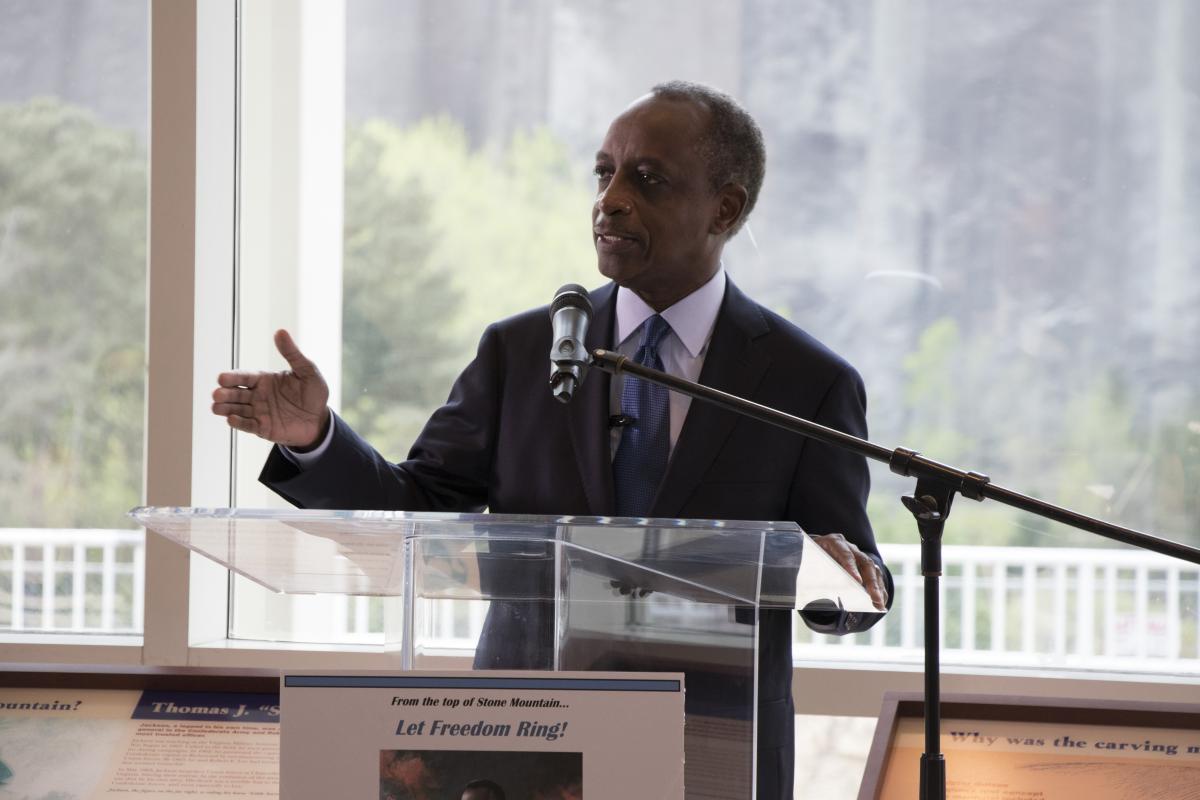 DeKalb County CEO Michael Thurmond
Other speakers included Rusty Haygood, deputy commissioner of the Georgia Department of Community Affairs and Demarius Brinkley, Member of the MLK Jr. Advisory Council.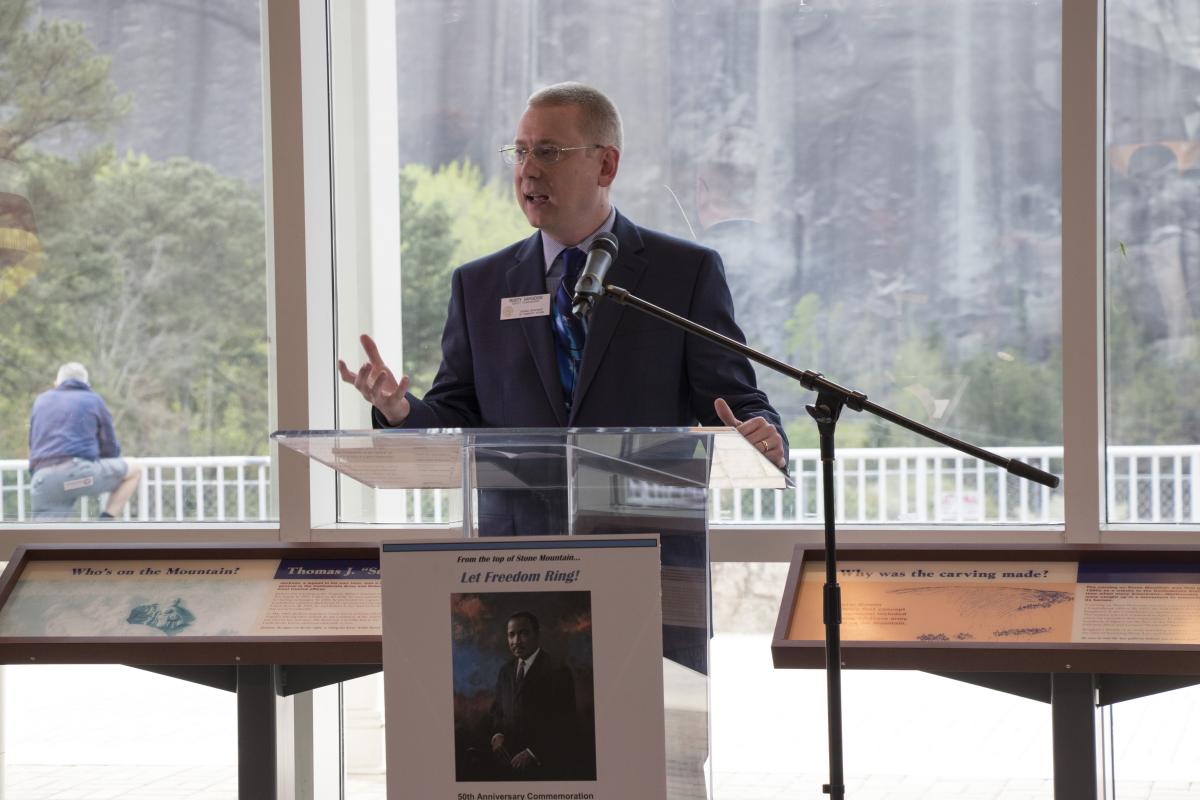 Rusty Haygood, Deputy Commissioner of the Department of Community Affairs 
Advisory Councilmember Demarius Brinkley
The program ended in prayer with each attendee standing hand in hand with their neighbor. Organizers are already making plans for a memorial celebration at Stone Mountain for the 51st anniversary of King's death.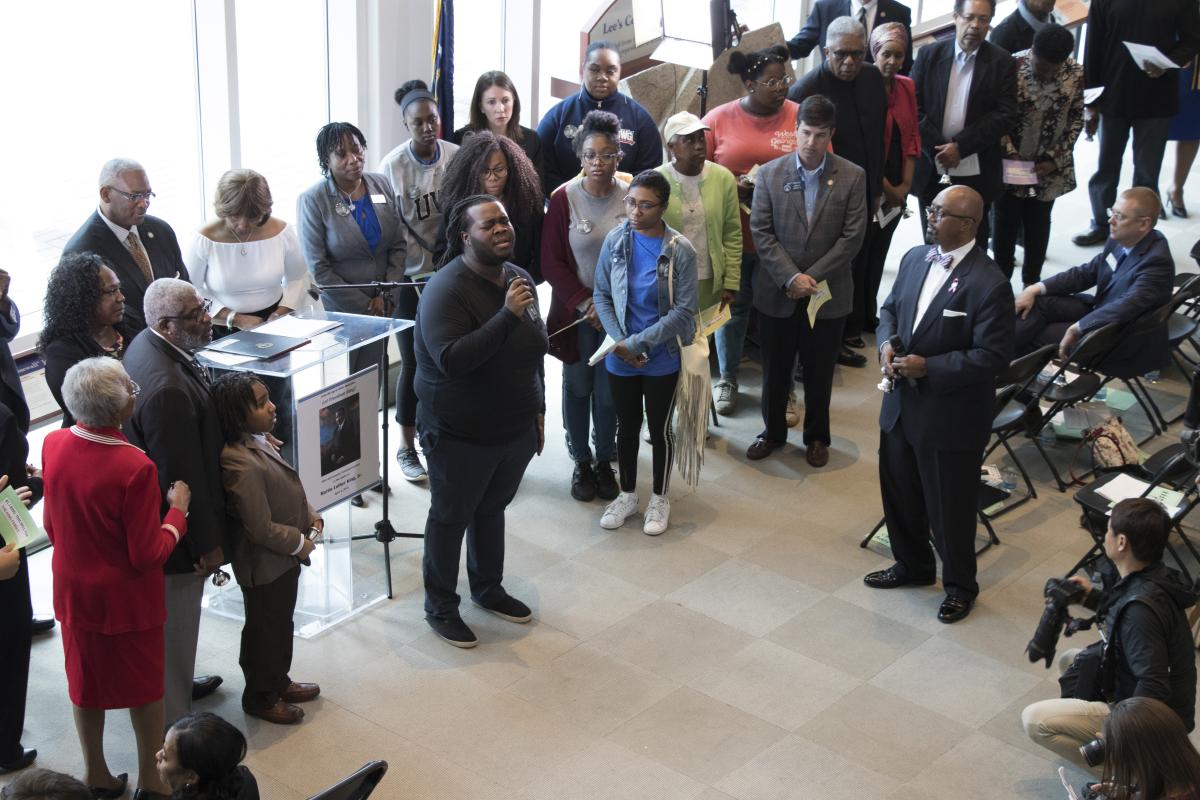 Footnotes:
 "the apostle of non-violence". Rev. Bernice A. King, Daughter of Martin Luther King Jr.
'Freedom Bell' ceremonies. Atlanta, GA., April 4, 2018