Office of Chaplaincy Services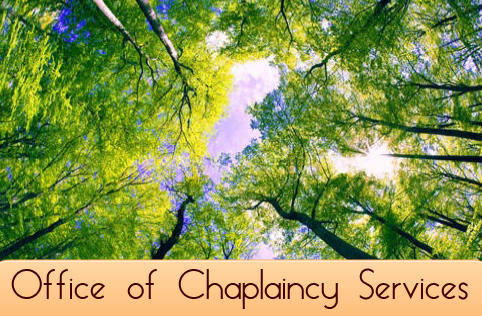 OUR MISSION
The Office of Chaplaincy Services supports the Department of Juvenile Justice's mission by ensuring First Amendment Rights to religious freedom, expression, and resources, including Pastoral Care to youth and staff through spiritual guidance, support, crisis intervention, and religious education.
OUR VISION
To establish hope, a commitment to community, the duty to care, and positive change through accountable and responsible youth leadership and service.
OUR GOAL
To equip each youth with tools to develop their spiritual life.
OUR WORK/PASTORAL CARE
An essential element in the work of Office Chaplaincy Services staff is to oversee the quality of religious programming and to discourage proselytizing by staff and volunteers. Educating and sensitizing staff regarding various faith and cultural traditions is another way the Chaplain helps ensure a just and non-discriminatory environment. As a psychosocial and spiritual counselor, the Chaplain aids the recovery and rehabilitation process and the spiritual formation of DJJ youth.
The Office of Chaplaincy Services has established Pastoral Care as the standard for institutional ministry in the Department of Juvenile Justice. 
"A form of religious ministry to persons whether their situation is critical or not - it is a relationship as pastor (shepherd) "to feed" or "to nourish" and to be a teacher to people in their search for the meaning of their past histories, the nature of their calling, life, and the quality of hope that endows their ultimate concerns."
-- Wayne E. Oates, The Christian Pastor
CHAPLAINCY SERVICES STRATEGIC COMMUNITY PARTNERS
The Candler School of Theology
Since 2015, an innovative partnership between Emory's Candler School of Theology and the Georgia Department of Juvenile Justice has allowed more than 40 Candler students to serve as chaplain interns at the Metro Regional Youth Detention Center in Atlanta. The partnership enables Candler students to strengthen their chaplaincy and pastoral care skills through hands-on engagement with court-involved youth. It also provides ongoing support for the Office of Chaplaincy Services.
Candler Divinity Students Building Relationship with DJJ Youth
----------------------------------------------------------------------------
Let us know your interest and commitment to becoming a faith community partner with the Office of Chaplaincy Services. Email us concerning the areas listed below.
THE RESTORATION OF HOPE:
The proclamation of the word broken spirits opens blind eyes and deaf ears to the unlimited possibilities within the grasp of the youth and their families. Invite DJJ Youth and their families to your worship service.
TEACHING SPIRITUAL DISCIPLINES: 
Chaplaincy Services promotes the teaching of prayer, meditation, study and service.
Four spiritual disciplines allow DJJ youth to explore and embrace their spirituality: to be responsible for their own decisions.
MENTORING:
The Office of Chaplaincy Services recommends a 90-Day Commitment to Community to DJJ Youth upon their release:
Youth may benefit significantly from your 90-day commitment as a spiritual guide who encourages youth to remain on the path, become law-abiding citizens and servants in their community, and stay faithful to God. 
HAVE A CONVERSATION WITH THE DIRECTOR OF CHAPLAINCY SERVICES AND OUR CHAPLAINS
Emily Kelly, M.Div
Chaplain, NW Region/SW Region/SE Region
Cell: 404-416-3343
[email protected]
Larry Hill
Chaplain, NE Region
Cell: 404-821-2981
[email protected]
Tavious Mays
Chaplain, SE Region
C-e-ll: 404-821-2981
[email protected]
Christopher Russell
Chaplain, SW Region
Cell: 404-416-3343
[email protected]