DJJ Chaplaincy Services
ocsdjjlogo.jpg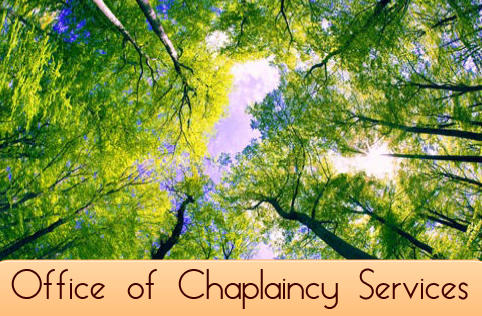 The Office of Chaplaincy Services supports the Department of Juvenile Justice mission by ensuring First Amendment Rights to religious freedom, expression and resources which includes Pastoral Care to youth and staff through spiritual guidance, support, crisis intervention and religious education.
The Chaplain acts as a gatekeeper, who facilitates access to various religious traditions and protection of religious freedom. As spiritual counselor, guide and mentor for DJJ youth, chaplains help to guarantee First Amendment rights and work toward freedom from discrimination.  Educating and sensitizing staff regarding various faith and cultural traditions is another way the Chaplain helps to ensure a just and non-discriminatory environment. As psychosocial and spiritual counselor, the Chaplain aids the recover and rehabilitation process as well as spiritual formation of DJJ youth.  One of the primary roles of the Central Office Chaplaincy staff is to oversee the quality of religious programming and to discourage proselytizing by staff and volunteers.
PASTORAL CARE
"A form of religious ministry to persons whether their situation is critical or not - it is a relationship as pastor (shepherd) "to feed" or "to nourish" and to be a teacher to people in their search for the meaning of their past histories, the nature of their calling, life, and the quality of hope that endows their ultimate concerns."
-- Wayne E. Oates, The Christian Pastor
THE PURPOSE OF PASTORAL CARE
To bring into focus a calling, meaning and hope out of pain, boredom, purposelessness and despair of human existence. Pastoral care is a durable, meaningful pastoral relationship offered by an identified religious person to promote the physical, emotional, social and spirtual dimension of health and wholeness in human existence.
For every tree is known by his own fruit.  For of thorns men do not gather figs, nor of a bramble bush gather they grapes. Luke 6:44
CHAPLAINCY SERVICES STRATEGIC COMMUNITY PARTNERS
Let us know your commitment by emailing us regarding one or more areas on the list below.
The Restoration of Hope:
The proclamation of the word to broken spirits opens the blind eyes and the deaf ears to the unlimited possibilities within the grasp of the youth and their families.  Invite DJJ Youth and their families to your worship service.
Teaching Spiritual Disciplines:
Chaplaincy Services promotes the teaching of prayer, meditation, study and service.
The four spiritual disciplines offer DJJ youth the opportunity to explore and embrace their own spirituality; to be responsible for their own decisions.
Mentoring:
A youth may benefit greatly from your 90-day commitment to be a spiritual guide who encourages the youth to remain on the straight path, to commit to become a law-abiding citizen, a servant in his community and to remain faithful to God.
Job Placement/Transportation:
Some members of your congregation may know of employment or entrepreneurial opportunities a returning youth may be suited for.  Or a youth may need transportation to a job interview.  A youth's family may need transportation to visit one of our youth detained in an RYDC or YDC.
90 –Day Commitment to Community to DJJ Youth upon his/her release:
Your faith family may be the only hope for a transformational opportunity for him/her and their families to experience God's grace. Invite and encourage participation in the life of your faith community; worship, Bible study, prayer, for a minimum of 90 days.
CHAPLAINCY VISION
To establish hope, a commitment to community, the duty to care, and positive change through accountable and responsible leadership and service.
 
CHAPLAINCY VALUES
We strive to create and sustain an agency culture that values accountability, integrity, security, superior performance, ongoing professional growth, intellectual curiosity, innovation, teamwork and leadership not only in our staff, but also in the young people in our facilities and programs.
sept16bmlargeBoard-Meeting-9_22_165V4A5730.jpg
"It is easier to build strong children than to repair broken men."
Frederick Douglass
Talk to Chaplaincy Services
Danny A. Horne, M.
Director, Office of Chaplaincy Services
Cell: 404-295-0057
Phone: 404-508-6515
Email: dannyhorne@djj.state.ga.us
Emily Kelly, M.Div
Chaplain, NW Region
Cell: 404-416-3343
emily.kelly@djj.state.ga.us
Larry Hill, M.Div
Chaplain, NE Region
Cell: 404-821-2981
larry.hill@djj.state.ga.us
Hulon Kemp, M.Div
Chaplain, SW Region
Cell: 229-591-3695
hulon.kemp@djj.state.ga.us
DJJ Chaplaincy Services - Related Files