Working-at-DJJ(web).jpg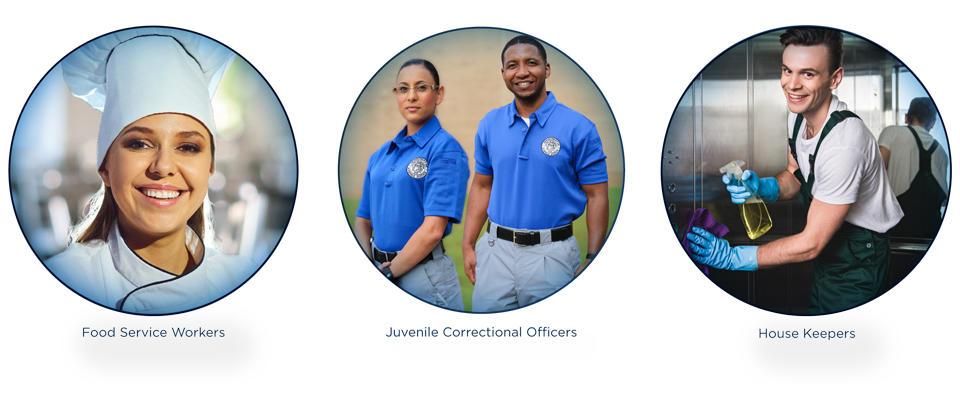 WORKING AT DJJ
Each day, more than 3.400 DJJ employees, divided among our 25 facilities and 78 community services offices throughout the state, work diligently to effect justice, and redirect and shape the young lives in the agency's care.  DJJ employees are critical in helping the youth take responsibility for their criminal conduct and guide them to become productive members of society. Because our primary responsibility involves public safety, working for DJJ is an exciting and challenging opportunity. We strive to create and sustain an agency culture that values accountability, integrity, safety, superior performance, ongoing personal growth, intellectual curiosity, innovation, teamwork, and leadership.
We seek dedicated, energetic candidates for various positions, including correctional and parole officers, legal services, teachers and librarians, peace officers, and healthcare professionals, including nurses and dentists, food service workers, administrative assistants, etc.
While we expect the youth in our care to be accountable for their actions and to strive for excellence, the same goes for DJJ staff - from executives to individual caseworkers. DJJ staff members are expected to be efficient, creative, and responsible for their work. Innovation is crucial to our success today and tomorrow. DJJ staff constantly seek to refine existing programs and cultivate new, innovative and effective ones that encourage youthful offenders to become successful members of society. By doing so, DJJ becomes a leader in criminal justice nationwide.
As State of Georgia employers, we also offer our employees dental, vision and medical insurance; sick and annual leave; retirement plan and a military incentive for our armed forces.
Military Salary Incentive
DJJ offers a one-time Military Salary Increase Incentive to current/former military service members on eligible job titles who have served on active duty. To be eligible, service members must have an Honorable Discharge. The one-time incentive will be based upon the current number of active-duty years served.
Application Process
To be considered for the position of Juvenile Correction Officer 1, applicants will be required to receive a passing score on the P.O.S.T.-approved COMPASS Test. The COMPASS test is administered through the Georgia Technical College System, and reservations are required. Please get in touch with one of the many Technical Colleges throughout the State.
Applicants will be required to take a completed copy of the P.O.S.T. Examination Access Form to the exam site. Click here to access the DJJ application form.
Exemptions
Applicants who have obtained a four-year degree from an accredited college or university OR have previously been POST-certified are exempt from taking the COMPASS test. However, applicants must include a copy of their degree or POST Profile when considering their application.
There is a fee to take the exam of $15.00 - $25.00 collected by the college. Test scores are also valid for entrance into the Technical College System of Georgia.
To apply for a position, follow the instructions provided in the job announcement. You may also include a resume, but please do not submit a resume instead of the application. Positions advertised on this website are open to all eligible persons who meet the minimum qualifications for the positions unless otherwise noted in the vacancy announcement. Review current DJJ openings for employment here. Some job applicants, particularly Juvenile Correctional Officers, may need Peace Officer Standards and Training Certification and successfully pass the COMPASS Exam.
Test takers who have valid, current passing scores will be allowed to submit proof of successful completion through 12-31-14 for advertised JPPS 2 positions. 
Due to the large volume of responses, only those individuals whose experience and skills best meet the position's requirements will be contacted directly by the hiring manager for an interview.
Getting Hired
All applicants are subject to employment verification, as well as background and criminal record investigations. Applicants with felony convictions or pending criminal charges cannot be considered for employment.
DJJ is a registered participant in the federal work authorization program commonly known as E-Verify and uses the program to verify all employees' employment eligibility.
In accordance with the Immigration Reform and Control Act, DJJ employs U.S. Citizens and authorized aliens. Therefore, all applicants are required to verify their identity and employment eligibility.
Applicants for initial State employment in specific jobs in DJJ shall be required to complete a pre-employment drug test for the presence of illegal drugs.
DJJ does not discriminate based on race, color, national origin, sex, religion, age, disability, or other protected categories in employment or services provision.
Applicants with Disabilities
In accordance with the Americans with Disabilities Act (ADA), if you are an individual with a disability and wish to acquire this job announcement in an alternative format or if you are an individual with a disability who may require assistance or other reasonable accommodation to participate in the selection process for any of the positions listed in this Job Announcement, you may contact the Office of Human Resources, ADA and Compliance at 404-294-3431. In addition, speech or deaf and hard of hearing applicants with access to TDD equipment may use the statewide TDD Relay Service by calling 1-800-255-0056.
Working at DJJ - Related Links
Working at DJJ - Related Links