DJJ CULTURE WHEEL
The DJJ Culture Wheel represents the agency's values and reinforces the commitment we have to our employees and the youth in our care. Each spoke of the DJJ Culture Wheel represents a different aspect important to the success of the agency. They are:
Our Culture -- June 2021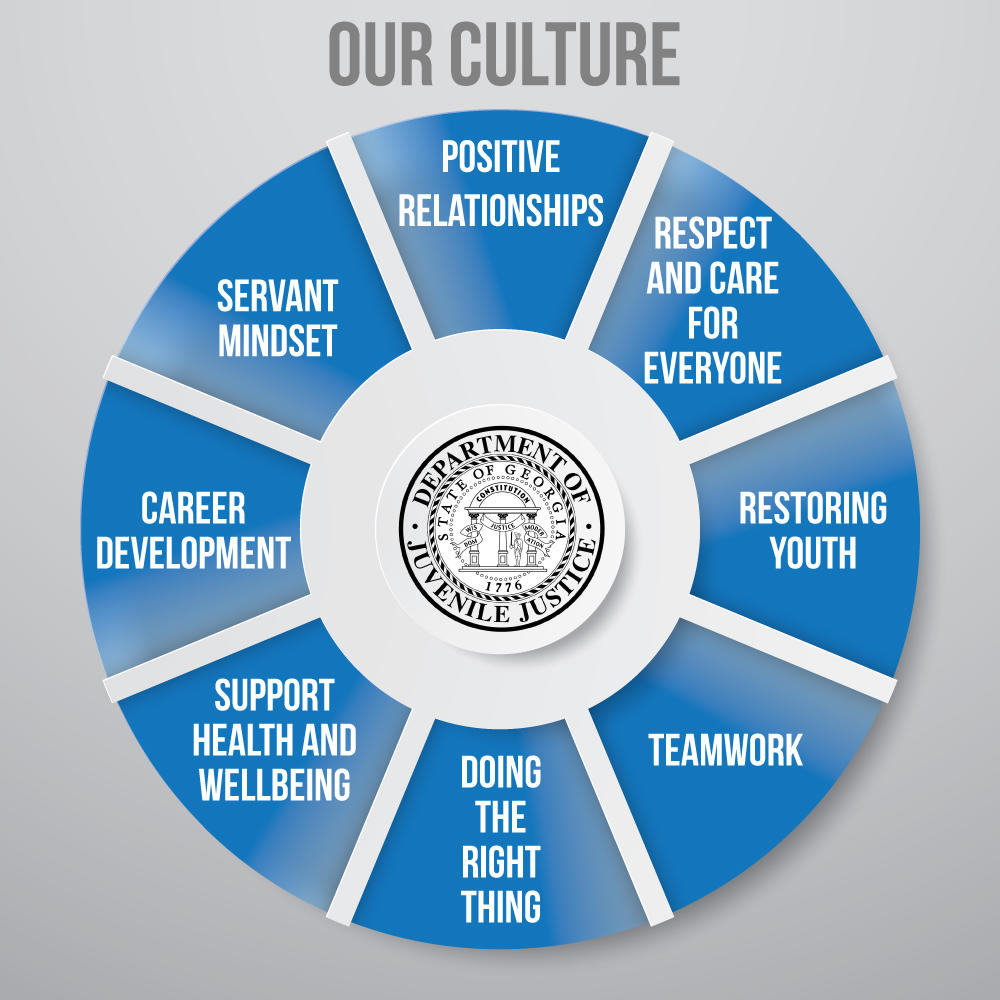 POSITIVE RELATIONSHIPS
Forming relationships with colleagues that enhance our mental and emotional wellbeing, making our jobs more enjoyable.
RESPECT AND CARE FOR EVERYONE
When our actions align with our words through consideration and compassion, we exhibit respect for one another.
RESTORE YOUTH
Restoring our youth by strengthening their wellbeing and providing high-quality education and essential services in a supervised rehabilitative environment.
TEAMWORK
Building and developing a team that can help get the work done.
DOING THE RIGHT THINGS
Sustaining an effective organizational value system allowing us to maintain our integrity and principles over popular decisions.
SUPPORT HEALTH AND WELLBEING
Providing employees with resources to promote their emotional, financial, spiritual, physical, mental, and occupational health.
CAREER DEVELOPMENT
Investing in how our employees manage their careers ensures they have the training and skills to progress in their chosen career paths.
SERVANT MINDSET
Fostering an environment that allows personnel to focus on their team members' needs before considering their own, leading to stronger relationships with team members and other stakeholders.
cwjpgjune22_Page_1small.png