:
The December 9th meeting of the Board of Juvenile Justice has been canceled. The next meeting is scheduled for January 2022.
Macon YDC: BMZ Girl Squad Mentoring Program
bmzgirlsquad5june18.jpg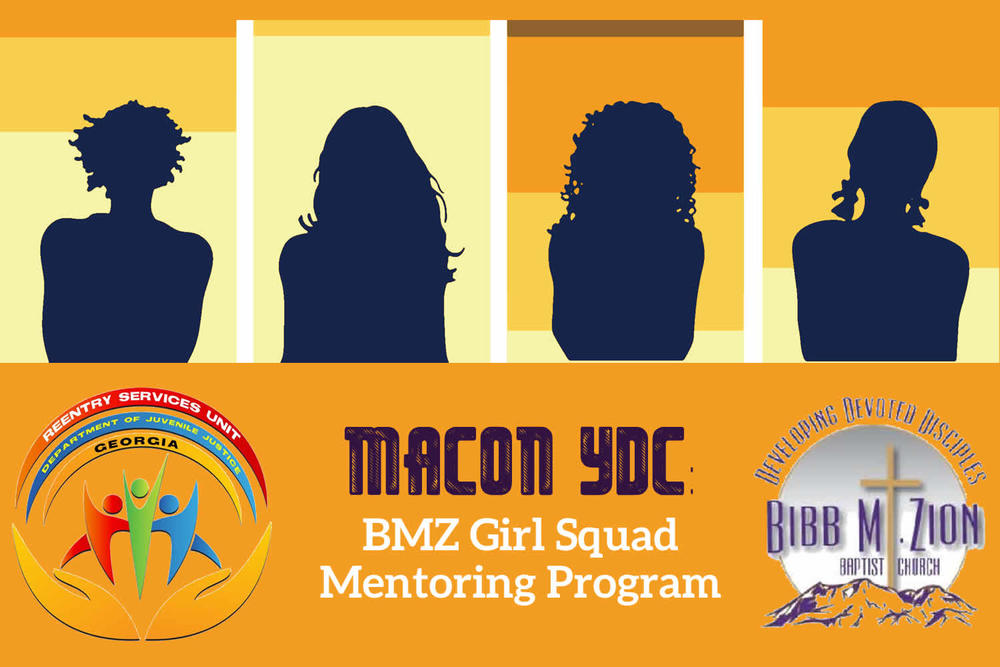 As part of the Department of Juvenile Justice's Office of Reentry Services program, the Macon Youth Development Campus (Macon YDC) has entered into a partnership with the Bibb Mt. Zion Church of Macon to develop a mentoring program for the female youth in the facility.  Named the BMZ Girl Squad Mentoring Program, this twelve month program will increase the self-awareness and improve the life-skills that will aid in helping the youth become work force and college ready and to reduce the possibility of recidivism in the juvenile justice system.  
During the year-long program, BMZ Girl Squad mentors visit the Macon YDC monthly to engage the participating youth in large group activities.  These mentors will help the youth develop individual goals and help design systems to help each youth reach their goals.  Mental health professionals will also work with the youth at the facility during quarterly support meetings and other Macon YDC staff members will evaluate the effectiveness of the program on a monthly basis.
The BMZ Girl Squad Mentoring Program features many interesting and important themes and activities. Quarterly themes include:
"WHO AM I?" Self-Indentity/Belief System
Identifying Strengths/Weaknesses

Self-Collages

"ME" Commercials

Who is in the Mirror?
"WHERE AM I GOING?"-Purpose/Passion 
Setting Long Term/Short Term Goals 

Vision Board Making

Gratitude
​"Baggage……WHAT TO KEEP, WHAT TO LEAVE BEHIND"
- Value of relationships

- Bag Lady Activity

- Dance Choreography "So Long Bye Bye"
"Getting Ready to be Successful"
Mock Interviews

Etiquette

Resume Writing

Dressing for Success
The mission for the Bibb Mt. Zion Baptist Church partnership with the Department of Juvenile Justice is intricately aligned with the church's vision, values and goals including the importance of ministering to incarcerated individuals. Bibb Mt. Zion Baptist Church's overarching goal is to add value to the mission of the Department of Juvenile Justice by offering mentoring and reentry services that holistically impact the lives of individuals. 
The vision of the Department of Juvenile Justice's Office of Reentry Services is to collaborate with internal and external stakeholders to encourage and support evidence based practices to help Georgia's youth offenders. Reentry is not one specific program, it is a process that starts when a youth initially enters the Department of Juvenile Justice system and ends when the youth has been successfully reintegrated into the community as a law-abiding citizen. Georgia uses a variety of effective evidence based programs and practices to reduce juvenile recidivism and help adjudicated youth achieve positive outcomes.
bmzgirlsquad5june18b.jpg