As We Rise to the Challenge
Faith Over Fear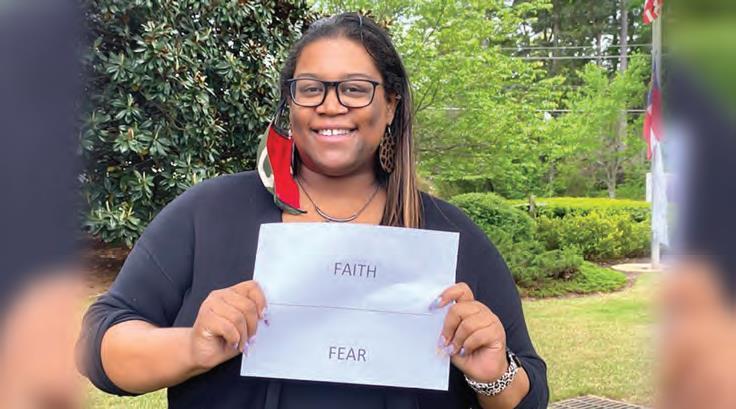 One of the many strengths of the Department of Juvenile Justice (DJJ) is the employees' ability to come together in times of crisis. Whether during natural disasters like tornadoes and hurricanes or the Coronavirus pandemic that is impacting communities across the world, DJJ employees strive to support each other and help ensure the safety and security of youth in the agency's care.
Dr. Michelle Staples-Horne
"The teamwork displayed by DJJ professionals has helped minimize the risk of spreading the coronavirus in agency facilities," said Dr. Michelle Staples-Horne, DJJ Medical Director.
A critical part of DJJ's response efforts to COVID-19 is rooted in planning by Dr. Staples-Horne. In 2009, Dr. Staples-Horne developed a Pandemic Plan for the agency.  Originally designed to stop a flu epidemic at the Bill Ireland Youth Development Campus in Milledgeville, the plan included necessary mitigation measures including postponing school activities, limiting  youth and staff movement, extensive deep cleaning, and youth quarantine. This detailed plan has since been approved by the American Correctional Association (ACA) and used as a model for other agencies.
After initial reports of COVID-19 in Georgia communities and under the leadership of Governor Brian Kemp, DJJ began following best practices and guidelines from the Centers for Disease Control and Prevention (CDC) and the Georgia Department of Public Health coupled with the DJJ pandemic plan to protect youth and employees.
As part of prevention efforts, visitation at all 26 secure facilities were suspended to prevent visitors from bringing the virus into facilities. Although youth have not been able to have in-person visitation with their families, the Division of Secure Facilities began utilizing technology to allow youth to continue to speak with their parents, legal counsel and mental health professionals. Youth have expressed their excitement about using tablets to have virtual visitations. Some youth are even seeing their families more often now since some parents do not live near the facilities and are unable to visit regularly.
"The youth and family members are loving the video visitation," said Roy Lango, Director of the Martha K. Glaze Regional Youth Detention Center (RYDC). "They are able to see more of their family members instead of just two visitors. They also enjoy seeing the inside of their homes and especially their rooms."
Video Chat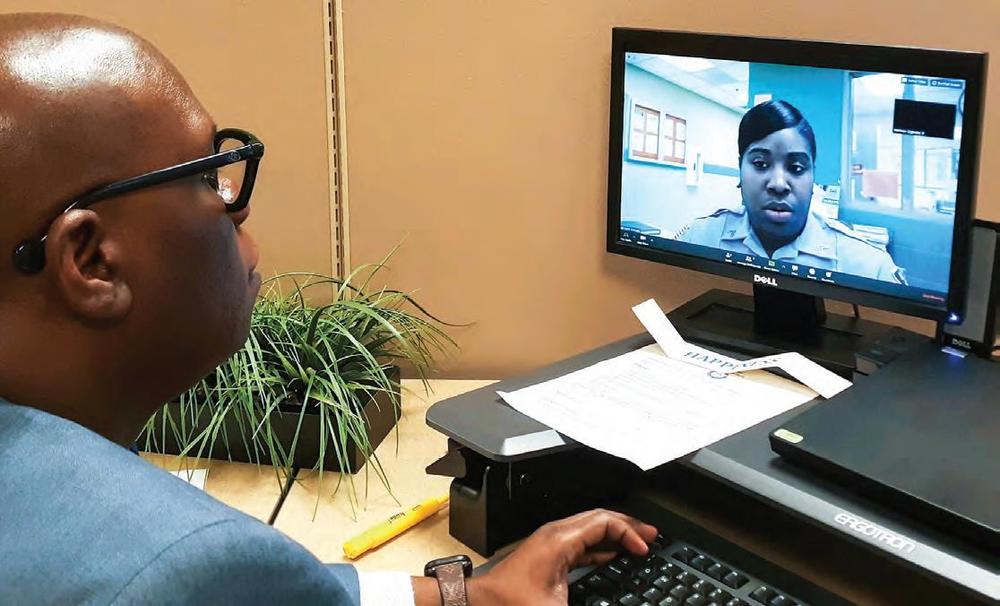 DJJ also established an agreement with the Juvenile Court Judges to conduct hearings via videoconferencing to protect youth and staff.
Although some DJJ employees have the ability to telework, some essential employees including juvenile correctional officers, medical and behavioral health professionals, food service workers, janitorial staff, facility administrators and many others are not able to work from home. These employees have gone beyond their call to duty to help prevent the spread of the virus in DJJ facilities across Georgia.
"I am extremely proud of the hard work and dedication employees have shown during this unprecedented time," said DJJ Commissioner Tyrone Oliver. "We are working diligently to protect youth, staff and their families against COVID-19."
Temperature Check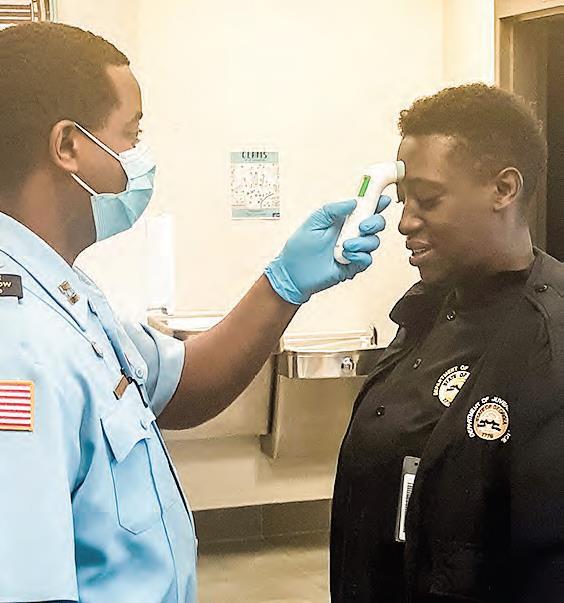 DJJ medical staff is taking steps to prevent the spread of the virus by screening all youth as they enter facilities for the first time or if they are returning from a judicial appointment. These measures help to determine if the youth is displaying any symptoms of the virus that could infect others. Also, facility personnel and contracted maintenance workers receive a temperature check when they enter the building.
DJJ also encouraged staff to practice social distancing, provided instruction on proper handwashing techniques and notified staff to self-screen for signs of infection such as cough, fever, and shortness of breath. DJJ has purchased over 4,000 mask from the  Georgia Department of Corrections for both staff and youth. The Office of Volunteer and Victim Services led efforts to distribute the masks to all 26 secure facilities.
Masks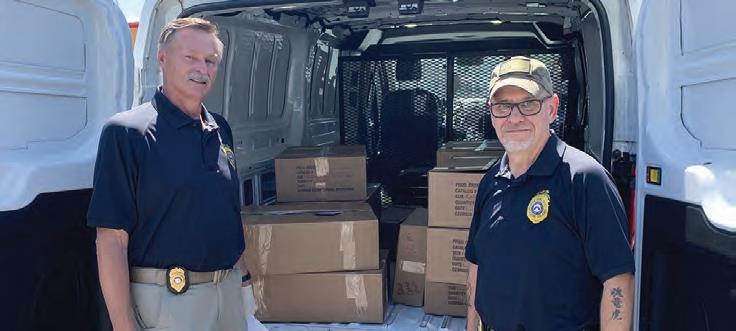 Cleaning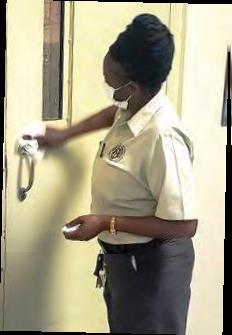 Although several staff members and a youth has tested positive for COVID-19, DJJ continues to work hard to prevent additional spreading of the virus. Janitorial staff implemented an aggressive and extensive cleaning schedule for disinfecting all areas within the facilities and employees that may have been exposed were  asked to self-quarantine.
Food service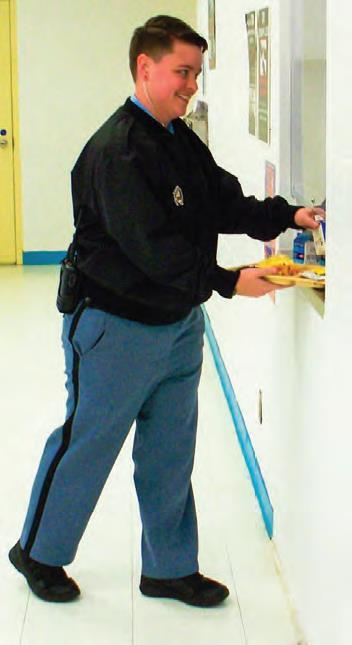 To minimize traffic in and out of the facility, during March alone, the Office of Nutrition and Food Services provided more than 4,700 meals to secure facilities' staff in addition to meals for youth.
To protect youth, the Division of Education closed DJJ schools in facilities and Education Transition Centers, but continue to provide alternative educational services to youth.
DJJ also understands the importance of mental and emotional health of youth and staff. The Office of Behavioral Health Services has been talking to the youth about stress and offering additional counseling services. DJJ's Office of Emergency Management also activated a general information helpline to address questions from staff and the general public regarding DJJ's response to the virus and the Office of Human Resources provided access to the Employee Assistance Program tip sheets to support emotional well-being.
As more employees work from home and to provide more availability to users, the Office of Technology and Information Services has offered extended hours for the IT support line and provided tips on how to maintain a secure remote work environment.
The Office of Professional Development has worked to ensure that DJJ employees can still take training courses online. Programs range from leadership management and stress prevention to understanding trauma-informed care for juveniles.
During this uncertain time and as employees continue to work diligently on behalf of youth, DJJ leadership is genuinely grateful for the dedication staff has shown to the agency's mission, vision and values.