Department of Juvenile Justice Board Members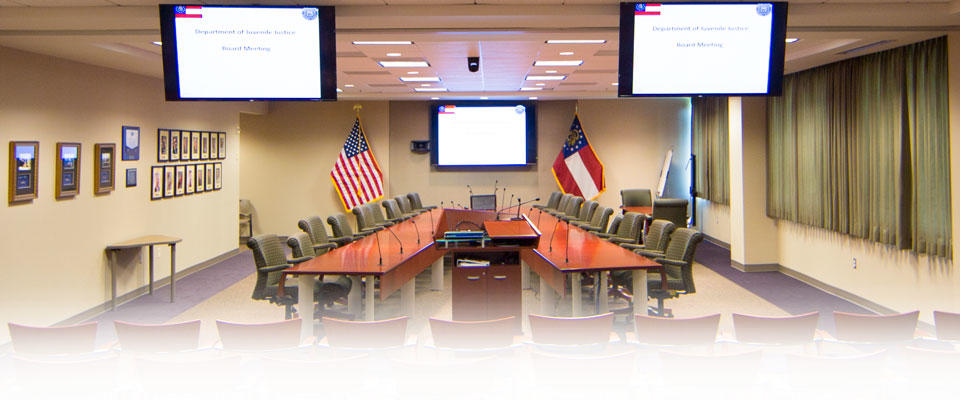 The Department of Juvenile Justice Board consists of 15 members, each appointed by the Governor. Pursuant to Title 49-4A-2, Official Code of Georgia, the Board of Juvenile Justice establishes the general policy to be followed by the Department of Juvenile Justice. The objective of the Board is to provide leadership in developing programs to successfully rehabilitate juvenile offenders committed to the state's custody and to provide guidance to the Commissioner.
The Board is a combination of professionals, attorneys, law enforcement, public servants and others interested in improving the juvenile justice system in Georgia.
REPRESENTATION
The board consists of at least one member but not more than two members from each of the state's congressional districts, appointed by the Governor and confirmed by the Georgia State Senate. Following the initial staggering of board terms, each succeeding appointment is for five years.
A three-member non-voting judicial advisory council is appointed by the Governor and consists of three juvenile court judges providing the board with a judicial perspective on board issues.
BOARD OF EDUCATION
By law, the Department of Juvenile Justice is designated a special school district. Therefore, Board members also serve as DJJ school board members. The objective of the Board is to meet the requirements of the law for public schools and rules and regulations of the State Board of Education. The Board must establish educational services and programs in the special school district so that all youth are served with the same quality and education content as found in other schools within the state.
MEETINGS
The Board meets the fourth Thursday of each month unless otherwise noted. All meetings are open to the public and their locations are posted on the Department's website. Meetings are usually held at DJJ's Central Office and begin at 10 a.m. unless otherwise noted.
2020 CALENDAR
| | | |
| --- | --- | --- |
| January 23 | May 28 | September 24 |
| February 27 | June 25 | October 22 |
| March 26 | July 23 | November - No Meeting |
| April 23 | August 27 | December 10 |
OFFICERS

 
Sandra Heath Taylor - Lagrange, GA
Chair
Congressional District 3
Chair Heath Taylor is currently a solo practitioner specializing in general law. In her practice, she has represented corporate clients in product liability matters. She also represented the Georgia Department of Family and Children Services as Special Assistant Attorney General and represented indigent criminal clients in Troup County Courts on county-appointed contract and general litigation. Taylor previously served as Partner in the law firm of Daniel, Hadden & Meadors, P.C. Taylor holds an undergraduate degree from Emory University and a Juris Doctorate from Mercer University's Walter F. George School of Law. She is active in various political and civic organizations.

Willie C. Bolton - Athens, GA
Vice Chair
Congressional District 10
Mr. Bolton was the Director and Warden of the Athens-Clarke County Department of Corrections for 20 years before his retirement.  He was with the Athens-Clarke County Government for 41 years including 21 years with the Clarke County Sheriff's Office. He served on the Athens Regional Medical Center Hospital Authority, Georgia Public Safety Training Center at Athens Advisory Board, and the Athens Rotary Club where he is a distinguished Paul Harris Fellow. He a LIFE Member of the Georgia Association of Chief of Police, LIFE Member of the Georgia Prison Wardens Association, LIFE member of the National Organization of Black Law Enforcement Executives (NOBLE), and LIFE member of the Peace Officers Association of Georgia. He also has both an Executive and Management P.O.S.T. certification and he is also a Certified P.O.S.T. General and Firearms Instructor. Bolton earned a Bachelor's Degree from Brenau University and a Master Degree from Clark Atlanta University. He and his wife have two children and two grandchildren. They reside in Athens.

 
Adam Kennedy - Claxton, GA 
Board Secretary
Congressional District 11
Mr. Kennedy has served as the Court Administrator of the Chatham County Juvenile Court in Savannah since September 2011 and he has been a dedicated servant to DJJ for more than 27 years. Formerly DJJ Regional Administrator over 44 counties in the DJJ Southeast Region, he was responsible for all DJJ community programs as well as DJJ detention programs in the region. He has twice been recognized for his leadership as a former District Director, winning the Vanguard Award as well as being a recipient of the prestigious Harold K. Ables Award for his "outstanding service in the field of Juvenile Justice." Board Member Kennedy, a native of Evans County and former Chairman of the Evans County Board of Education, holds a Bachelor of Arts in Sociology from Mercer University with a minor in Criminal Justice.
MEMBERS
Judge Lisa Colbert - Savannah, GA
Congressional District 1
Judge Lisa Colbert is a juvenile court judge in Chatham County where she previously served as an assistant county attorney for Chatham County and a staff attorney to the Chatham County Superior Court. Judge Colbert sat on the board for the Savannah-Chatham County Court Appointed Special Advocates, Inc. and chaired the Savannah-Chatham Public School Systems Internal Audit Committee. She also served in the Georgia Air National Guard. Colbert holds a law degree from the University of Georgia and earned her bachelor's degree from Savannah State University. She and her husband, Eldries "E.J.", have three children and reside in Savannah.

Danny L. Blackmon - Quitman County
Congressional District 2
Danny grew up in Randolph County and graduated from Randolph County High School in 1968.  He then attended South Georgia Technical College where he started a 51-year career in the office equipment industry. In 1974, he started Eufaula Business Machines, becoming a Certified Canon Dealership in 1978.  He was elected to the Board of Commission for the unified government of Georgetown-Quitman County. He serves as Co-Chair to the Commission. He is Chairman of the Georgetown-Quitman County Economic Development Board and Chairman of the Southwest Georgia Regional Development Authority. He is a member of the River Valley Planning Commission and Georgetown-Quitman County Rotary. He is the founder of the Growing Quitman County non-profit organization. Families qualifying for this program will be given five acres of land as an incentive to relocate to Quitman County. He and his wife Karen live on their cattle and horse farm. They have three daughters, one son, and have seven grandchildren. They are members of the First Baptist Church.
Dr. Thomas L. Coleman - Lithonia, Georgia
Congressional District 4
Dr. Thomas Coleman is a retired U.S. Air Force officer and Vietnam veteran with more than 25 years of military service. He served more than 12 years at the Department of Juvenile Justice as Chief Deputy Commissioner and Deputy Commissioner of the Programs, Education and Youth Development Division. Coleman earned a bachelor's degree in Criminal Justice from Georgia State University, his master's degree in Public Administration from Central Michigan University and a doctoral degree in Higher Education Administration from Clark Atlanta University. He is a former Director of the Governor's Office of Highway Safety and a volunteer commissioner with the DeKalb County Housing Authority. Dr. Coleman and his wife, Dr. Beverly Harris Coleman, live in Lithonia.

Margaret Kaiser - Atlanta, Georgia
Congressional District 5
Margaret Kaiser has served the public in the Atlanta area for nearly thirty years. As State Representative for the House District 59 seat that encompassed East Atlanta to Hapeville, Ms. Kaiser served on varied committees as Agricultural & Consumer Affairs, Appropriations, Banks & Banking, Education, Education Appropriations, Industrial Relations, and Health and Human Services.  Her hard work in the Georgia Legislature was recognized by both the Governor and the Georgia Speaker of the House which led to appointments to the Chronic Kidney Disease Study Committee, State Concussion Study Committee, Governor's Education Finance Committee, the National Conference of State Legislators, House Education Committee Statewide Listening Sessions, Medical Cannabis Study Committee, and the House Music Industry Study Committee. In addition to her work as an elected official, Ms. Kaiser is involved heavily in her community through such organizations as the Association of Independent Colleges, Trellis Horticultural Therapy Alliance Board, LEADERSHIP GEORGIA, Grant Park Historic Quadrant Envisioning Committee, Grant Park Neighborhood Association, NPU-W, Historic Oakland Foundation Board, Pryor Road YMCA, and the Downtown Atlanta Kiwanis Club. Ms. Kaiser's extensive education background includes a Bachelor of Arts degree in Liberal Studies from Emory University and a Certification in Health Policy from Georgia State University. Ms. Kaiser is currently a Partner in Total Spectrum/Steve Gordon & Associates Governmental Affairs and has been the Owner/Operator for several popular Atlanta restaurants including the Cabbagetown Grill and the Grant Central East Restaurant.  Previously, she has worked full-time in constituent affairs for Georgia's Secretary of State, had the honor of working for the Carter Center in Public Information, The Atlanta Project, and became involved in the development of a Charter school in her neighborhood.  She is married to her husband Eric and has two sons, Willem and Ewan.

Penny A. Penn - Cumming, GA
Congressional District 7
Ms. Penny Penn has been the District Attorney for the Bell-Forsyth Judicial Circuit since January 2003 where she is an elected constitutional officer charged with the prosecution of felony offenses committed in Forsyth County. Prior to her election, Penn served as the Chief Assistant District Attorney for the Bell-Forsyth Judicial Circuit from November 1988 until January 2003 and has argued cases before the Georgia Supreme Court and Court of Appeals. Penn's previous experience includes the Fulton County District Attorney's Office and the Fulton County Public Defender's Office. She earned a bachelor's degree from Wheaton College in Massachusetts and a juris doctor degree from the Emory University School of Law.

Angie M. Holt - Warner Robins, GA
Congressional District 8
Mrs. Holt is director of the Office of Professional Standards at the Georgia Department of Public Safety. Her distinguished law enforcement career spans more than 30 years with professional contributions to five Georgia criminal justice agencies including the Georgia Bureau of Investigation (GBI), Georgia State Patrol, the Department of Family and Children's Services, as a consultant for the State Board of Pardons and Paroles and for Georgia's Criminal Justice Coordinating Council. Holt's GBI assignments as Special Agent included investigating public corruption crimes with a Special Prosecutions Task Force. As GBI Assistant Special Agent in Charge she developed law enforcement training protocols for officers assigned to the 1996 Olympic Games. Holt is currently president of the Georgia Internal Affairs Investigators Association and sits on the board of trustees for the International Association of Women Police. She earned a bachelor's degree in Criminal Justice and master's degree in Public Administration from Georgia Southern University. Holt and her husband, Charles, have one child and reside in Warner Robins.

Fred E. Stephens - Cleveland, GA
Congressional District 9
Mr. Stephens is a former GBI special agent with 31 years of service before his retirement in 2012. Within days of his retirement, he joined the Athens-Clarke County Police Department where he served as Assistant Police Chief of Operations. In 2015, he was named as Chief of Police for the Clarke County School District Police Department where he remained until 2017.  A graduate of the FBI National Academy, the Georgia Association of Chiefs of Police Command College, and the Georgia International Law Enforcement Exchange, Chief Stephens earned his bachelor`s degree from Newberry College and a master`s degree in Public Administration from Columbus State University. He and his wife, Laura, reside in White County, Georgia.
Dick Yarbrough - Atlanta, GA
Congressional District 11
Mr. Yarbrough is a veteran writer and syndicated Georgia columnist whose work is published regularly and read widely in newspapers and magazines throughout the state. He was a vice president of the BellSouth Corporation before his retirement. As managing director of communications for the Atlanta Committee for the Olympic Games, his work was instrumental in the successful execution of the Centennial Olympic Games. Yarbrough is a graduate of the University of Georgia and a past president of the UGA Alumni Association. He and his wife, Jane, have two children, three grandchildren and one great-grandson. They reside in Atlanta.

John B. Edwards - Claxton, GA
Congressional District 12
Mr. Edwards started his law enforcement career as a uniformed officer in 1977, he then spent 30 years in the Georgia Bureau of Investigation retiring as a Special Agent in Charge. Next, he served four years as a Chief Deputy Sheriff. Since 2014, John has served as Executive Director of the Peace Officer Association of Georgia and CEO of J.B. Edwards and Associates Consultants. Mr. Edwards experience ranges from working undercover in street, major drug operations, investigation of major homicide cases, high profile cases, politically sensitive cases, to special event security. His management background includes narcotics supervision, multi-jurisdictional task force supervision, general investigation supervision, and co-chair of crisis management for the 2004 G-8 summit. Mr. Edwards has created and developed nationally recognized police operations programs and has over thirty years as a law enforcement trainer. He is a graduate of Georgia Southern University, former adjunct at the Georgia Law Enforcement Command College graduate school at Columbus State University, a Georgia P.O.S.T. certified instructor and has a National Instructor Certification from the International Association of Directors of Law Enforcement Standards and Training in Meridian, Idaho. Mr. Edwards serves on the Advisory Board for the Georgia Public Training Center, Savannah Regional Police Academy. He is a member of the International Association of Chiefs of Police, the International Law Enforcement Education and Trainers Association and the Peace Officers Association of Georgia. He is the author of two books, thirty-one different law enforcement training curriculums, and many national and international publications regarding police operations, leadership, and management. He has received national awards and recognition from IACP and the BJA for operations and innovative programs and in 2014 was selected for the State of Georgia's Governor's Award in Public Safety for Outstanding Contribution to Profession. Mr. Edwards currently travels throughout the United States lecturing for many federal, state and local agencies and law enforcement associations regarding police operations, leadership and management, and conducts three-day seminars based on his book, "The Burden of Command." 

James Valbrun - Lithia Springs, GA
Congressional District 13
Mr. James Valbrun is the founding attorney of the Valbrun Law Group, LLC. Prior to starting his own Atlanta law firm, Valbrun practiced with Wotorson, Thompson & Valbrun from 2009 to 2013. He was an associate at Nelson Mullins from 2006 to 2008. Professionally, Valbrun has been honored as a Georgia Super Lawyers Rising Star. He has found recognition in Atlanta's Business Who's Who, as well as Who's Who in Black Atlanta. The solo practitioner earned his bachelor's degree from the University of Michigan and a law degree from Georgetown University. He and his wife, Tanika, have one son. They reside in Lithia Springs.

 
Elaine P. Snow - Lindale, GA
Immediate Past Chair
Congressional District 14
Mrs. Snow retired as Chief of the Rome Police Department after 41 years of service. She is a member of the Georgia Crime Information Center advisory board and the Greater Rome Convention & Visitors Bureau board. Snow is a member of the Rome-Floyd County Commission on Children & Youth, the Rome-Floyd Community of Hope Task Team and the Martin Luther King, Jr. Memorial Committee. She is a graduate of the Georgia International Law Enforcement Exchange, the Georgia Law Enforcement Command College and the FBI National Academy. Snow earned a bachelor's degree from Jacksonville State University and a master's degree from Columbus State University. She and her husband, Tommy, have two children and five grandchildren. They live in Rome.
JUDICIAL ADVISORY COUNCIL

Judge Quintress Gilbert
Bibb County
The Honorable Quintress Gilbert is a Juvenile Court Judge in Bibb County and received her law degree from Washburn University School of Law in Topeka, Kansas. She has served in various judicial roles including Assistant U.S. Attorney with the U.S. Department of Justice for the Middle District of Georgia. Judge Gilbert is a member of many committees, bar and professional associations. She was elected district representative to the Georgia Council of Juvenile Court Judges while serving as a full-time juvenile court judge for the Macon Judicial Circuit and assistant professor at Georgia Military College.

Judge Steven C. Teske
Clayton County
Judge Steven C. Teske is the Chief Judge of the Juvenile Court of Clayton County, and serves regularly as a Superior Court Judge by designation. He was appointed as a juvenile judge in 1999. Teske earned his bachelor's, master's, and Juris Doctor degrees from Georgia State University. He was a Chief Parole Officer in Atlanta, Deputy Director of Field Services of the Georgia State Board of Pardons and Paroles and a trial attorney in the law firm of Boswell & Teske LLP. He also served as a Special Assistant Attorney General prosecuting child abuse and neglect cases and representing state employees and agencies in federal and state court cases.
Teske is a past president of the Council of Juvenile Court Judges and has been appointed by the Governor to the Children & Youth Coordinating Council, Commission on Family Violence and the Governor's Office for Children and Families. 
He has written articles on juvenile reform published in Juvenile and Family Law Journal, Juvenile Justice and Family Today, Journal of Child and Adolescent Psychiatric Nursing, and the Georgia Bar Journal. He serves his community in numerous other capacities including past president of the Southern Crescent Humanity for Humanity and is currently on the advisory board.