Story support from Decatur and Seminole CSO JPM Meredith Dunaway
In today's world, many people take recycling for granted. Blue bin, green bin, trash -- recycling properly has been ingrained into everyday life. Through minimal effort, each person can do their part to help the environment in a small way daily. 
Despite these efforts, there is still plenty of opportunity for recycling and, by extension, recycling cash for those who are interested. Real money can be made by recycling metals in products such as soda cans and car batteries.
For the Decatur County CSO and Decatur County HITS teams, recycling means cold hard cash and community service at the same time. Through collecting aluminum soda can tabs, these southwest Georgia leaders can support the health of children across Georgia.
Beginning last summer, the Decatur County youth under DJJ care collected can tabs for the Ronald McDonald House near Children's Healthcare of Atlanta (CHOA). Approximately twenty probated youth from the Decatur County HITS unit, five probated cases from the Decatur County CSO, and staff members collected seven pounds of aluminum soda can tabs so that they could be recycled and turned into cash for the charity. 
The Ronald McDonald House offers lodging, meals and a home-like environment for families of children obtaining treatment at CHOA.  Families are asked to make a donation of $20 a night, but no one has ever been turned away due to inability to pay CHOA (and other metro hospitals) can make referrals to the Ronald McDonald House for families that have children that interact with social workers.  While the charity is based in the Atlanta area, the Ronald McDonald House serves rural youth with severe medical issues (such as those from Decatur County) due to the limited numbers of rural hospitals in Georgia.
The Decatur County Can Tab Collection project was a success for all involved. Youth supervised on HITS probation and some other forms of traditional probation are required to community service projects as part of their supervision.  By tying these community service projects to charity donations to the Ronald McDonald House, DJJ can teach its youth insight into the needs of others while providing needed funding to an organization that helps serve others in the community during times of need.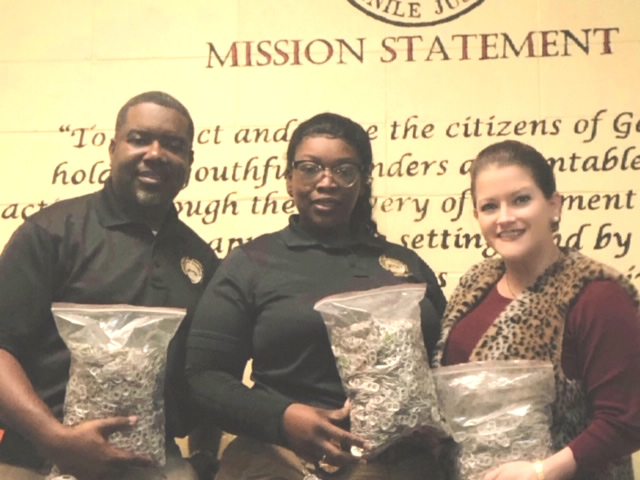 Pictured left to right: Kevin George, JPPS III for Intake, Kizzie Foster, JPO1 HITS, and Meredith Dunaway, JPM