Story support and photos by Patricia Merritt
During October, Department of Juvenile Justice staff from District 11 were involved in many activities recognizing Bully Prevention Month, Domestic Violence Awareness Month and Red Ribbon Week. 
The Bryan/McIntosh County Community Services Office (Bryan/McIntosh CSO) hosted a bully prevention presentation, facilitated by JPPS Hannah Groover and JPPS Shamonica Tremble. As part of the presentation, an anti-bullying video was shown and information provided on how to prevent bullying in the community.  Special thanks goes to JPPS Groover, JPPS Tremble, JPM Kimberly Stevens and everyone from the Bryan/McIntosh team who help make this presentation a huge success.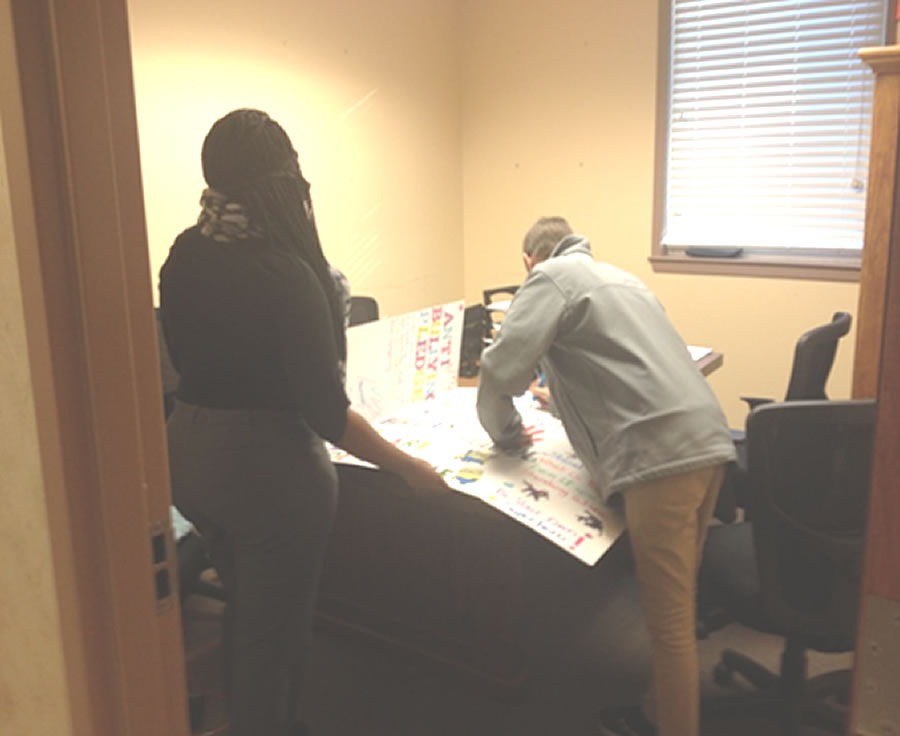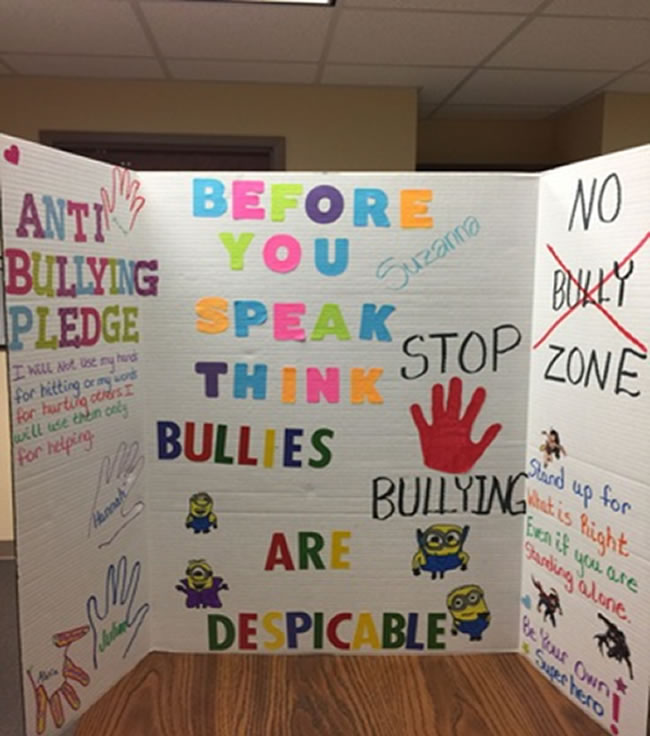 Chatham Education Transition Center (Chatham ETC) students engaged in many Red Ribbon Week activities in recognition of Domestic Violence Awareness Month.  On a field trip to the Chatham County Live Oak Public Library, students were able to hear and participate in a domestic violence assembly sponsored by Safe Shelter that focused on teenage violence. Many of these same students also had the chance to engage in a conversation regarding the ills of bullying with Chatham ETC school resource officers. 
A highlight of the Red Ribbon Week was another field trip to the Chatham County Live Oak Public Library where students listened to members of the Gateway Community Service Board Clubhouse as they described the dangers and consequences of substance abuse.  The roundtable question and answer session with a facilitator brought forth an interesting discussion that was very engaging and helpful for many of the students.
For their work with Red Ribbon Week, special thanks is given to Operations Support Manager Brenda Davis, School Resource Officers Florence Carpenter (Supervisor), Anthony, Davis, Kelly Taylor, Artlise Cone (Lead Teacher), Dallacy McCall and School Support Katrina Colon for making these activities a success for the students.  
Bullying prevention was also the main theme for students at the Otis Brock Elementary and Gadsen Elementary schools.  Nearly 200 students from 3rd to 5th grades participated in an anti-bullying workshop facilitated by the Chatham MSC High Intensive staff.  Students asked questions regarding bullying including wanting to know the connection between suicide and bullying, laws related to bullying, what to do if you are a victim of bullying and what to do if you think your teacher is the bully. Participating staff included JPM Monefa Murdock- Bey, JPM Latoyia Daniels, JPO 2 Dominick Davis, JPO 2 Chavi Cheatham, JPO 2 Willie Nelson, JPO 1 David Sallad, JPO 1 Bactista Fletcher, JPO 1 Jeremy May and head presenter Christy Haynes.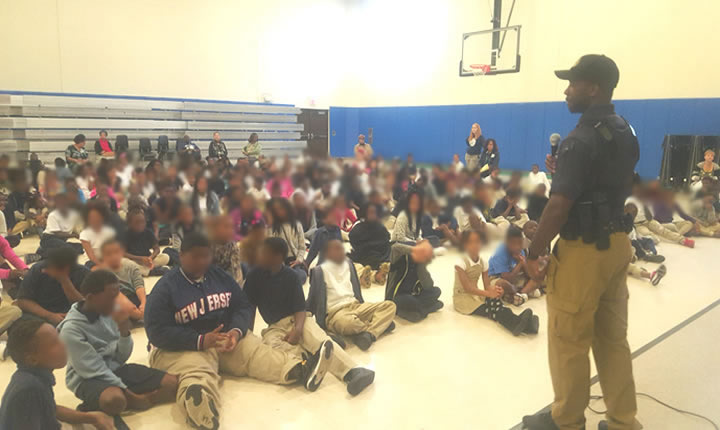 JPO Dominick Davis facilitating Q&A with elementary school students
JPO David Sallad discussing an anti-bullying message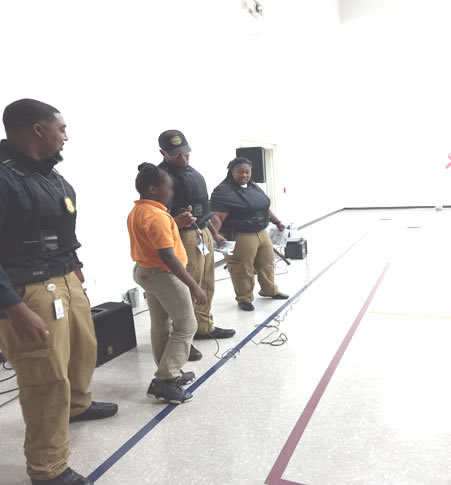 Pictured: JPO Nelson, JPO May and JPO Fletcher with a student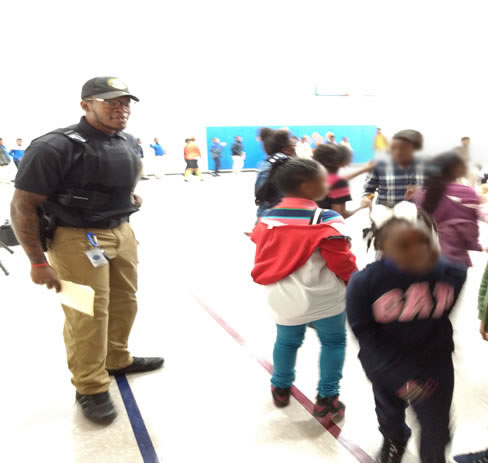 JPO Jeremy May interacting with students
The Liberty County CSO staff also hosted an anti-bullying workshop focusing on individual leadership.  Clients participated in several activities which required them to learn how to effectively communicate with each other and others. A special "Jeopardy" game was played in which participants had to answer questions regarding bullying. Special thanks to JPPS Emilia Maldonado, JPPS Tarell Kelley, the Liberty CSO team and JPM Sonia Oliver Settles for their work in planning a great event.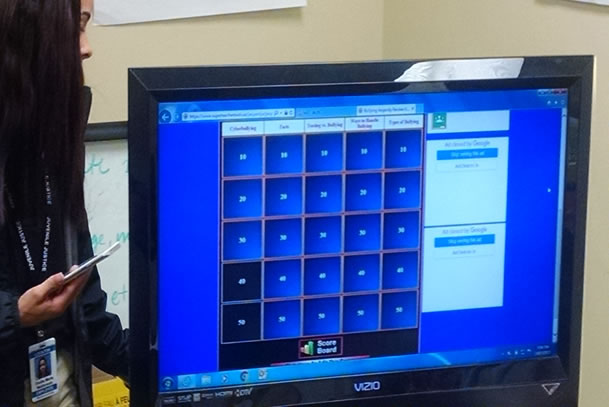 JPPS Emilia Maldonado playing a game with the youth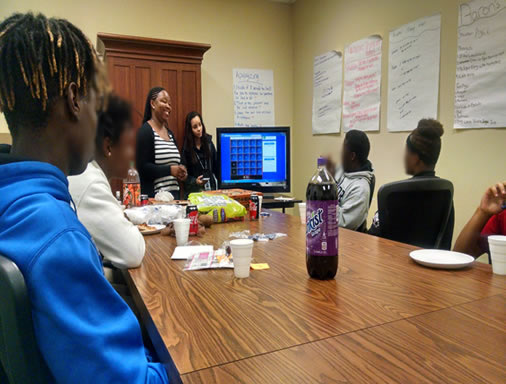 JPPS Tarell Kelly, JPPS Emilia Maldonado and Liberty County youth
Coffee CSO staff (JPPS Sabrina Wright and JPPS Paulette McRea) presented an anti-bullying message to the 6th and 7th grade students at Coffee County Middle School. Over 1200 students participated in the two sessions that focused on topics ranging from bullying to sexting and the event was highlighted in social media for the Douglas NOW news site. Special thanks goes out to JPM Rhonda Dockery for planning an outstanding presentation.