October 28, 2021
DJJ School System Celebrates 25th Anniversary of the Professional Development Conference
25th graphic large.jpg

The DJJ School System hosted its 2021 Professional Development Conference on June 7-10, 2021. The conference is designed to help education staff expand their knowledge and skills, implement the best educational practices, and better their performance in raising student achievement. It also offers a chance for staff to be informed and engage in a formal process that affects students' learning needs in academic growth and development. This year, the team celebrated the 25th anniversary of the conference.
"Congratulations to the DJJ School System for another successful conference," said Commissioner Tyrone Oliver. "I am grateful for your hard work and dedication in providing our youth with the skills and knowledge they need to become life-long learners and productive members of society. I look forward to continuing to serve alongside you as we strive to positively impact the youth in our care."
Because of the COVID-19 pandemic, youth and staff were met with new challenges that may have impacted their overall well-being. The conference theme, Putting the Pieces Back Together: Building Resiliency and Capacity, demonstrated a commitment to the mental, physical, and social well-being of youth and staff and a desire to help educators rebuild areas that may have been affected by the pandemic.
Carrie Hamilton-Shavers.jpg
"We wanted to help our students understand how to pivot in times such as these and still learn to thrive, engage, and be their very best self," said Carrie Hamilton-Shavers, Program Coordinator of the DJJ Connections Graduate Program and the conference co-chair. "I also wanted teachers to know that we had them in mind. We know how difficult it has been over this past year and we wanted this conference to be a sentiment to say job well done. As we rebuild and get back to a new normal, all the things that we learned will help us in our future endeavors as educators." 
The DJJ School System is the 181st school district in the state of Georgia. There are four programs in the system: Georgia Preparatory Academy (GPA), Pathway to Success, the Connections Graduate Program, and GPA Online. GPA is the agency's middle and high school and Pathway to Success is the GED program. The Connections Graduate Program focuses on re-entry, work skills development and post-secondary options for youth. GPA online is a recent addition to the school system and allows high school students who leave DJJ and cannot return to public school to complete their school credits.
 More than 200 school system employees including administrators, teachers, counselors, and principals participated in the conference. It is the first year the conference was held virtually.
Teachers Collage large.jpg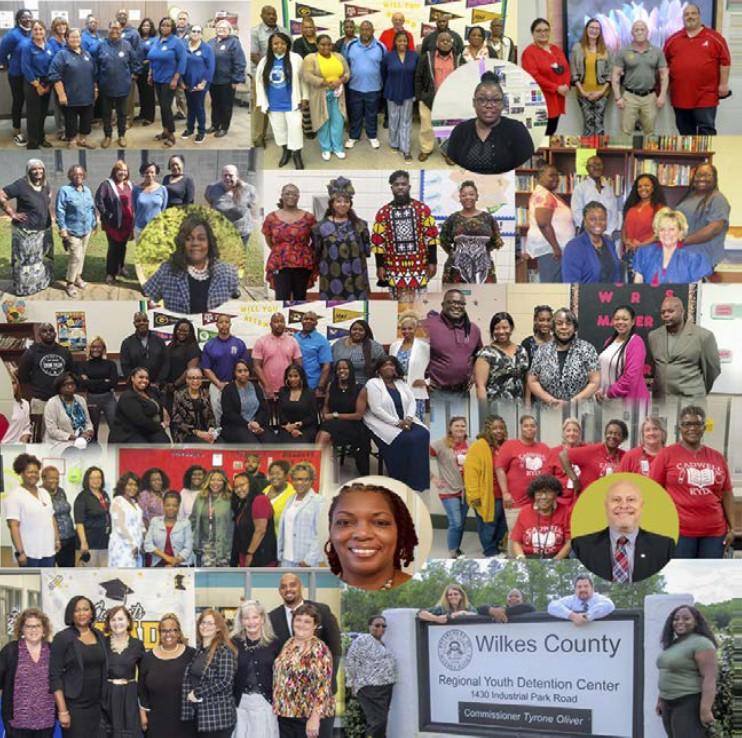 "We were very happy to offer our first virtual professional development conference this year," said Zane Shelfer, Deputy Superintendent of the DJJ School System. "Professional development is essential to providing staff with the tools they need to be productive and to increase student achievement. It helps us build teacher capacity and meet the goals of our accreditation and strategic plan."
Two dozen speakers from DJJ, the Georgia Department of Education, and DJJ school system partners led sessions over the four-day conference. 
Dr. Letunya Walker.jpg
"DJJ has been very instrumental in hosting professional development education conferences for the educators in our agency for 25 years," said Dr. Letunya Walker, Assistant Deputy Superintendent of the DJJ School System. "These conferences afford educators the opportunity to come together and collaborate, network, and learn from each other as well as professional presenters. It is a time of restocking their education toolkits; providing them new tools, skills, knowledge, strategies, and equipment to build, shape, and prepare scholars to become lifelong learners and college and career ready. The conference also offers a time of restoration, rejuvenation, and relaxation to the participants."
According to the Youth in Custody Practice Model, a guide to best practices in youth corrections, research shows that well-trained staff have better communications skills and are more effective in implementing programming. Training and education are also effective strategies to assist in combating compassion fatigue, corrections fatigue, and burnout because they help staff develop the skills needed to do their jobs. 
Doug Jackson, DJJ's Clinical Program Manager and a certified Community Resiliency Model trainer, led the team in resiliency training covering several different topics including sessions on tracking which helps identify the sensations felt in the physical body during times of well-being and times of distress, resourcing which is using external, internal, and imagined resources to bring a person back to a zone of well-being, and ways to understand the youth perspective and assist them in crisis situations.
Educators also attended sessions on making effective community connections, how to keep youth engaged and the importance of keeping parents involved in their child's education.
Syntria Jackson .jpg
"The conference was very engaging and motivational from beginning to end and the sessions provided were tailored towards the different areas of need," said Syntria Jackson, a Social Science Teacher at the Macon YDC. "I plan to use the different resources and tools I learned inside of my classroom to help improve the students' participation as well as their performance level."