Georgia First Lady Sandra Deal and DJJ Board Visit Macon YDC
First Lady Visit.jpg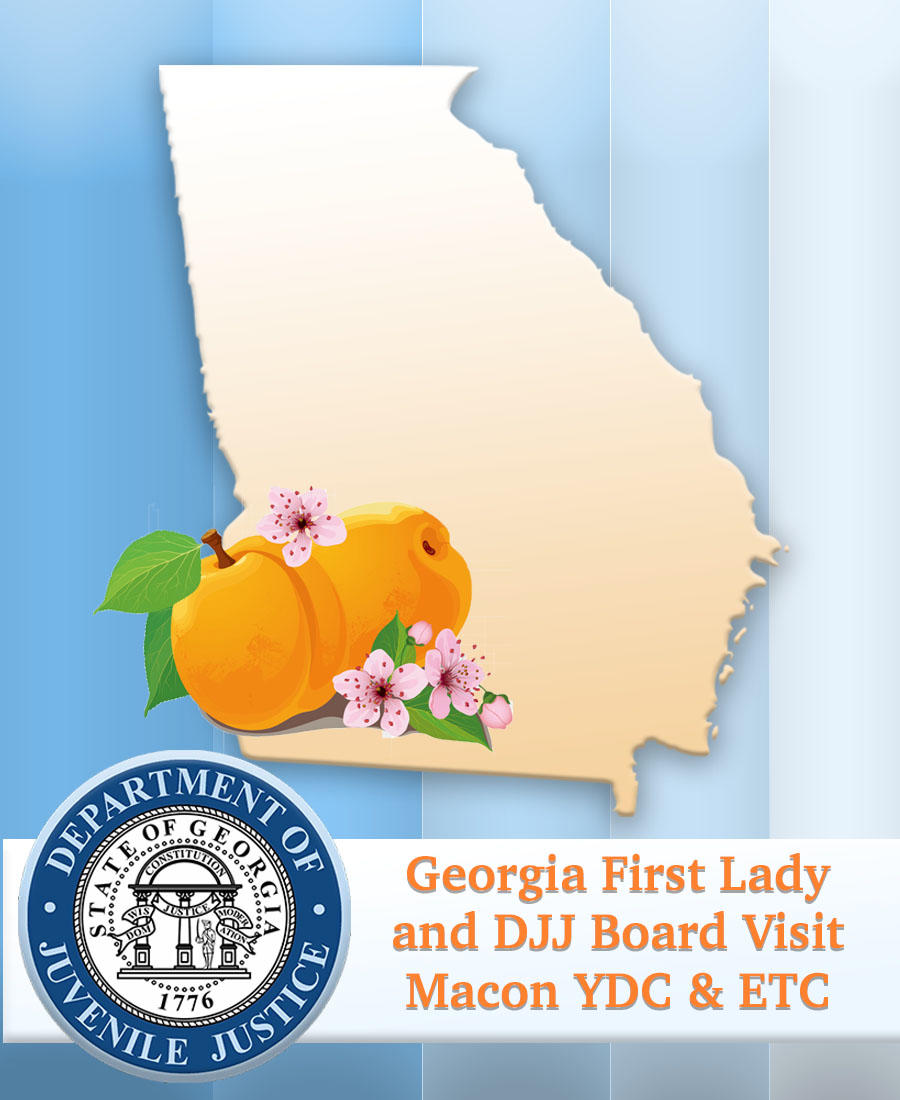 Commissioner Avery D. Niles, members of the DJJ Board and key agency staff traveled from around the state to the Macon Youth Development Campus (YDC) to attend the August Board meeting. Georgia First Lady Sandra Deal made a special visit to the Macon YDC and the Macon-Bibb Education Transition Center (ETC) to join Commissioner Niles and DJJ Leadership in their tour of the education and vocational training facilities.
Following the Board meeting, Macon YDC youths performed several musical and theatrical performances for Mrs. Deal and the Board. One youth recited an original poem about overcoming hardships and achieving her dreams, while dance students proudly showcased their creative talents performing  choreographed numbers accompanied by uplifting musical selections. 
5V4A8370.JPG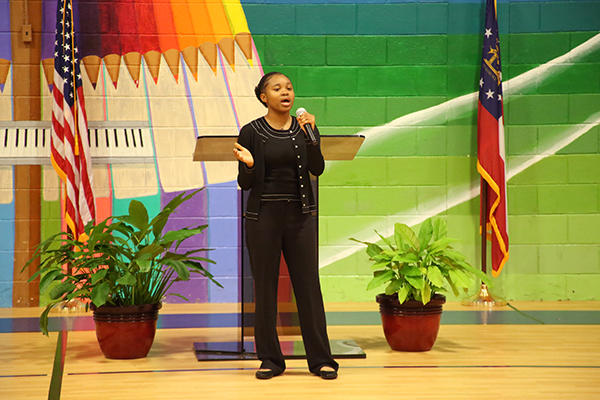 5V4A8374.JPG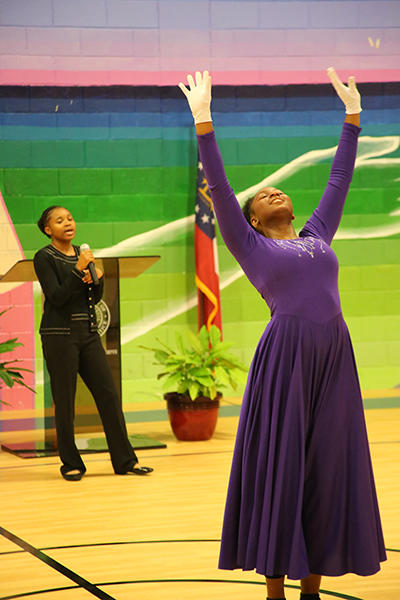 5V4A8388.JPG
First Lady and Board Visit Macon_87.jpg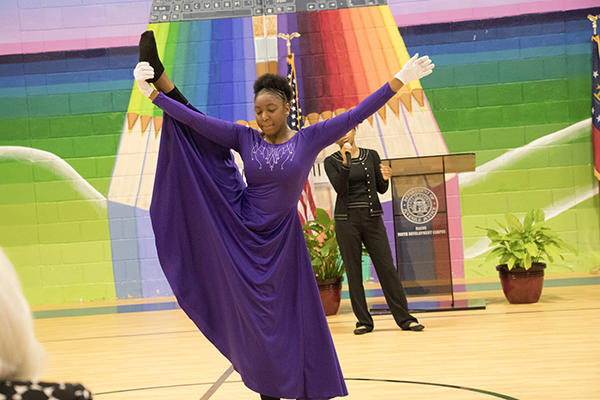 First Lady and Board Visit Macon_91.jpg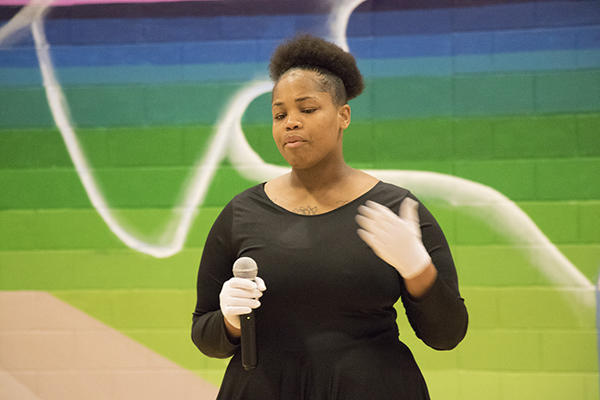 First Lady and Board Visit Macon_107.jpg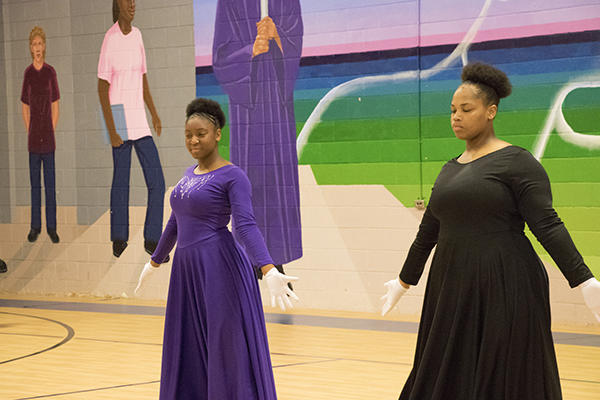 First Lady and Board Visit Macon_110.jpg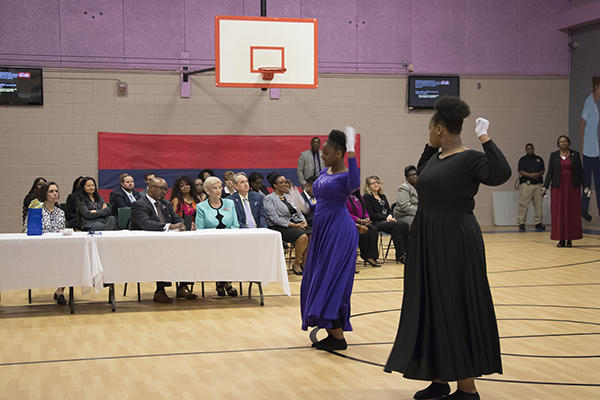 A cast of four students presented their Macon YDC original skit entitled, "You Don't Live on my Street," that emphasized the importance of understanding how personal backgrounds can play a significant role in how life is interpreted and experienced. The outstanding youth performances received a standing ovation from Mrs. Deal, Commissioner Niles, the Board and DJJ staff members.
First Lady and Board Visit Macon_123.jpg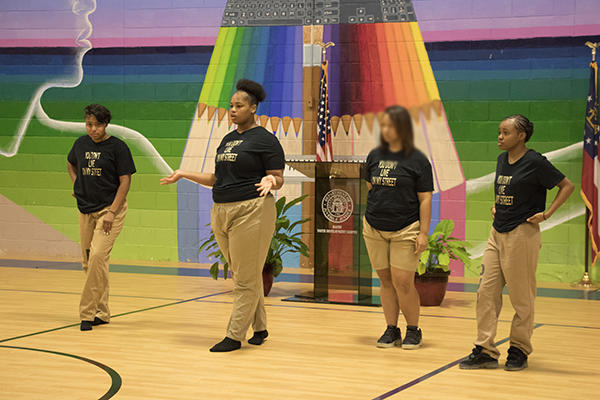 First Lady and Board Visit Macon_116.jpg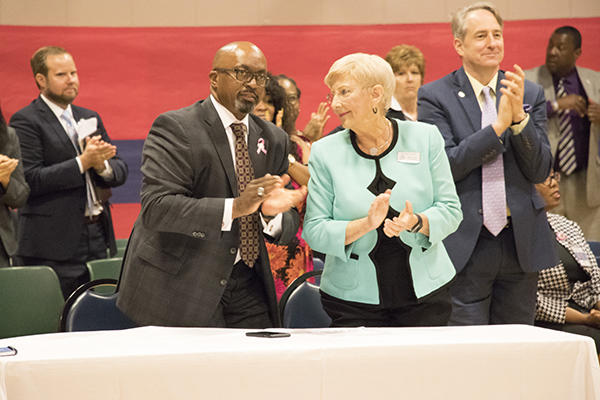 As a life-long advocate for the education and welfare of children, Mrs. Deal met with the DJJ students and performers to encourage them to keep moving forward with their lives and not to let their past mistakes define their futures.
"I want you all to complete your educations and take advantage of the vocational training opportunities offered through DJJ," she said. "Governor Deal and I want you to succeed and do the right thing in your communities. We are proud of how far you've come, and we believe in you."  
Mrs. Deal and DJJ Board members toured Macon YDC's cosmetology lab where students showed off their techniques with manicure, shampooing and hairstyling demonstrations. The First Lady and Commissioner Niles officially opened the cosmetology lab in August 2015. Mrs. Deal was pleased to see real progress made in the program to help young women develop skills they can use upon reentry.
5V4A8404.JPG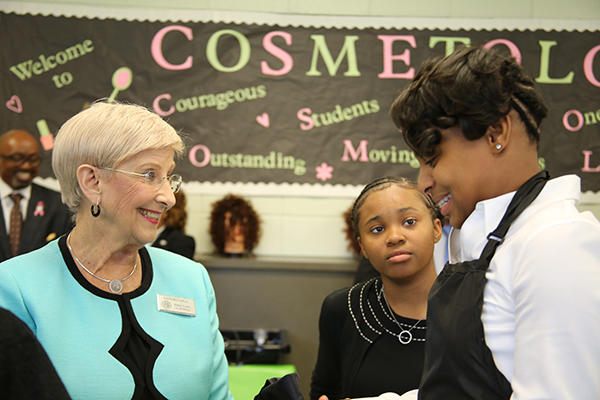 5V4A8415.JPG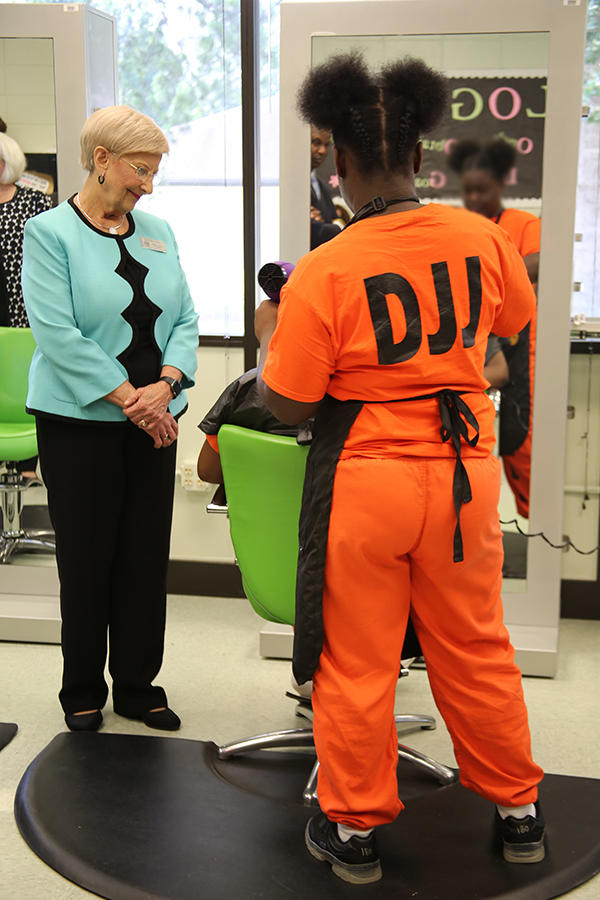 First Lady and Board Visit Macon_184.jpg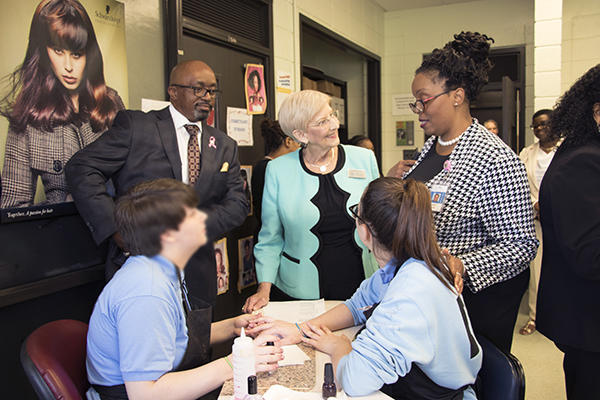 First Lady and Board Visit Macon_154.jpg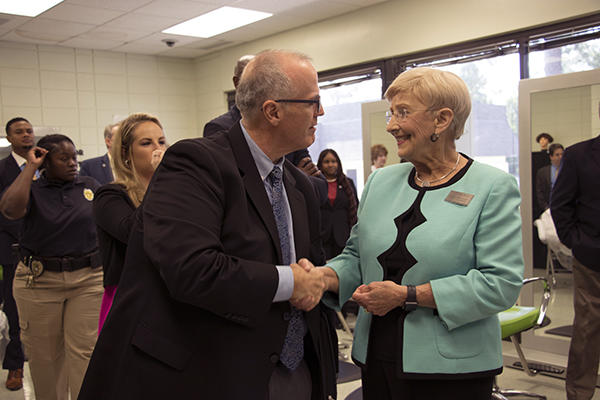 DJJ Board Vice Chair Sandra Heath Taylor and Board member Judge Lisa Colbert enjoyed putting the student cosmetologists to the test by having their hair and nails done in the classroom. Students in the cosmetology program study fundamental theories and practices of the personal care profession with an emphasis on state rules and regulations. By completing these courses, students can potentially earn credit toward the hours required by the Georgia State Board of Cosmetology for licensing as an esthetician or nail technician.
First Lady and Board Visit Macon_162.jpg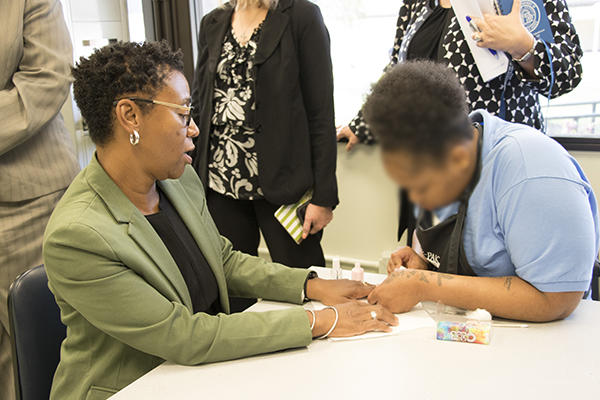 First Lady and Board Visit Macon_188.jpg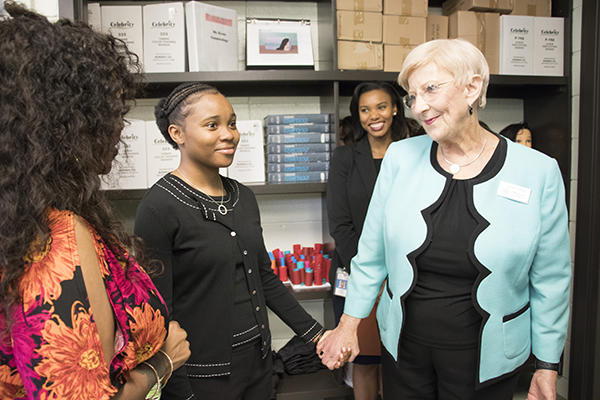 DJJ offers many other vocational programs in its 26 secure facilities including construction, welding, forklift operation, horticulture and culinary arts to ensure youths are prepared for reentry. Former DJJ youth Johnae Wright was present to speak with Mrs. Deal and Board members about the special program. Wright is the first DJJ student to graduate the course and will soon take the state cosmetology exams. She has also completed 18 hours of college credit during her incarceration and plans to continue her college education at Atlanta Metropolitan State College upon her release this year.   
First Lady and Board Visit Macon_206.jpg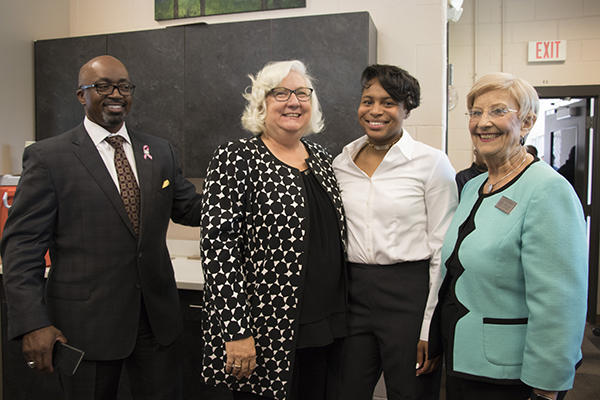 First Lady and Board Visit Macon_212.jpg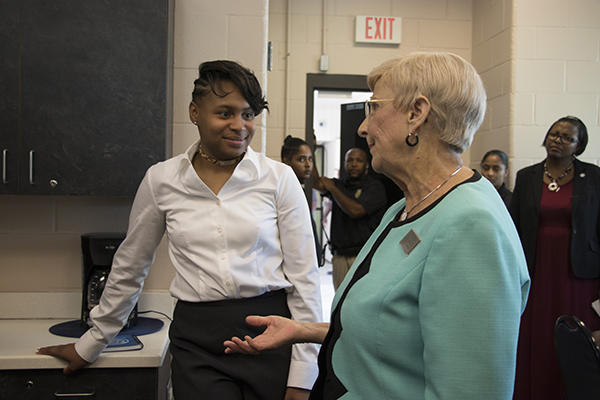 Afterward, the First Lady, Commissioner Niles and DJJ Board members met with students at the Macon Education Transition Center (ETC). Macon ETC serves as an alternative educational setting to traditional public schools for youths who have reentered society, but still need to complete their education. The concept of ETC's was developed by the state's 181st school district known as the Georgia Preparatory Academy. In addition to the Macon-Bibb County Center, there are ETC's in Chatham and Richland counties.
5V4A8439.JPG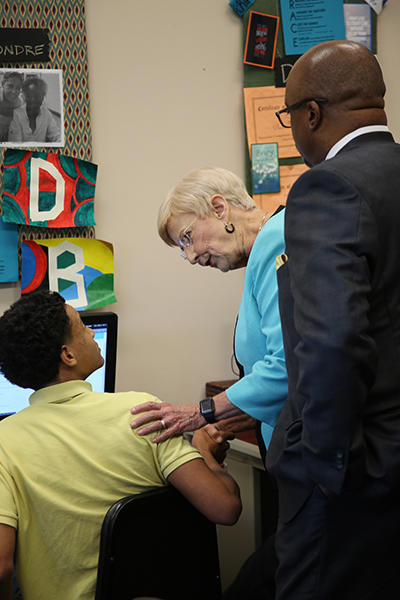 5V4A8452.JPG
"DJJ is committed to providing the youths in its care with an education that will empower them to reach their full potential and become college and career ready," said Commissioner Niles. "I am thankful to Governor and First Lady Deal, our dedicated Board members, DJJ staff, and community partners and stakeholders for their support to help our youth turn their lives around."