DJJ Community Resources Database
resourcedatabasedjjgraphic18.fw_.png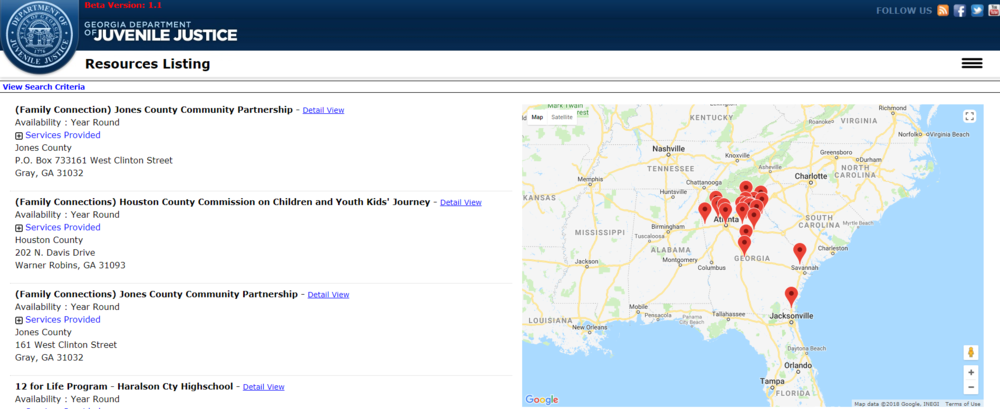 Enhancing protective factors and mitigating risks is essential to the Department of Juvenile Justice's (DJJ) system of care. DJJ supports juvenile justice reform, and our inherent responsibility to provide access to evidence-based programs and services for youth who return home from our facilities. When youth receive needed services it improves their chances of success and puts them on a pathway to a better life and away from delinquency. 
We are pleased to announce the deployment of a Community Resources Database for use by staff, youth and their families. The database consists of more than 1,200 resources statewide. DJJ will continue to add to the database as new resources become available.  The Division of Community Services partnered with the Office of Technology Information Systems (OTIS) to create this tool. It is designed to meet the needs of the juveniles we serve. Since some juveniles and their families may not have access to computers, the resource map/database will be searchable using any web browser including smartphones and tablets. In addition, an app is being developed that will be Apple- and Android-compatible. 
The technology specialist with the Office of Reentry Services will provide reporting mechanisms to measure efficiency and effectiveness for sustainability. This project was completed using Second Chance Act Outcomes Grant Award #: 2016-CZ-BX-0003.  The database is housed on the DJJ public website https://djj.georgia.gov/office-reentry-services select Reentry Support. Some of the functionality is listed below:
Searches
By aftercare domain/service type
By county
City
By mile radius
Functionality to allow coordinators to enter/edit resources onsite
Functionality to allow coordinators to be assigned/reassigned to region(s)/district(s) within Georgia
For DJJ staff who would like training, please contact Jason Woods ([email protected]). To submit new resources, please send them to Kim Conkle ([email protected]). 
http://djjweb01.usgovvirginia.cloudapp.usgovcloudapi.net/djj_resources_listings/#!/list#top