Administration
The Georgia Department of Juvenile Justice provides organizational leadership and establishes the vision for the Agency. DJJ is headquartered in Decatur, Georgia and has approximately 26 Secure Facilities and 96 Community Services Offices throughout the state.
DJJ Executive Management Team is comprised of the Chief of Staff,  the Assistant Commissioner and four Deputy Commissioners.  Additional, the team consist of the Associate Superintendent of Schools, the Chief Financial Officer, and the General Counsel who report directly to the Commissioner.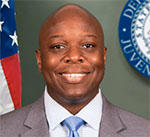 Commissioner Tyrone Oliver
Tyrone Oliver was named Commissioner of the Georgia Department of Juvenile Justice in July 2019 by Governor Brian Kemp. He is responsible for the daily operation of the multi-faceted agency of more than 3,500 employees that holds youthful offenders accountable for their actions through probation supervision and secure detention.
Tyrone is a 20-year veteran of law enforcement who, in 1999, began his career as a detention officer with the Newton County Sheriff's Office.  In January 2016, Commissioner Oliver was named Chief of Police for the City of Social Circle and later that same year selected as Social Circle's Deputy City Manager.
Commissioner Oliver is a graduate of Columbus State University's Law Enforcement Professional Management Program, completed the FBI's Law Enforcement Executive Development Program and Leadership Trilogy and attended the Georgia International Law Enforcement Exchange to Israel.
A long-time resident of Newton County, Georgia, Oliver is married to Aimee and has five children and one granddaughter. He exceptionally active in his community, serving on several youth-focused organizations as a board member.
Mark J. Mitchell - Chief of Staff 
Mark J. Mitchell was appointed Chief of Staff for the Georgia Department of Juvenile Justice in September 2019. He is a 27-year law enforcement veteran that formerly served as Chief of Police for the City of Canton, Georgia. Mitchell received a master's degree in Criminal Justice from Troy University and is a graduate of the 207th Session of the FBI National Academy.
Sean C. Hamilton - Assistant Commissioner 
Assistant Commissioner Sean C. Hamilton is responsible for implementing the Commissioner's guidance and providing strategic direction for all Divisions under his supervision. Direct reports include the Division of Secure Campuses, Division of Community Services, Division of Administrative Services, Division of Support Services and Special Operations.
Mr. Hamilton has 29 years of experience working with delinquent youth and abused and neglected children and their families. Assistant Commissioner Hamilton holds a Bachelor and Master's Degree in Social Work from Southern University in New Orleans.
Zane Shelfer - Deputy Superintendent of Schools 
Zane Shelfer serves as the Department of Juvenile Justice's Deputy Superintendent of Schools. Mr. Shelfer has a Bachelor of Science in Education from the University of Georgia, a Master of Education in Counseling and Guidance from Valdosta State University, and a Specialist in Education from Georgia State University. He also completed the Leadership program at Georgia State University.
Steven Carter-Williams - Chief Finance Officer
Steven Carter-Williams began his career with DJJ in June 2017 as a Budget Administrator in the Division of Financial Services and was promoted to Budget Director in December 2017.  Before his employment with DJJ, he served for six years as a Budget Analyst Supervisor at the Georgia Department of Human Services. Mr. Carter-Williams earned his Bachelor of Science degree in accounting from Southern University and Agriculture & Mechanical College in Baton Rouge, Louisiana. 
Cindy Wang - General Counsel 
DJJ Legal Services is headed by General Counsel Cindy Wang, who also serves as the Department's Ethics Officer. The Office of Legal Services handles the legal interests of the agency and works closely with the Attorney General's Office to represent the Department in state and federal courts. The Office handles youth-related matters in the courts; reviews and drafts contracts, legal documents and amendments to Board Rules and assists with policy development. Legal Services is also responsible for responding to requests for public information pursuant to the Georgia Open Records Act. Mrs. Wang has been with DJJ for four of her seventeen years with the State of Georgia. 
Zachary Louis - Director of Government Relations 
As Director of Government Relations, Mr. Louis' primary responsibility will be to serve as the liaison between DJJ and the General Assembly which includes the evaluation of all proposed legislation related to the Department.  Mr. Louis comes to DJJ with nine years of experience, having served as Director of External Affairs for Valdosta State University and legislative aide for a former State Senator. He has expertise in all aspects of governmental affairs and his most recent accomplishments include working on the billion-dollar Georgia Transportation Infrastructure Act of 2014; and the successful lobby of the state legislature for nearly $8 million in bond projects for Valdosta State University. Mr. Louis received a bachelor's degree in Political Science with a minor in Criminal Justice from Georgia Southern University in 2010.
Glenn Allen - Director of Communications 
Communications Director Glenn Allen oversees all media relations aspects for DJJ. Prior to joining the Department, Mr. Allen was the Communication Director for the Georgia Department of Insurance/State Fire Marshal's Office. He received his bachelor's degree in Mass Communications from Savannah State University.
Dana Kilpatrick - Director of Human Resources 
Human Resources Director Dana Kilpatrick has been employed by the State of Georgia for over twenty-two years having spent the majority of her career with the Georgia Department of Transportation. At Georgia DOT, Ms. Kilpatrick was the HR Deputy Director overseeing human resources operations, recruitment and retention, customer service, and administrative support units. Previous to her work with the state, Kilpatrick worked with the Georgia Lottery Corporation and AT&T.  Dana Kilpatrick received her Bachelor of Science degree in Marketing from Southern University A&M in Baton Rouge, Louisiana.  
Matthew Wolfe - Director of Investigations 
Director of Investigations Matthew Wolfe has over 23-years of law enforcement and leadership experience. He recently served as Jail Commander for the Rockdale County Sheriff's Office where he was responsible for the daily operation of the facility. Prior, to his role as Jail Commander, Wolfe was the County's Executive Officer in the Field Services Bureau and supervised the Criminal Investigation Division. Director Wolfe earned his bachelor's degree in Criminal Justice from Georgia College and State University and holds a master's degree in Public Administration from Columbus State University.
Latera Davis - Director of Professional Development 
Latera Davis serves as the Director of the Office of Professional Development and Standards for the Georgia Department of Juvenile Justice. She received a B.S. in Criminal Justice at Georgia State University and holds a master's degree in Social Work and Public Administration. As the Director, she is responsible for statewide leadership and the oversight of the Office of Professional Development, Compliance Unit, Victim and Volunteer Services, and Emergency Management. 
Pamela Hill - Deputy Commissioner 
Deputy Commissioner Pamela Hill oversees the Division of Secure Detention where she is responsible for the daily management of 19 Regional Youth Detention Centers and 7 Youth Development Campuses. Deputy Commissioner Hill has served with dedication to the Department of Juvenile Justice for more than 20 years.   
Victor Roberts - Deputy Commissioner 
Deputy Commissioner Victor Roberts guides the Division of Community Services, and is responsible for intake, case management, probation, supervision, detention planning, aftercare supervision and Re-entry services. Intake is the decision-making point at which a youth is either diverted from or formally processed into the juvenile justice system. Deputy Commissioner Roberts has been providing professional services for youth at the Department of Juvenile Justice for over 20 years.
Margaret Cawood - Deputy Commissioner 
Margaret Cawood is Deputy Commissioner for the Division of Support Services (DSS). This Division is responsible for the Office of Behavioral Health Services (OBHS), the Office of Classification and Transportation Services (OCATS), and the Office of Nutrition, and medical and dental services. DSS Regionals provide consultation and oversight of PBIS program and recreation activities in all 26 secure facilities. Deputy Commissioner Cawood has more than 30 years of experience in community mental health services, residential programming and the youth development field. Eighteen of those years have been with the Department of Juvenile Justice.
Shawanda Reynolds-Cobb - Deputy Commissioner 
Shawanda Reynolds-Cobb is Deputy Commissioner of the Division of Administrative Services. Administrative Services encompasses the Office of Contracts, Office of Grants and Building Services, Office of Technology and Information Services, Office of Assets and Property Management, Office of Real Estate Management and Strategic Planning as well as the Office of Engineering. DC Reynolds-Cobb has 25 years of state experience including time worked at the Criminal Justice Coordinating Council overseeing the Georgia Crime Victims Compensation Program.