DJJ Employee Spotlight on Marylyn Morgan 
MMorgan2020bb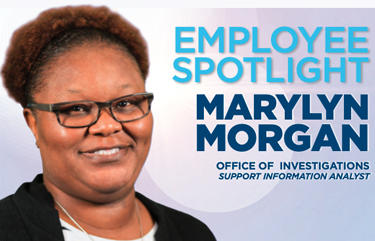 Studies show that maintaining positivity in life has great benefits. A smile and the right attitude can aide in an increased life span, better heart health, a boosted immune system, and can even lower cholesterol.
Dr. Norman Vincent Peale, the author of "The Power of Positive Thinking," once said, "Change your thoughts and you change your world." For Georgia Department of Juvenile Justice (DJJ) employee Marylyn Morgan, these words are not just an encouraging cliche, but a standard she tries to live by each day of her life. 
As a Support Information Analyst in the Investigations Division, Marylyn develops background packages on juvenile offender and individuals interested in volunteering with the agency. However, twenty years ago, Marylyn's life was radically different. Unable to finish high school, she was a teenage mother with limited employment opportunities.  
While working as a housekeeper at Children's Healthcare of Atlanta, Marylyn never gave up hope that her life would take a different direction. "There was something in me that wanted more," said Marylyn. "It is never too late. Your time is your time."
With that determination driving her forward, Marylyn went back to school in 2010 earning a General Education Diploma (GED) and started her academic journey. 
"I was the first of my mother's five children to have a high school diploma equivalent. Education is important because my mom stressed it."
Enter DJJ and the criminal justice system
 
"I was always interested in the criminal justice system and would ride by the DJJ's Central Office building on my way to Children's Hospital. I would tell myself that I was going to work in that building one day, the building motivated me." 
After Marylyn got her GED, she immediately applied to Georgia Piedmont College, where she took criminal justice classes. In 2012, she transferred to Strayer University, where, in 2015 she received her Associates Degree in Criminal Justice. It was a significant milestone for Marylyn, but one that left her wondering what was next. 
"I tried to figure out my next path?" For Marylyn, the path was forward. In 2017, she received her Bachelors of Arts degree in Criminal Justice Administration.
When Marylyn Morgan applied to work as support services for the DJJ Investigations Unit, her dream became reality. Nervous during interview, Marylyn told her the panel that "if you give me an opportunity, I can do what's needed to accomplish the task."
With her heartfelt honesty and new academic background, in 2017 Marylyn Morgan obtained her dream and was hired at DJJ. 
"Working at DJJ has exceeded my expectations. Every day is not the same day for me. It is always something different at work. The people whom I work with are all positive people. I like what I get to do. I love working at DJJ."
The dream is continuing for Marylyn. In 2019, she was accepted into Georgia State University's social work master's program. Her goal, once she obtains her master's degree, is to work with youth who have criminal justice issues, especially those with substance abuse problems or who have experienced sexual exploitation. 
Marylyn asks, "What can we do to help the kids before they even come here (DJJ)? We need to find the things on the outside that can alleviate youth from coming here (to DJJ)."
With such a bright future for ahead, Marylyn offers this advice for anyone striving for more in their life and career. "You can do whatever you want to do, no matter how old you are; it does not matter. It has been an awesome experience. I have never forgotten the beginning and where I am now." 
The Department of Juvenile Justice applauds the work of Marylyn Morgan and appreciates her continued drive to serve the youth.
"It is not where you start, it is where you finish. My success humbles me to keep going."
TIMELINE
2010 - GED
2012 - Strayer University majoring in Criminal Justice
2015 - Associate Degree in Criminal Justice, Strayer University
2017 - Bachelor of Arts Degree in Criminal Justice Administration, Strayer University
2020 - Completed first year of GA State University's Social Work Master's Program