Chatham Education Transition Center Youth Graduate from Georgia Tech LEAP Program
leap_chatham_etc_graduation_djj_5v4a0089.jpg
On November 13, DJJ held a graduation ceremony for Savannah area youth who participated in the Georgia Institute of Technology Logistics Education and Pathways (LEAP) training program. LEAP is a certification program that prepares students to compete for jobs in the supply chain and logistics field. The program also allows participants to obtain a permanent professional education transcript of continuing education from Georgia Tech University.
Carole Bennett, Director of the Leap Program, applauded how involved DJJ was in the program from the beginning to end. "From the very start there has been very active involvement and engagement from DJJ from the leadership to the instructors in the class and the students," said Bennett. "They have been very excited and always very committed to fulfilling this and making sure everything that needed to happen did for this cohort and that is why it has been so successful." 
carole_bennett2.jpg
The Georgia Tech Supply Chain and Logistics Institute created LEAP in 2015 through a $350,000 grant from JPMorgan Chase & Co. to further the financial services firm's "New Skills at Work" initiative. The initiative promotes workforce development to bridge the gap between the talent employers need and the qualifications of the local talent pipeline.
LEAP prepares students in the basics of supply chain and supply chain's roles within organizations. The course includes defining supply chain management and the various domains within the supply chain (i.e., customer service, manufacturing and service operations, order management, procurement and supply management, demand planning, inventory management, warehousing operations, and transportation operations). It includes an explanation of how the supply chain supports organizations' strategic and financial goals.
Eight DJJ Chatham County Education Transition Center students earned various certificates of completion in Supply Chain Management, Customer Service, and Warehouse Operations. The 40-hour certifications allow students to learn at their own pace through a convenient online format. 
LEAP program graduate Vin'Tay Lonon's Supply Chain Management Principles and Customer Service Operations certifications will certainly help him achieve his goal of becoming a pilot.  "I will make my mentors and everyone that helped me proud," said Lonon. "This is a new path for me because I never had anything in front of me like this. Going forward in life, I will put these certifications to use."
commissioner_oliver_with_graduate_vintay_london1.jpg
Providing career and technical education are identified as an essential practice in the Youth In Custody Practice Model (YICPM), a guide to best practices in youth corrections. The model identifies more than 70 critical policy and practice elements and outcomes.
The Council of Juvenile Correctional Administrators (CJCA) and the Center for Juvenile Justice Reform at Georgetown University's McCourt School of Public Policy (CJJR) developed the research-driven and data-based practice model to organize the tools agency and facility staff members need to achieve better results for youth once they leave facilities.
judge_lisa_colbert_djj_board_member3.jpg
DJJ Board member Judge Lisa Colbert showed her support to the youth saying, "I get a little emotional because often times I have to deal with young people when bad things have happened. It always brings me great joy to be a part of a celebration when they accomplish things that I know they can accomplish when given the opportunity and support."
According to the YICPM, it is essential that juvenile facilities provide youth with dependable access to high-quality education programs that are commensurate with their needs. Among the U.S. Department of Justice and Department of Education guiding principles for high-quality education in secure care settings, highlighted are opportunities for post-secondary education and pre-vocational and vocational opportunities that are relevant to youth's interest and aptitudes and that correspond to employment opportunities in the communities to which youth will return. 
The model says facilities should offer youth vocational training that prepares them for local employment opportunities, teach them skills to obtain and maintain jobs and forge meaningful and dynamic post-release community connections while a youth is still in placement. Vocational courses should be based on professional and industry standards and should provide hands-on learning opportunities for youth to practice the skills they have learned.
At the time of graduation, four graduates had already received job offers and three others had job interviews scheduled.
leap_chatham_etc_graduation_djj_5v4a0119.jpg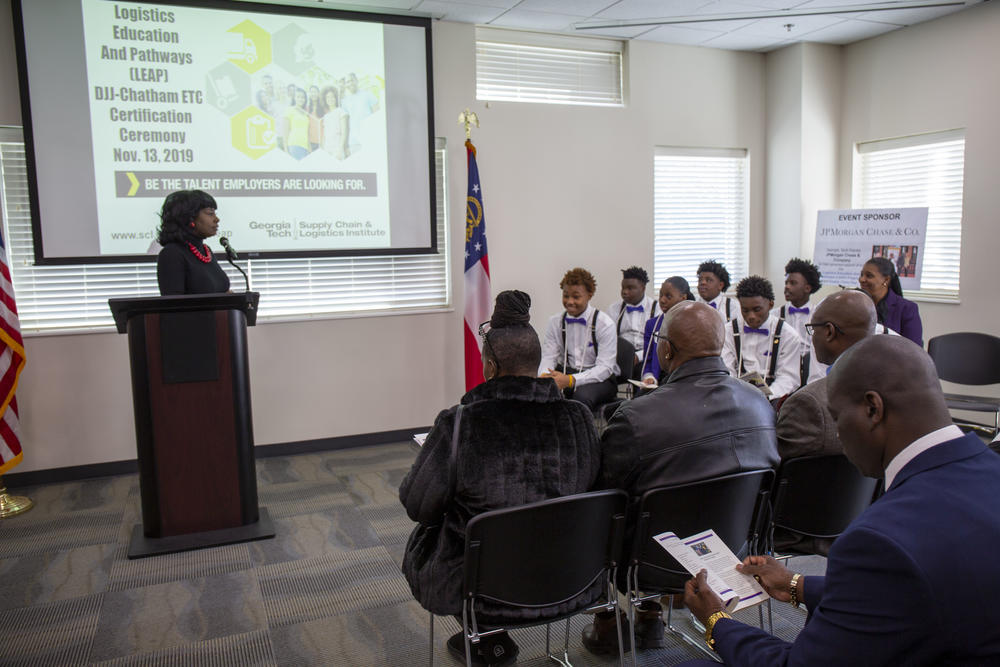 "It is not where you start, but where you finish and they are going to finish strong," said DJJ Commissioner Tyrone Oliver. "It warms my heart to know that they are leaving with a certification and a job. That is very important. That is going to be key for them to succeed. That's part of our mission of rehabilitating youth, so when they reenter society, they are better people."