:
The December 9th meeting of the Board of Juvenile Justice has been canceled. The next meeting is scheduled for January 2022.
PBIS and Rescue 2 Restore: The Rockdale RYDC is ROCK SOLID
rockdalesolid2016a.jpg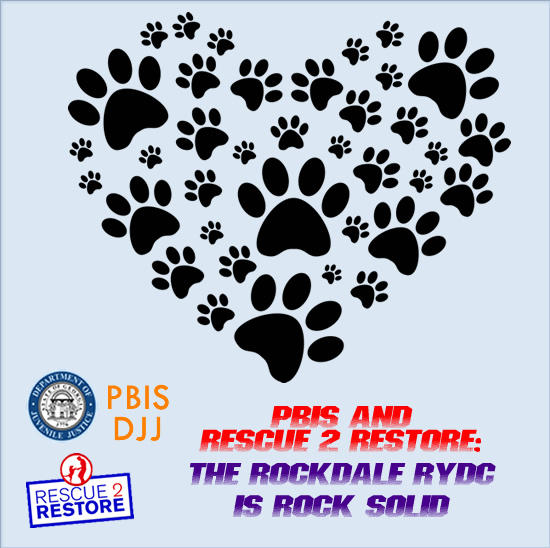 Story support by Rockdale RYDC Volunteer Resource Coordinator Staci Hill
The Rockdale Regional Youth Detention Center (Rockdale RYDC) would like to thank the DJJ Rescue 2 Restore Team for providing their help and services to the PBIS-SOLID (Positive Behavior Interventions and Supports- Strive for Excellence - Observe All Rules - Lead by Example - Initiate Positive Change - Demonstrate Success) Program. The Rescue 2 Restore Team has committed to visit the Rockdale RYDC during the first Thursday of each month to provide animal training services to the youth program participants. 
DJJ implemented Positive Behavior Interventions and Supports (PBIS) in all DJJ Facilities February, 2013. The statewide PBIS program is helping to change the culture in DJJ facilities to a more supportive environment where youth and staff are reinforced for displaying the expected "good" behaviors posted in the facility's local operating procedures. For the Rockdale RYDC, youth are rewarded with the ability to join the Rescue 2 Restore program if they participate in behavioral health and JDCS groups and have zero medical refusals for the recent week.
Rescue 2 Restore was established in June 2014 as a component of the Georgia Department of Juvenile Justice, Division of Operations and Compliance, Volunteer Services. The department identified animal programming as a successful method to provide youth with life skills, while educating the youth on animal care and compassion. Behaviorally, animal programs have proven to alleviate depression and encourage good behavior. Rescue 2 Restore is responsible for building community partnerships and providing the youth with positive animal interactions and lessons.
rockdalesolid2016b.jpg