DeKalb RYDC Parent Night Encourages Family Involvement
dekalbrydcparentnight19bb.jpg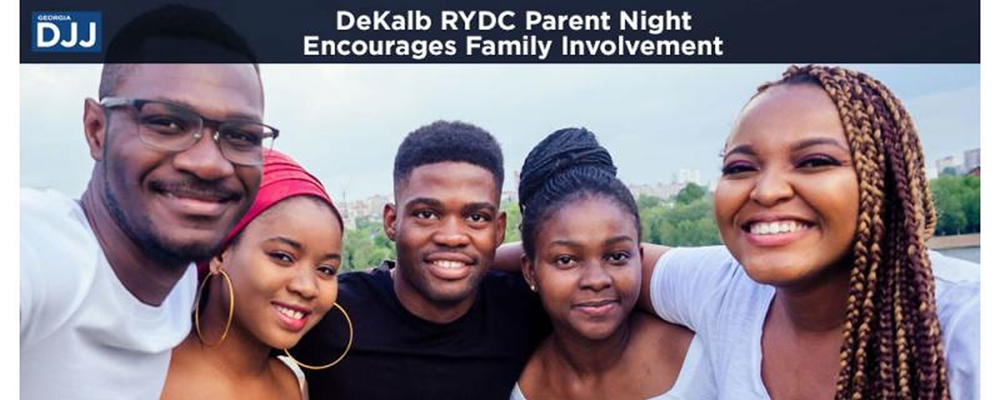 The Georgia Department of Juvenile Justice DeKalb Regional Youth Detention Center (RYDC) hosted a parent night Thursday, July 18 to provide parents with pertinent information about the facility's operational procedures, programs and services and to field their questions and concerns. The DeKalb RYDC is one of 19 secure short-term centers across the state for youth awaiting trial, waiting to enter a community program or long-term facility. The all-male facility can house 64 youth up to the age of 21.  
The DeKalb RYDC leadership team aims to build a continuous rapport with the youth support system to help encourage positive behavior and open dialogue.
Twelve parents attended the event and nearly two dozen DJJ staff members were on-hand to speak with parents on a host of topics including mental health, education and volunteer services. The parent orientation also allowed parents to connect faces with the staff they are communicating with and that are caring for their children.
Parents were eager to learn more about their child's daily activities. Parents also heard information regarding the facility's policies and procedures, early release eligibility, youth redirection techniques and school credits. The Georgia Preparatory Academy (GPA) is the middle school and high school within the DJJ School System. DJJ is the 181st School District in the state of Georgia and is accredited by AdvancED. There are 30 GPA campuses across Georgia located in RYDCs, Youth Development Campuses (YDCs) and Education Transition Centers (ETCs). DJJ youth are able to transfer credits earned at GPA to other school systems.
DeKalbMeetandGreet_Staff_Speak.jpg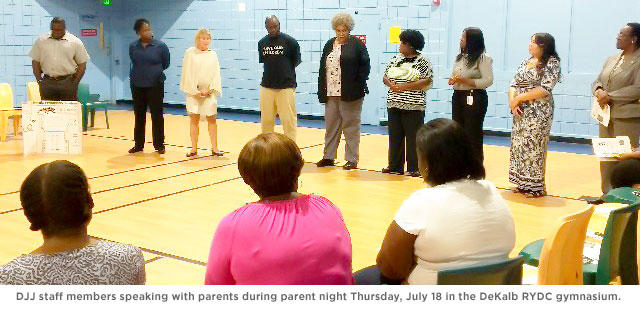 The facility also offers other activities including after school tutorials, volunteer groups, art, Bible study and yoga.
Family engagement is one of the critically essential practices identified in the Youth In Custody Practice Model (YICPM), a guide to best practices in youth corrections. The model identifies more than 70 critical policy and practice elements and outcomes. The Council of Juvenile Correctional Administrators (CJCA) and the Center for Juvenile Justice Reform at Georgetown University's McCourt School of Public Policy (CJJR) developed the research-driven and data-based practice model to organize the tools agency and facility staff members need to achieve better results for youth once they leave facilities.
According to the practice model, research shows that youth in the juvenile justice system do better when families are engaged in their rehabilitation. The model says, to effectively operate a teaming effort between staff members and families, agencies must provide families with background information on the facilities and juvenile justice system and effectively interact with families.
OBH1_DrChristine-Doyle.jpg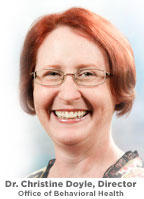 "Parental involvement matters and is a significant factor in a child's success," said Dr. Christine Doyle, Director of the DJJ Office of Behavioral Health. "Events such as the DeKalb RYDC Parent Night are really the first steps in strengthening our identification of a child's family and natural support system."
Dr. Doyle leads a team of approximately 200 staff members that oversees several programs including programs and case management, substance use and positive behavior intervention support (PBIS), topics that were also discussed with parents.
According to research cited in the YICPM, family visits for youth residents have also been linked to decreased rates of symptoms of depression, suggesting that family support can reduce or negate the stress of facility placement (Monahan, Goldweber & Cauffman, 2011). Additionally, family-focused reentry programs that prioritize involving families early in youth's residential placement period have been shown to reduce the prevalence and seriousness of subsequent offending (Winokur-Early, Chapman & Hand, 2013). 
 "I am excited to see a facility took initiated to develop this activity on their own and I am really confident that as we progress in the youth in custody practice model work that there will be systemic and systematic thought and policy application and support given to all facilities to strengthen that engagement process," said Doyle.
This was the DeKalb RYDC's first parent night this year, but based on the positive feedback from the meeting, the facility will now look to host a parent night every quarter to foster a well-rounded community of support for youth.
References
Umpierre, M., Dedel, K., Marrow, M., and Pakseresht, F. (2016). Youth in Custody Practice Model. Washington, DC: Council of Juvenile Correctional Administrators and Center for Juvenile Justice Reform at Georgetown University's McCourt School of Public Policy.