:
The December 9th meeting of the Board of Juvenile Justice has been canceled. The next meeting is scheduled for January 2022.
Eastman YDC: Wellness Day
eastmanbowling1819wellness8282833.jpg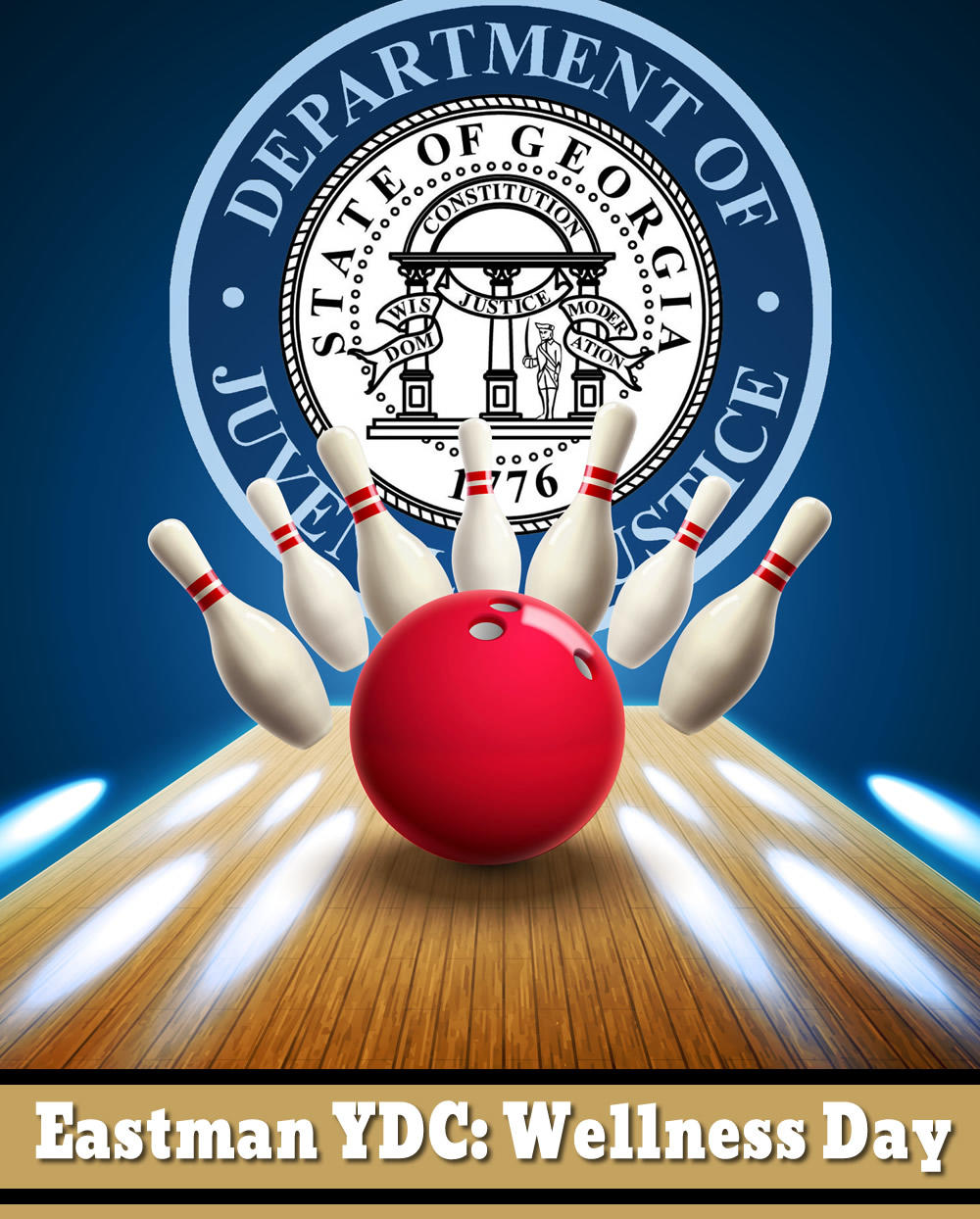 Staff from every department in the Eastman Youth Development Campus recently organized activity booths in their gymnasium to help support their facility-wide observance of youth Wellness Day. The goal of Wellness Day is to provide DJJ youth with the kind of essential activities that can promote improved mood and increase their overall sense of well-being. 
Youth attending the event had opportunities to choose the Wellness Day booths they wanted to visit and the Wellness activities they preferred to experience. By department, the available activities included:
MENTAL HEALTH: The Eastman YDC Wellness Day booth for the Mental Health team focused on leisure activities for youth to apply and enjoy when experiencing stress.  Among the stress reduction activities at this booth were:
Bowling to help eliminate stress and increase positive socialization with others
Stress Ball Therapy as a positive outlet for youth to distribute anger, frustration or stress
Bubble Blowing where youth were able to learn about breathing exercises and participate in a positive mindful distraction
Music Meditation teaching youth about self-calming through deep breathing and guided imagery
Snack Description Therapy where youth are asked to describe the texture, taste, smell or memories generated while eating various foods
FOOD SERVICE/LAUNDRY: The Eastman YDC Food Service and laundry workers hosted a game of Food Jeopardy where youth picked special categories and answered questions about food served at the facility. By playing this Eastman menu game, youth learned about healthy eating and the best vitamins and minerals needed for a healthy diet.
BUSINESS OFFICE: The Eastman YDC Business Office staffed the Health and Wellness Trivia booth. Youth competed in a bean bag toss while collecting points in a trivia game where questions were based on the health values of vegetables and corn.  All competitors were served with a popcorn snack to reinforce the healthful message.
EDUCATION DEPARTMENT: The Education Department set-up four Wellness Day booths featuring a breast cancer awareness information area, an anti-bullying campaign center, an exhibit teaching youth about the dangers of high blood pressure and diabetes and a display proclaiming the significance of Red Ribbon Drug-Free Week.
MEDICAL DEPARTMENT: Proper hydration was the focus of the Eastman YDC Medical Department booth. Detailing the importance of water and the quantities needed to preserve maximum hydration, varying sizes of containers  were on display to promote discussion during Wellness Day. 
PROGRAMMING: The Programming Department integrated the importance of physical fitness into their focus on physically challenging activities. Youth were given 60 seconds to complete at least 85 push-ups and youths who were able to complete their push-up challenge qualified to receive monitored facetime conference videos with approved callers from their contact lists. Out of nearly 60 participants at the Wellness Day event, seventeen DJJ youth successfully completed the fitness challenge.
RECREATION STAFF: A roll of the dice determined which physical activity Eastman YDC teammates would perform in a Wellness Day recreation program called the SPARKS PE. During the SPARKS activities DJJ youth learned that an increased heart rate indicates the heart is providing the body with more oxygen and more nutrients to the muscles. After logging-in with their weights, youth were provided with a refreshing cup of Gatorade before leaving the SPARKS station.
ADMINISTRATION: The Eastman Administrative Staff followed-up the SPARKS activities in Recreation with an accompanying 'Work Out of the Day' where each participant had to complete 15 push-ups, 15 sit-ups, and 15 burpees before a fixed deadline. After recording Wellness Day event times for all the young athletes, the top two finishers from each dorm received special prizes.  
SECRETARIES: THIS...IS....'HEALTH....JEOPARDY!' Eastman youth enjoyed challenging the YDC secretaries to enlightening games of Health Jeopardy. First, the young Wellness Day contestants were provided with information about dietary menus. And then they had to match their wits against the dietary facts, answering questions about how to create well-balanced meals. Every player walked away a winner with a light healthy snack of trail mix and granola bars. 
Eastman YDC holds bragging rights to a 100% youth participation rate in this year's Wellness Day observance. DJJ thanks all the youth, volunteers and staff who made this event a healthy success.
eydcwellness1819aa.jpg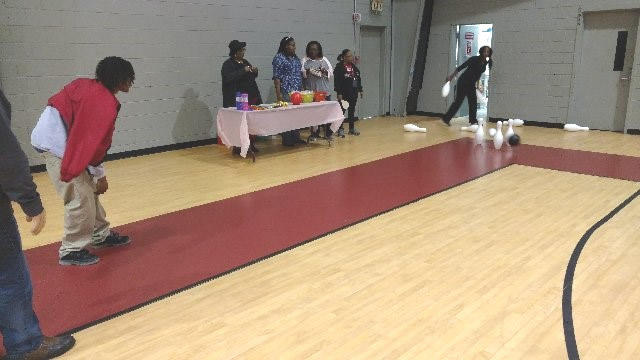 eydcwellness1819bb.jpg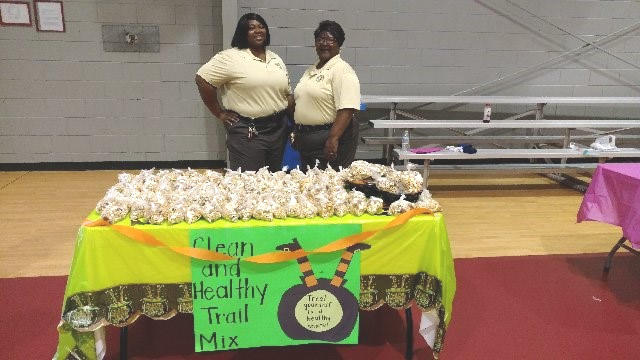 eydcwellness1819ee.jpg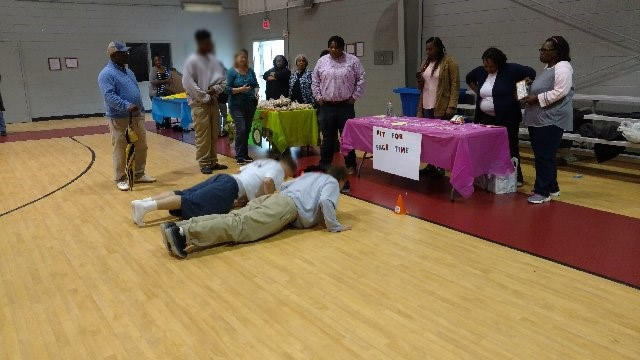 eydcwellness1819ff.jpg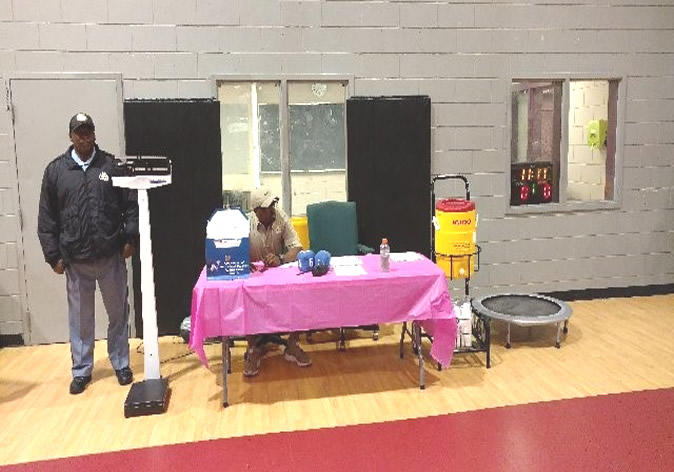 eydcwellness1819gg.jpg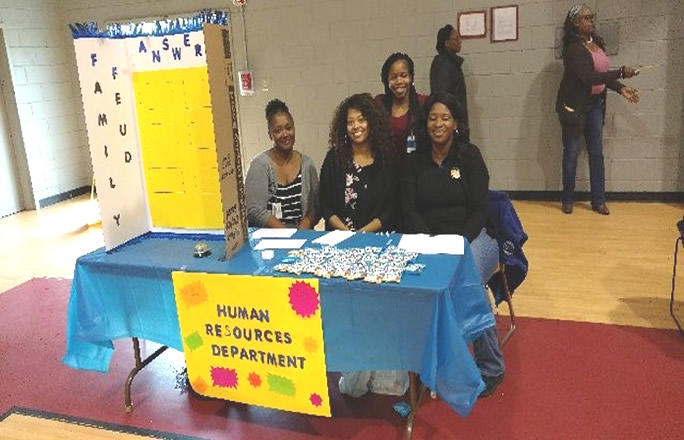 eydcwellness1819hh.jpg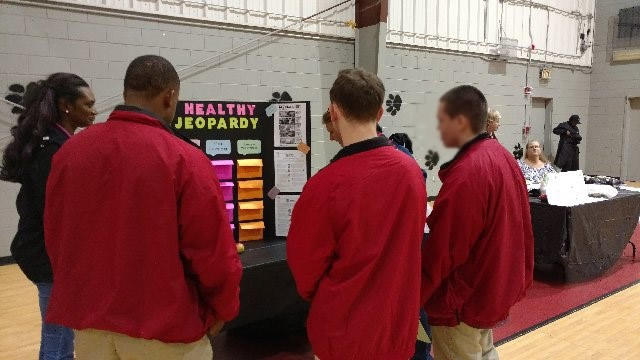 eydcwellness1819ii.jpg