Story and photo from Dr. Christy Doyle, Director of the DJJ Office of Behavioral Health
On August 30th, DJJ Statewide Substance Use Treatment Administrator John Izzo was presented with the prestigious Paula Crane Excellence in Addiction Treatment award at the annual conference of the Georgia School of Addiction Studies.  Mr. Izzo has been working for the Georgia Department of Juvenile Justice since 2005 and currently serves as the DJJ Substance Use Treatment Services Administrator overseeing substance use treatment services statewide.
Working closely with the DJJ Office of Reentry Services and the Division of Community Services, Mr. Izzo has enhanced the substance abuse provision for youth returning to their communities from secure confinement and for youth receiving substance-use treatment services in community settings.  He has also served as the subject matter expert on evidence-based use treatment services for DJJ's Second Chance Act grants and has taken the lead on developing and implementing a new substance use prevention intervention in short-term DJJ facilities.
Recently, John Izzo was an invited presenter as the Georgia Council of Juvenile Court Judges Annual Conference.  Giving a training on the co-occurrence of trauma and marijuana use in juvenile justice-involved youth, Izzo provided information to the judges about the vast array of substance use services that are available to youth in DJJ secure facilities.  Similarly, Mr. Izzo presented at the 2016 National Symposium for Juvenile Services held in Denver, Colorado and has worked tirelessly to educate both DJJ staff and justice stakeholders on substance abuse prevention and treatment of at risk youth.
Through his receiving the Paula Crane Excellence in Addiction Treatment award, John Izzo has received just recognition for being a constant advocate for youth in society who are most vulnerable and have the highest need for mental health and substance abuse help. With his dedication to the youth of Georgia, John Izzo has managed and promulgated system-level change for a high-risk population that is often ignored.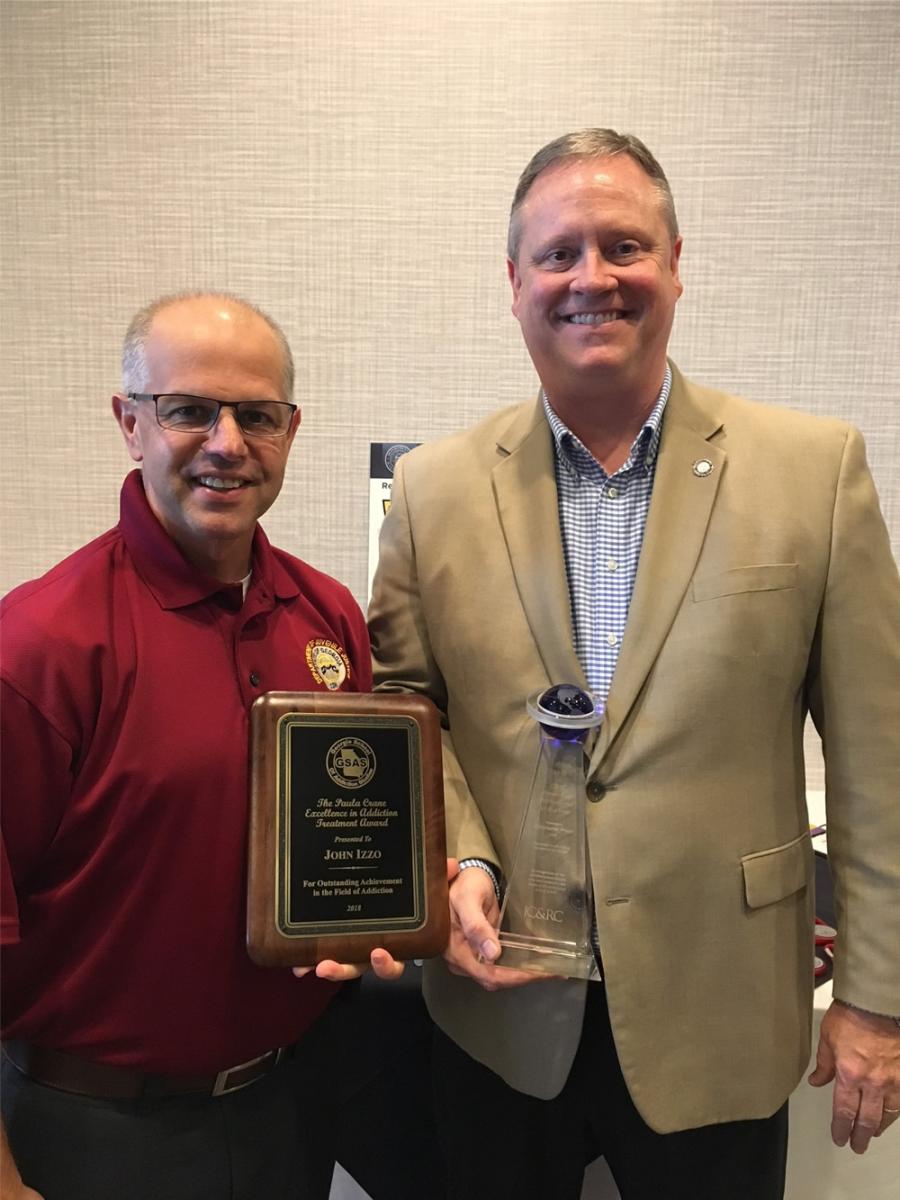 John Izzo (left) with Christopher Wood 
On the same date, DJJ Assistant Director of Training Christopher Wood was presented with the prestigious IC&RC National Prevention Professional of the Year award.  This award is presented by the International Certification & Reciprocity Consortium which is the largest credentialing body for substance use treatment professionals and a leader in research for substance use treatment best practices. The IC&RC National Prevention Professional of the Year award seeks to honor the best certified preventionist who best embodies the ideal of the profession and the IC&RC. 
Mr. Wood has been with DJJ approximately three years. Prior to that he was with the Georgia Department of Behavioral Health and Developmental Disabilities, Office of Prevention Services and Programs, for eleven years and has been working with youth for the past twenty-five years. Mr. Wood is currently the President of the Georgia School of Addiction Studies and a Board Member of the Prevention Credentialing Consortium of Georgia and has conducted workshops and trainings throughout the state of Georgia and at various national conferences.