Transforming U: Physical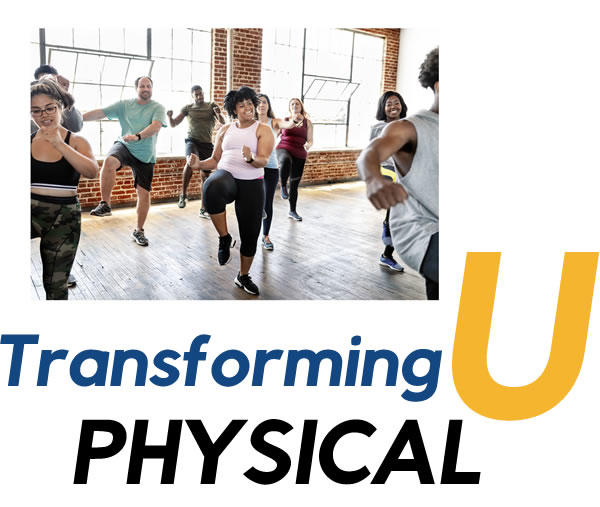 Transforming U: Physical Fitness
"If you're new to working out (or if you're just thinking about incorporating fitness into your life), first thing's first—congrats. Deciding to be more active is an incredible first step to cashing in all of the amazing benefits of exercise, from better moods to improved sleep to all-around higher confidence."
Tips for optimal fitness:
Identify your "why," "what," and "how" so you can be clear about your goals (you can even write these down)
Try starting with three 30-minute workouts a week to pace yourself
Prioritize consistency over intensity
Find other active people to support your efforts
Do workouts you actually like—you're more likely to stick with it
To avoid burnout and injury, start slow and take breaks during your workouts
Accept that you'll have setbacks, and that's OK
Think of working out as an act of self-care
Don't compare yourself to people who are further along in their fitness journey
Know that results don't happen right away, and that's OK
If you're into numbers and stats, try wearing a heart-rate monitor to see how your body's working in real-time
Nix excuses by laying out your workout clothes, signing up for workouts, and meal prepping fueling foods
Practice gratitude for what your body can do right now (no matter what your future goals are)
Transforming U: Exercise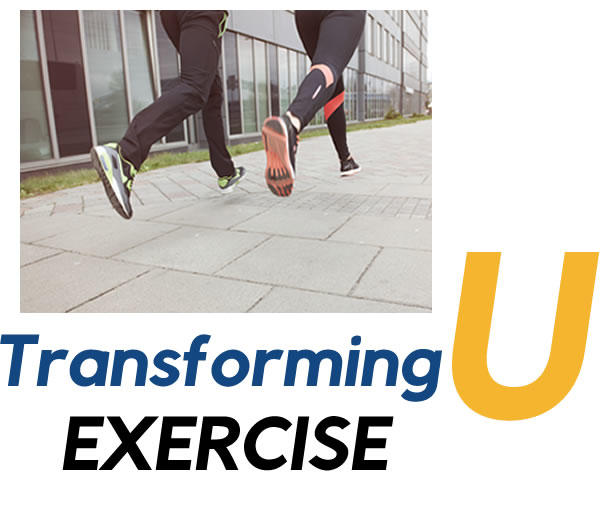 Resources:
What happens when you exercise
Five Ways Hiking Is Good For You
Strength Exercises Using Everyday Objects
Article Reference:
Tucker, Alexa. (2018, January 02). 18 Fitness Tips These Trainers Always Give Their Beginner Clients, Self. Retrieved on 2021, May 17 from https://www.self.com/story/fitness-tips-trainers-give-beginner-clients
Transforming U: Nutrition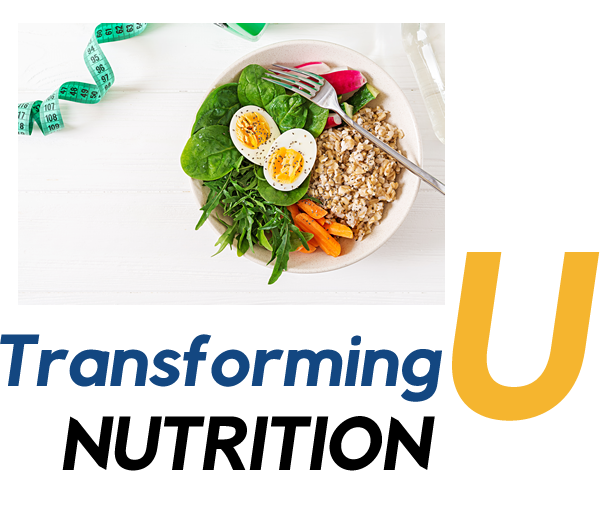 Transforming U: Physical Nutrition
"Eating healthy can be easy, affordable and delicious. It's all about making smart choices to build an overall healthy dietary pattern.
After all, a healthy diet can help reduce your risk of heart disease, stroke and lots of other things you'd rather avoid. The good news is, eating right doesn't have to be hard or require you to give up all of the foods you love."
Tips for optimal nutrition:
Choose mindfully, even with healthier foods. Ingredients and nutrient content can vary a lot
Read labels. Compare nutrition information on package labels and select products with the lowest amounts of sodium, added sugars, saturated fat and trans fat, and no partially hydrogenated oils
Watch your calories. To maintain a healthy weight, eat only as many calories as you use up through physical activity. If you want to lose weight, take in fewer calories or burn more calories
Eat reasonable portions. Often this is less than you are served, especially when eating out
Cook and eat at home. You'll have more control over ingredients and preparation methods
Look for the Heart-Check mark to easily identify foods that can be part of an overall healthy eating pattern
Resources:
DJJ Lunch and Learn: Power Up Your Plate (Video)
Healthy dinners in 45 minutes or less
Article Reference:
How to Eat Healthy without "Dieting", American Heart Association (2017 January 10). Retrieved on 2021, May 17 from https://www.heart.org/en/healthy-living/healthy-eating/eat-smart/nutrit…