Pathway to Success (GED)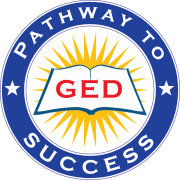 The Georgia Department of Juvenile Justice offers an Adult Education program, Pathway to Success.  To be eligible for Adult Education, students must be at least 16 years of age.  A school counselor must review their high school transcript to determine that the placement is appropriate and complete a program admission form.  For students under the age of 18, parental consent must be obtained prior to the student being placed in the Adult Education program. 
Once a student has been enrolled in the program, he or she will use individualized plans to progress through the program to become test ready.  The TABE 11/12 (Test of Adult Basic Education) along with the GED Ready Official Practice Tests, will be used to determine GED readiness.  Students must meet the required 536 Reading score and 537 Math score on the TABE 11/12, in order to be eligible to take the GED Ready tests.  
There are four subject areas that students will be tested in; Math, Science, Social Studies, and Reasoning through Language Arts. Once the student is eligible to take the GED Ready Official Practice Tests, they must score at least a 145 on the practice test to be eligible to take the Official GED Test in that subject area.  If a student is under the age of 18, they must meet additional requirements in order to be approved for testing (150 or higher on at least two of the GED Ready, 40+ hours of enrollment along with TABE 11/12 requirements). 
The Pathway to Success Adult Education Program is available to students at all 30 DJJ facilities.  Interested students in being a part of this program can meet with a school counselor.  A test administrator from the assigned technical college will come the facility to administer the test. Results are usually received within two days.
Our campuses are served by the following Technical Colleges:
What happens if I lose my diploma and transcript, or need an additional official transcript for an employer?
Additional copies can be obtained online, through the mail or in person.  Replacement copies cost $15 and can be obtained by accessing the following link:
https://tcsg.edu/ged_trans_req.php
In order to redeem your HOPE Voucher to enroll in classes, please contact the Georgia Student Finance Commission by accessing the following link:
https://www.gafutures.org/hope-state-aid-programs/hope-zell-miller-scholarships/hope-scholarship/application-procedure-and-deadline
For additional resources and information regarding GED, please feel free to visit the following link:
https://www.gedtestingservice.com/educators/home
Holly Cannon, Adult Education Program Specialist
Pathway to Success, Adult Education Program
Phone: (404) 823-5062
Fax: (478) 374-6979
melissacannon@djj.state.ga.us
Locations
Instructors
Atlanta YDC
Wilson, Shannon | shannonwilson@djj.state.ga.us
Augusta YDC
Blocker, Deshawne | deshawneblocker@djj.state.ga.us
Bibb County ETC
Harrison, Sharon | sharon.harrison@djj.state.ga.us
Chatham County ETC
McCall, Dallacey | dallaceymccall@djj.state.ga.us
Eastman YDC

Ononye, Anthony | anthony.ononye@djj.state.ga.us

Gilbert, Cynthia | cynthiagilbert@djj.state.ga.us

Gainesville RYDC
Wolfe, Todd | twolfe@laniertech.edu
Macon YDC
Harrison, Sharon | sharon.harrison@djj.state.ga.us
Martha K. Glaze RYDC
Kanaifu, Koran | korankanaifu@djj.state.ga.us
Metro RYDC
Terry, Shane | shane.terry@djj.state.ga.us
Milledgeville YDC
Usher, Frank | frank.usher@djj.state.ga.us
Muscogee County ETC
Temple, Zalea | zalea.temple@djj.state.ga.us
Muscogee YDC
Williams, Linda | lindawilliams@djj.state.ga.us
Richmond County ETC
Johnson, Narissia | narissiajohnson@djj.state.ga.us
Sumter YDC
Pless, Kelvin | kelvinpless@djj.state.ga.us
Terrell RYDC
Strickland, Sandy | sandystrickland@djj.state.ga.us