LOOKING FOR A CAREER AS A JUVENILE CORRECTIONAL OFFICER?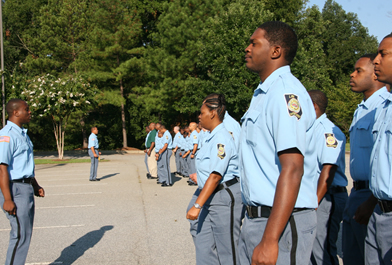 THE DEPARTMENT OF JUVENILE JUSTICE OFFERS JUVENILE CORRECTIONAL CAREERS AT YOUTH DEVELOPMENT CAMPUSES AND REGIONAL YOUTH DETENTION CENTERS STATEWIDE....
---
RESPONSIBILITIES
Juvenile Correctional Officers are responsible for providing a safe, secure and clean environment for the habilitation and custody of youth including supervising the activities of youth and maintaining control and order in State facilities, such as Regional Youth Detention Centers or Youth Development Campuses for juvenile offenders  The work is demanding and requires maturity, reliability and self-discipline.
---
AM I QUALIFIED?
Juvenile Correctional Officers are certified peace officers.  They must meet the requirements and be certified by the Georgia Peace Officer Standards and Training (POST) Council.  The requirements are:
Be at least 18 years of age

Have a High School Diploma or GED and two years of experience performing clerical work of moderate difficulty

Have U.S. Citizenship

Have no felony convictions

Valid Driver's License (provide copy with application)
Applicants must pass a criminal history investigation, pre-employment drug screening, and pre-employment physical.
---
HOW DO I QUALIFY?
All Juvenile Correctional Officer (JCO) applicants must complete a Georgia DJJ Application for Employment Package.  Packages can be obtained at any DJJ facility, DJJ Regional Recruiters' offices, Georgia Labor offices, DJJ website, and/or the Georgia State Personnel Administration.
If you feel that you meet the job minimum qualifications,  complete the application and Applicant Self Checklist for Background Clearance. You may drop off or mail your applicant package to any facility of your choice.  You can apply at more than one location.  The facilities accept the application packages weekly during core business hours 8:00 to 4:30.  All applicants are not contacted for interview.  The hiring manager makes the determinations regarding who to interview after review of the application packages.

OR

You may visit your nearest Georgia Labor Office to complete an applicant package which is available at each Center.  Check with your local center for instructions on mailing your completed package to the facility of your choice.

OR

You may contact a Georgia Labor Office near you to determine when a Department of Juvenile Justice Regional Recruiter will be conducting pre-screenings in your area. You may attend to hear more valuable information about DJJ.  Applicants attending a pre-screening must bring copies of their valid drivers' license and DD214 (if you have had military service).

If you are attending a Pre-Screening or contacted for an interview, the Regional Recruiter or DJJ Manager will ask you to bring the following information:
Birth Certificate

High School Diploma or GED Certificate

DD 214 (if prior military service)

3-year Motor Vehicle Report

Social Security Card (make sure it's signed)

Valid Driver's License

Dispositions for any misdemeanors or DUI's for which you have been arrested or charged

Start today on your way to a great career!