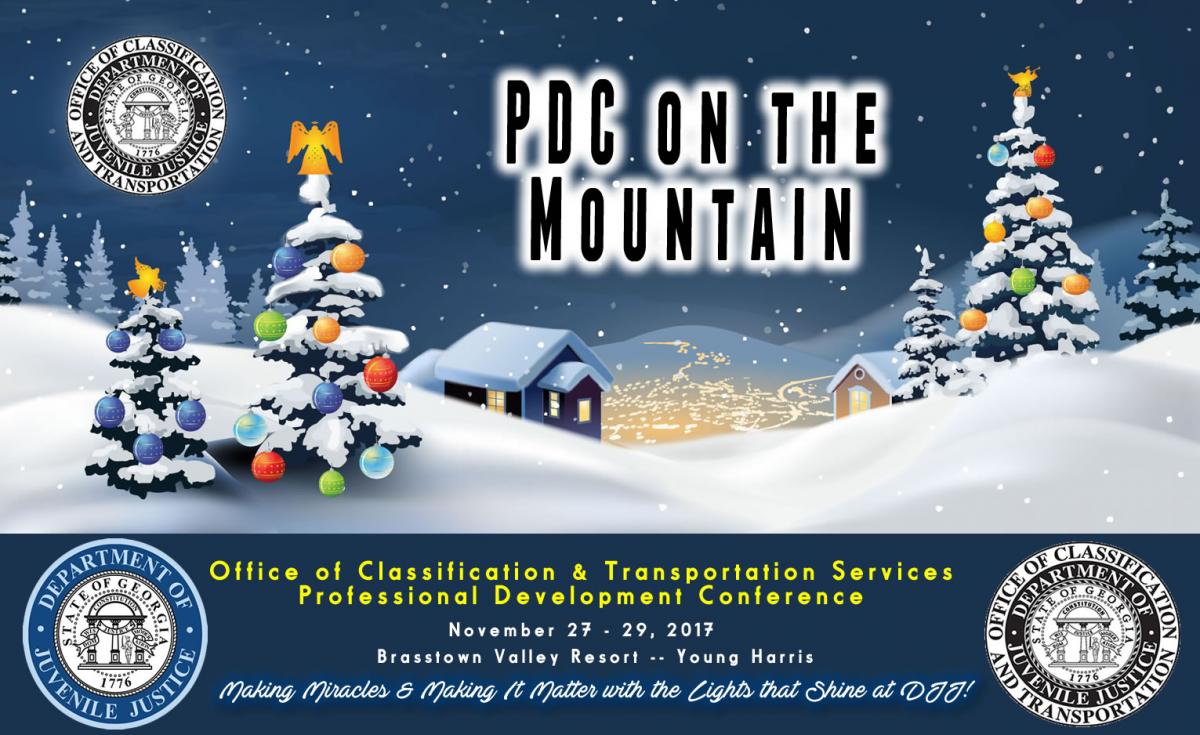 The Office of Classification and Transportation Services (OCATS) 2017 Professional Development Conference (PDC) took place on November 27th through 29th at the Brasstown Valley Resort in Young Harris. All OCATS staff members from across the state joined together to hear from subject matter leaders in the field of juvenile justice while learning more about the agency.
Led by OCATS Director Lisa Casey Bryson, the PDC showcased the teamwork that is a hallmark of the Classification and Transportation staff. Featuring  tremendous keynote speeches from DJJ Commissioner Avery D. Niles,  Dr. Earl Suttle and former Master Sergeant Mike Reynolds, this year's conference focused on developing personal and professional skills to help OCATS employees improve themselves on-the-job as leaders and away from work as individuals. Other speakers included Division of Support Services Deputy Commissioner Margaret Cawood who led a session on brainstorming, certified financial planner Noah Reichert who discussed retirement planning and Doug Jackson who provided information on the STRESS trauma screening.
One of the highlights of the 2017 OCATS Conference was a  teambuilding exercise led by Ben Harvill and Nicholas Woods in which attendees built five bicycles for local area children as part of the Towns County Sheriff's Office Toys for Tots campaign. Sheriff Chirs Clinton and his Chief Deputy Terry Conner shared their appreciation and thanks to all of the OCATS attendees when they came by to pick up the bicycles for delivery.
Master Sergeant Mike Reynolds story inspired everyone at the OCATS Conference. In 2009, while responding to an emergency in Balad, Iraq, Reynolds sustained a traumatic brain injury. He was misdiagnosed and returned to the United States where he became lost in the system. Remembering only pieces of his first week home (including sleeping in stairwells and hallways) and confused as to where he was supposed to be, Reynolds struggled at home . Eventually, he was placed in the Wounded Warrior Program and received treatment. After being found "unfit for duty" by the military, he was pushed into retirement and moved through the system from medical provider to provider with few real solutions. After multiple hospitalizations, Reynolds was accepted into the SHARE Military Initiative at Atlanta's, Shepherd Center, where immersed in treatment with a few other soldiers suffering from traumatic brain injuries, answers began to emerge for him. Reynoldshas honed his compensatory skills and begun to emerge into his "new normal." Supported by multiple fire, police and emergency agencies across the state, Mike had fought to regain his sense of purpose which has included a change of career into farming. For him, change of shape has equaled, change of purpose.
Dr. Earl Suttle's specialty is working with businesses and organizations to increase productivity through development of their most important resouce -- their people. As a motivational speaker, Dr. Suttle delivers numerous impactful presentations throughout the year in the United States and South Africa. Dr. Suttle has over 25 years of healthcare experience which he brought to bear on his OCATS presentation, Managing Healthier Work and Personal Relationships.
The Department of Juvenile Justice applauds the generous spirit of our classification and transportation employees.