Recently, Department of Juvenile Justice Southeat Region Chaplain Robbie Passmore was featured in an article from Christian Index, the nation's oldest continuous published religious newspaper.  Chaplain Passmore has been with DJJ since 2013 and honorably represents the values of the Office of Chaplaincy Services as well as the agency as a whole.
The Office of Chaplaincy Services supports the Department of Juvenile Justice mission by ensuring First Amendment Rights to religious worship and through Pastoral Care to youth and staff by providing spiritual guidance, counseling and support, education and crisis intervention.
DJJ salutes the efforts of Chaplain Passmore as well as the important work of the Office of Chaplaincy Services.
---
A PASTOR WHO RIDES SHOTGUN WITH THE SHERIFF'S DEPUTIES
May 29, 2018 
Gerald Harris
COCHRAN — According to the National Law Enforcement Officers website there have been 2,981 police officers killed in the line of duty since 2000. While everyone else is running from the crises that emerge in America, the law enforcement officers are running toward them.
Ron Grossman, writing for the Chicago Tribune, explained, "In the neighbor of my youth, those who put on a badge shared a common motivation. Seeing the world as divided between the good guys and the bad guys, they knew which side they wanted to be on."
James O'Neill, the New York Police Commissioner, declared, "Cops are regular people who believe in the possibility of making this a safer world."
Those who are dedicated to "serve and protect" often find themselves as victims of emotional stress and/or physical trauma due to hostile or aggressive encounters.
There are several Georgia Baptist pastors who are serving law enforcement agencies as chaplains. Robbie Passmore, who has served as pastor of Faith Baptist Church in Cochran for 16 years, is one of those chaplains.
Pastor Robbie Passmore – front row, second from right – stands on the Bleckley County Courthouse steps with other members of the Bleckley County Sheriff's Office on the National Day of Prayer, May 3. ROBBIE PASSMORE/Special
Passmore testified, "In 2013 I accepted a position as a chaplain with the Georgia Department of Juvenile Justice; and in 2015 I became the Southeast Region Chaplain for the Department for Juvenile Justice."
The Faith Baptist pastor continued to find favor with law enforcement leaders and by 2016 Kris Coody, who was the chief deputy of Bleckley County, asked for the Cochran pastor's help. Two officers had been involved in a shooting and Cody needed Passmore to intervene and provide counsel to the officers; and he continued to check on them in the following weeks.
"Later on that year," Passmore explained, "I was called to Eastman to talk to some 911 operators for the Dodge/Wilcox 911 Center. An officer had been shot and died. I realized that night that God may have been calling me to serve the law enforcement community. I had been praying the prayer of Jabez and God began enlarging my territory."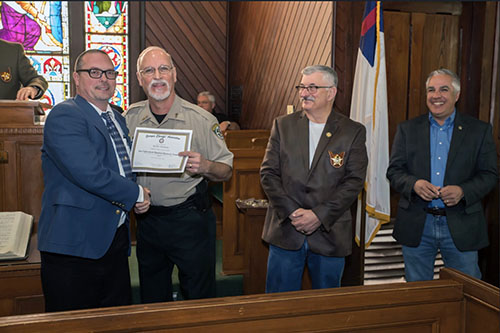 Robbie Passmore, left, receives his certification on Crisis Interventions for Individuals and Groups at the Georgia Sheriff's Association Chaplaincy Conference from fellow chaplain David Thornton. ROBBIE PASSMORE/Special
By 2017, Coody had been elected the sheriff of Bleckley County. He called Passmore and told him, "I need you to be the chaplain for our officers, but in order to meet the requirements you will need to attend classes at St. Simons Island for a week."
Passmore stated, "I attended the class in 2017 in order to become a certified law enforcement chaplain. I took it again in 2018. My responsibilities include ministering to the Bleckley County deputies, the staff at the Sheriff's Office, the 911 communications staff, the officers at the jail, and the staff at the Courthouse. I make it an effort to go by every day to see how things are going related to the operations of the sheriff's office."
Law enforcement chaplains are often faced with challenging ministry opportunities. In July of last year Sheriff Coody called Passmore on a Sunday morning and requested that he come to the hospital. The dutiful chaplain exclaimed, "The Bleckley 911 communication director had suffered a heart attack. By the time I got there she had passed away. I had the opportunity to minister to the deputies, the other 911 dispatchers, and the family of the deceased in that time of sorrow and grief.
"But one of the most thrilling opportunities I have as chaplain is to ride alongside the deputies when they are on call. I have accompanied them on drug busts, domestic calls, running the radar, and catching excessive speeders. I also see some of the things they encounter when they are off duty. Every day I pray for the people connected with the sheriff's office and their families."
Passmore understands that his role as a chaplain is a ministry outside the walls of the church, but is quick to express gratitude for his fellowship of believers at Faith Baptist Church for their prayers and support for him and his work with the Bleckley County Sheriff's office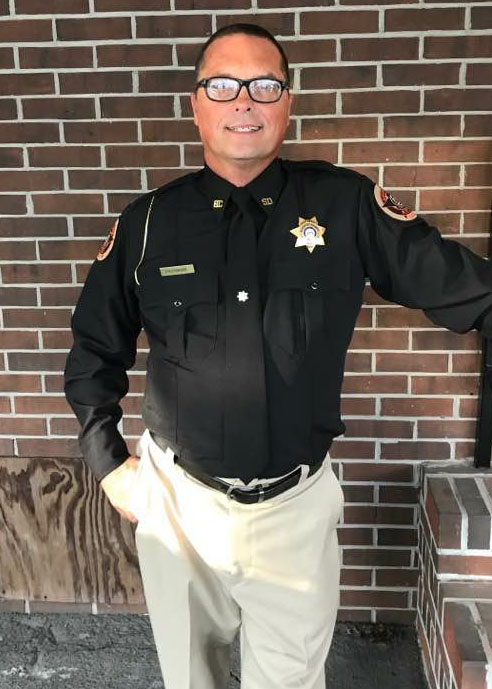 "God has called us to be light in a dark world. It is truly an honor and privilege to minister in the capacity that God has given to me," says Robbie Passmore, pastor of Faith Baptist Church in Cochran. ROBBIE PASSMORE/Special
The Faith Baptist pastor reasons, "As chaplain for the Georgia Department of Juvenile Justice and the chaplain for the Bleckley Sheriff's Office, I see the darkness that is out there. The broken homes, the broken dreams, the peer pressure, and multiple situations where tragedy abounds is depressing and demoralizing.
"But God has called us to be light in a dark world. It is truly an honor and privilege to minister in the capacity that God has given to me. I count it all joy. I believe there are those out there who are looking for hope, for second chances, for someone with whom to share their life's challenges; and God has called us to be hope stations and healing communities."
The prayer of Jabez is where it all begins. "And Jabez called on the God of Israel, saying, 'Oh that Thou wouldest bless me indeed, and enlarge my coast, and that Thine hand might be with me, and that Thou wouldest keep me from evil, that it may not grieve me! And God granted him that which he requested'" (I Chronicles 4:10).

Gerald Harris has served as editor of The Christian Index since May 2003. Harris has written for a variety of denominational publications, including devotions for Open Windows and HomeLife magazines. He has authored three books, "Pardoned to be Priests," "Olympic Heroes: World-Class Athletes Winning at Life," and "A Gentle Zephyr – A Mighty Wind." Dr. Harris has a master's degree from Southeastern Baptist Theological Seminary and a doctor of ministry degree from Luther Rice Seminary. ‎