Decatur Girl Scouts Collect Books for DJJ Youth and Students
Girl Scouts Book Collection Drive 2020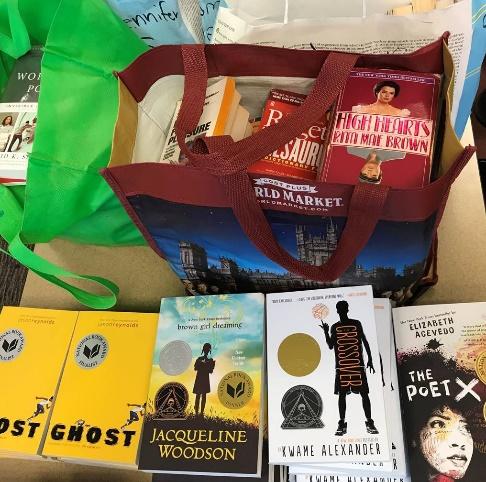 Since 1912, Girl Scout troops across the United States have brought together young women as teams to contribute positively to society.  Awarded badges through their community service projects, Girl Scouts learn the life skills needed to become well-rounded citizens serving those to make the world a better place.
Over the years, Georgia Department of Juvenile Justice (DJJ) has developed a strong relationship with the Girl Scouts of America.  Starting earlier this decade, DJJ formed one of the first troops in DeKalb County at the Metro Regional Youth Detention Center. Additional troops are being planned, including one at the Macon Youth Development Campus later this year.
However, DJJ's partnership with the Girl Scouts has not been limited to those located within detention centers and campuses. External Girl Scout troops continue to work on projects that positively impacted youth throughout the DJJ system.
A recent example is a partnership that occurred when the team members of Girl Scout Troop #13592 in Decatur set up a book collection drive for DJJ youth and students attending the Georgia Preparatory Academy.
Georgia Preparatory Academy (GPA) is the middle school and high school within the DJJ School System. There are 30 GPA campuses across the state located in secure facilities and Education Transition Centers (ETCs). DJJ is the 181st School District in the state of Georgia and is accredited by AdvancED. 
In October 2019, the Scouts created drop off locations at local Decatur bookstores and schools where the public could donate books to be read by DJJ youth around the state. The book collection drive was the brainchild of Scout Lily Smith, who got the idea of a story she saw on television news about people collecting books for adults in jail for adults.
"I thought, what about kids, you know," said Smith. "For a lot of kids in their position, don't have the best situation. Books can serve a lot of different purposes. They can be educational, or they can help you escape and go to a different spot. That's important for kids who must deal with all that stuff that they have a different place they can go."
Approximately 709 books were collected, cataloged, and distributed to DJJ facilities and school sites due to their efforts. From current best sellers as Harry Potter, The Hunger Games, and Gossip Girl to literary classics such as To Kill a Mockingbird, Invisible Man, and Animal Farm, the variety of books collected will provide DJJ youth with hours of entertainment and education in the months to come.
Commissioner Tyrone Oliver and the entire DJJ team would like to thank Girl Scout Troop #13592 from Decatur for their hard work and dedication during this valuable book collection drive.