Rescue 2 Restore: Macon ETC Graduation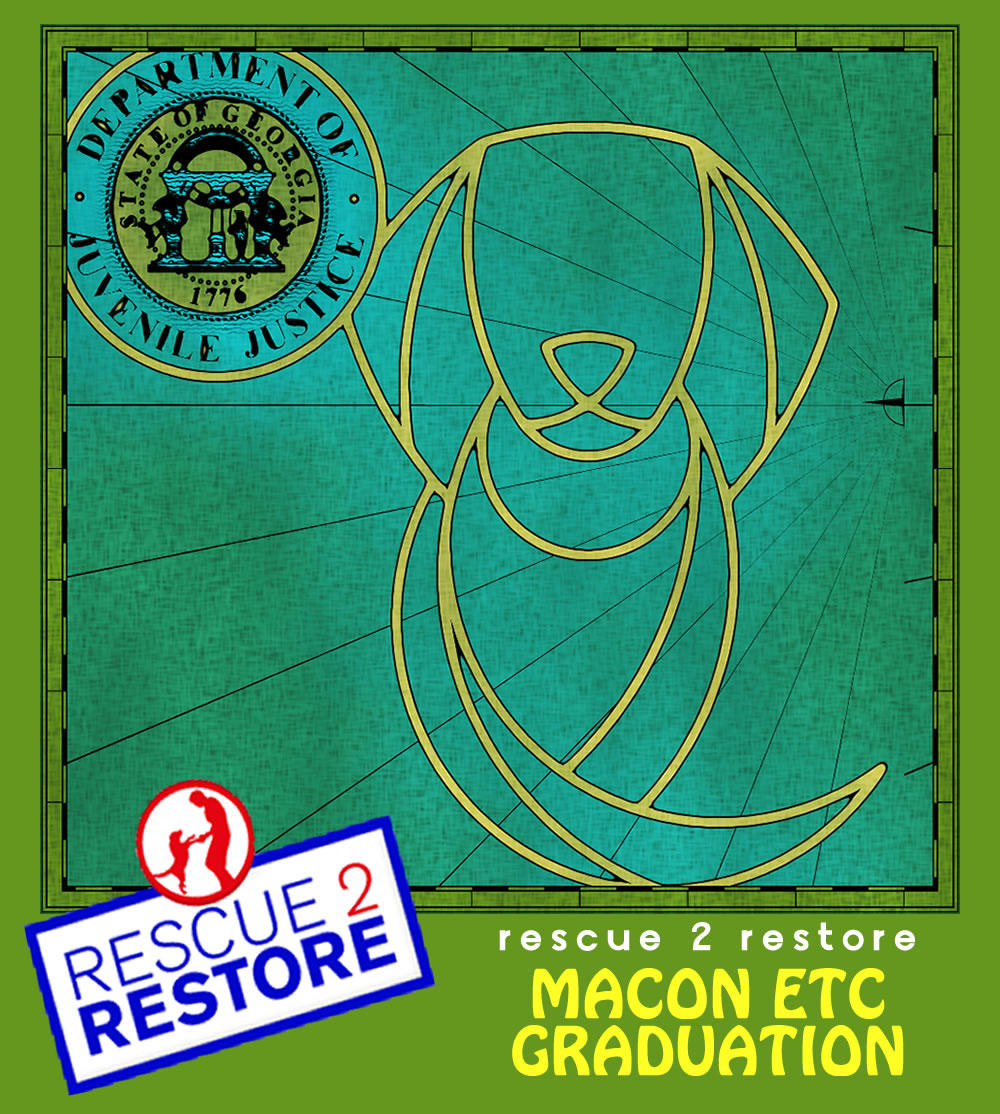 The Georgia Department of Juvenile Justice's Rescue 2 Restore dog training and therapy dog program recently completed its latest graduation at the Macon Educational Transitional Center (Macon ETC).  Unlike previous Rescue 2 Restore programs, where the dogs are hosted at kennels at DJJ facilities, the Macon ETC program, was the first where the dogs from the Macon-Bibb County Animal Shelter were housed at the Bibb County Jail and care for by the Bibb County Sheriff's Office "Bondable Pups" program run by Bibb County Deputy Brandi McClure.
Beginning this past April, the Rescue 2 Restore and Bondable Pups staffs taught Macon ETC youth the Pawsitive Works Canine Assisted Learning curriculum which relies on a dedicated training and bonding period between the dogs and their youth teachers. Five Macon ETC youth were paired with three dogs, including Bagheera, Joy, and Stitch. 
Over several weeks, the youth handlers completed the classroom curriculum, which introduces youth and the dogs to concepts such as empathy, mindfulness, resilience, patience, delayed gratification, and goal setting. Combined with dog training, youth receive life skills while helping their canine friends.
To receive their diplomas during graduation, the Macon ETC youth in the program had to show that their dogs had learned the necessary skills needed for proper obedience. Skills such as sitting, laying down, staying, leaving, settling down, walking nicely, and allowing strangers to approach and pet the dogs were displayed during a final test.
On graduation day, youth and staff from DJJ's Central Office, Macon ETC, and the local Bibb area were treated to a barbecue luncheon while youth were awarded much-deserved certificates of graduation.  Lead teacher Jill Hughes was given a DJJ Volunteer Services coin as a token of appreciation for her dedication and commitment to the program.  Best yet, dogs Bagheera was successfully adopted, dog Joy was given new hope for a home, and dog Stitch learned additional tricks to make him more engaging on therapy dog visits.
DJJ would like to thank all who helped make the first Rescue 2 Restore program at the Macon ETC a success.