:
The December 9th meeting of the Board of Juvenile Justice has been canceled. The next meeting is scheduled for January 2022.
DJJ Participates in National Crime Victims' Rights Week 2018
NCVRW 2018 jpeg.jpg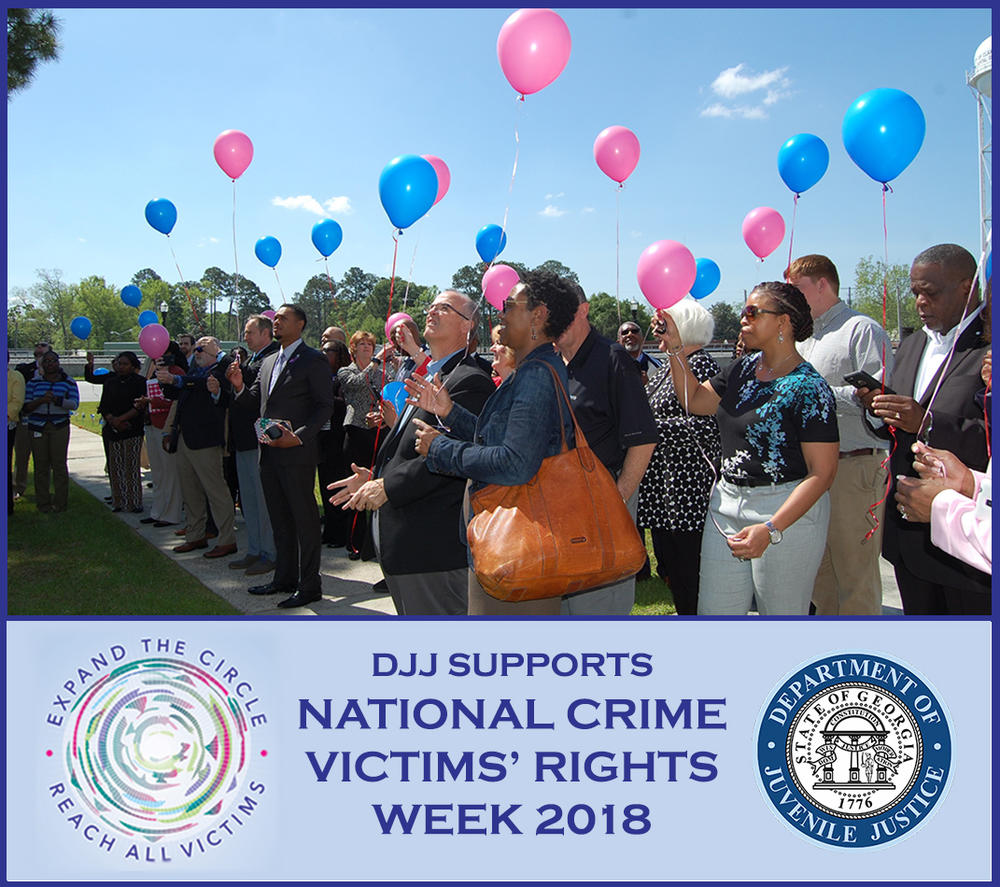 Established in 1981, National Crime Victims' Rights Week (NCVRW) renews the commitment to victims of crime, guaranteeing that they have the rights and resources needed to recover from a crime and move forward with their lives. Thousands of communities across the country come together each year to support crime victims through awareness programs, acts of service and the advocating of laws and policies that benefit victims. NCVRW also showcases achievements in victim rights and aims to increase the visibility of the available services for victims and survivors.
This year's theme, "Expand the Circle: Reach all Victims," emphasizes the importance of inclusion in victim services and advocates that professionals, organizations and communities work together to reach all crime victims.
Every April, the Department of Juvenile Justice (DJJ) participates in NCVRW. This year's events included Pinwheels for Prevention, crime victim guest speakers, memorials and acts of service benefiting the Ahimsa House.
In observance of Child Abuse Prevention Month, DJJ partnered with Prevent Child Abuse Georgia to place pinwheels statewide to raise awareness for the prevention of child abuse and neglect. Pinwheels for Prevention events took place at the Augusta Community Services Office (CSO), DeKalb Regional Youth Detention Center (RYDC), Elbert Shaw RYDC, Evans County Courthouse, Marietta RYDC, Muscogee RYDC and Wellspring Living.
196.JPG

Youth and staff members of Augusta CSO participate in Pinwheels for Prevention.
DeKalb RYDC - Pinwheels - 4.3.18 012.jpg

Youths at DeKalb RYDC make pinwheels and posters in recognition of Child Abuse Prevention Month. 
Muscogee YDC pic 2.jpg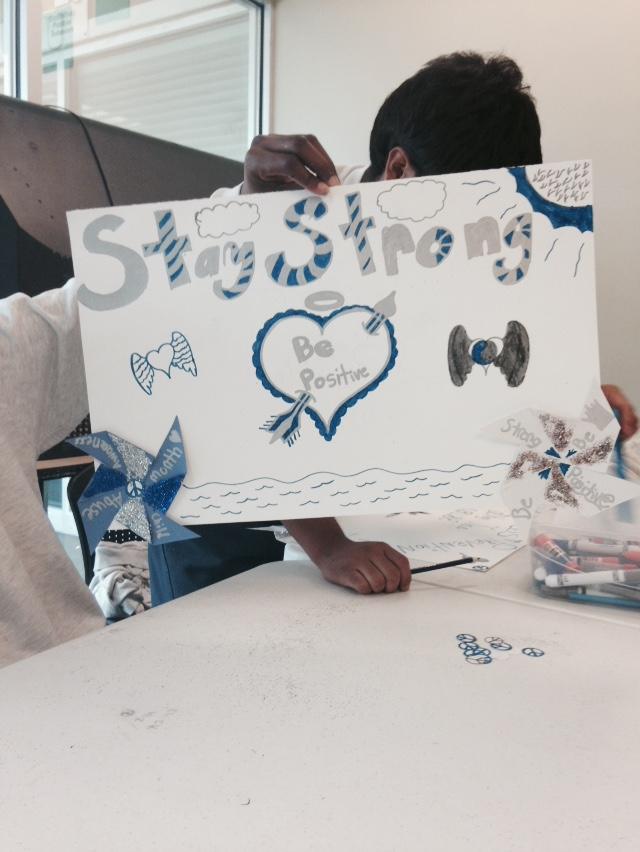 Muscogee YDC also participates in Pinwheels for Prevention. 
Youths at the Elbert Shaw, Marietta and Martha K. Glaze RYDCs made dog toys to donate to the Ahimsa House, which is a non-profit organization dedicated to providing services and assistance to domestic abuse victims with pets. Ahimsa House provides temporary care for pets because most domestic abuse shelters are unable to accommodate animals. Macon YDC made heart-shaped magnets with the organization's telephone number printed on the back so victims of domestic abuse can discreetly keep the number on hand.  
123.JPG

Youths at Martha K. Glaze RYDC make dog toys to donate to the Ahimsa House. 
Macon YDC hearts.jpg

Macon YDC makes magnets for the Ahimsa House.
Monique Rivarde visited Atlanta YDC to talk to the youth about teen violence. Her son, Bobby Tillman, was randomly beaten to death outside of a house party in Georgia. Rivarde works to raise awareness on the horrific impacts of teen violence and encouraged the youth to make their voices heard regarding bullying and peer anger.
081.JPG

Monique Rivarde speaks with youth at Atlanta YDC.
DJJ held a balloon release ceremony on the lawn of the Evans County Courthouse to honor crime and child abuse victims. Representatives from the local juvenile court system, the Department of Family and Children's Services, law enforcement agencies, elected officials and members of the community also attended.
Commissioner Niles addressed the attendees. "We must remember the victims who are with us and those who tragically no longer are; their spirits still live on. As we release these balloons, remember the children who need our help and know we have the power to stop violence against children in our state."
C343F7BD-E77B-4E1A-8D77-DA030E02D34F.jpeg

Commissioner Niles speaks to attendees at a NCVRW ceremony and balloon release held at the Evans County Courthouse. 
In addition, representatives from DJJ attended NCVRW ceremonies held at the Cobb Superior Courthouse in Marietta, the Hall County Sheriff's Office in Gainesville, the Charles L. Carnes Justice Center in Atlanta and the Columbus Consolidated Government Building in Columbus. The Georgia Center for Child Advocacy held its annual flag raising ceremony to honor the children who lost their lives due to child abuse in 2017.
Fulton.JPG

NCVRW ceremony in Fulton County
Hall County.JPG

NCVRW ceremomy in Hall County
Columbus.JPG

NCVRW ceremony in Columbus
DJJ's Office of Victim Services remains strongly committed to supporting crime victims in their times of need. The Office strives to deliver with compassion, a continuum of comprehensive services that promotes victims' rights and supports statewide victim services programs through the delivery of timely, accurate and informative services; while promoting safer communities for the citizens of Georgia. For more information on DJJ's Office of Victim Services, visit https://djj.georgia.gov/victim-services-georgia.