DJJ Events for National Crime Victims' Rights Week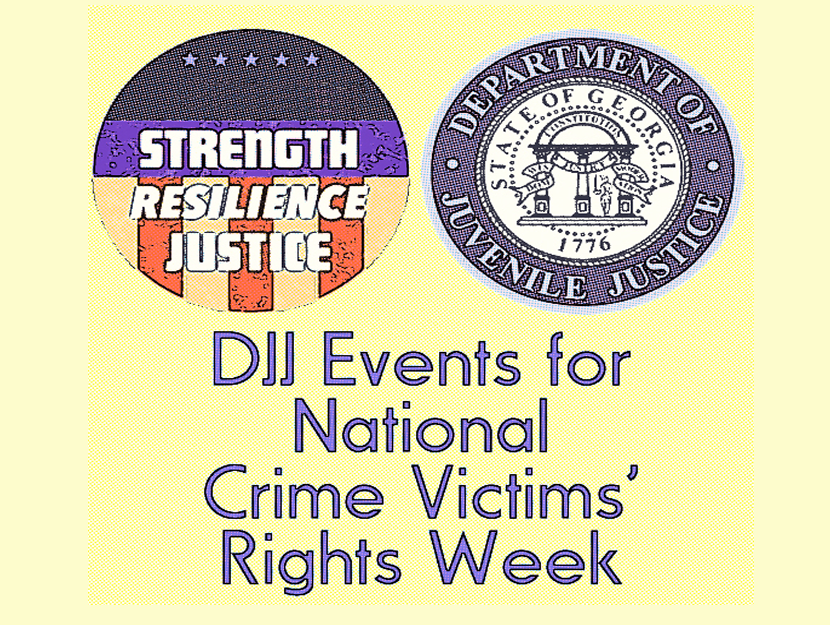 Photos from Victim Services Director Latera Davis
Since 1981, National Crime Victims' Rights Week (NCVRW) has challenged the nation to confront and remove barriers to full justice for all victims of crime. Each year, communities across the country revisit the history of the victims' rights movement, celebrate the progress made and recommit themselves to further advancements in the crime victims' field. Each April, NCVRW helps to remind us of many achievements in the world of victim rights including expanded inclusion of victims in the criminal justice system, increasingly visible services and recognized rights for all victims and survivors. The theme for the 2017 NCVRW - Strength, Resilience, Justice - highlights three core characteristics of healthy productive individuals and communities.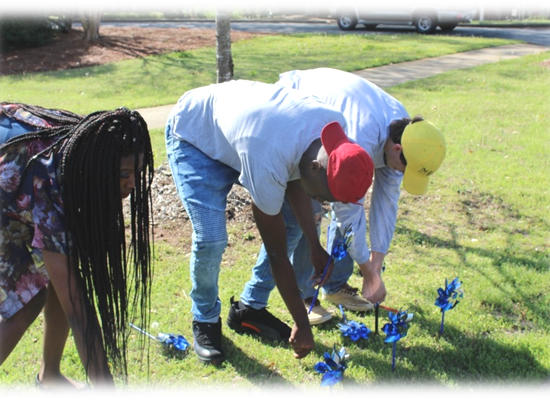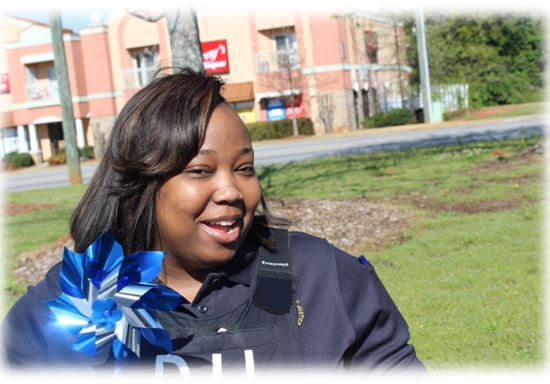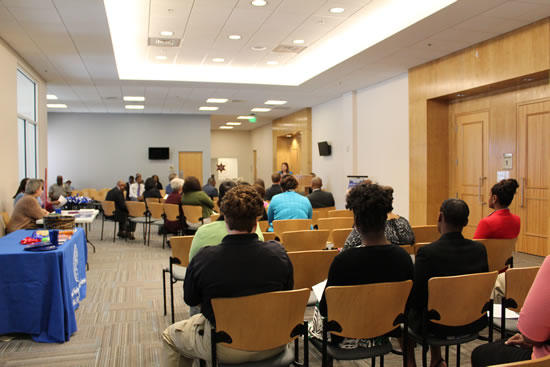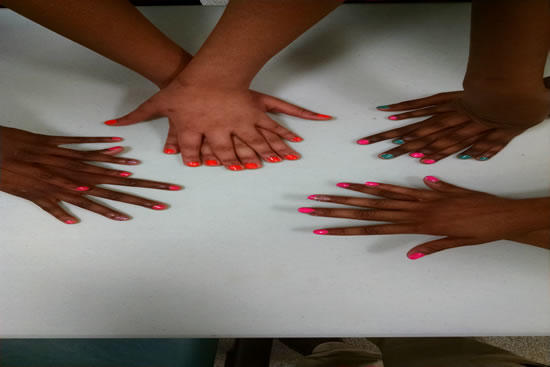 For the Department of Juvenile Justice, NCVRW is a time to support victims in Georgia with positive responses through a variety of events held around the state. In 2017, DJJ events for NCVRW included Pinwheels For Prevention, crime victim guest speakers, memorial services for crime victims and, new for this year, Pallet Painting. Each of these events acknowledges that justice reaches outside the courtroom and that the strength and resilience of communities depends on confidence in our justice system.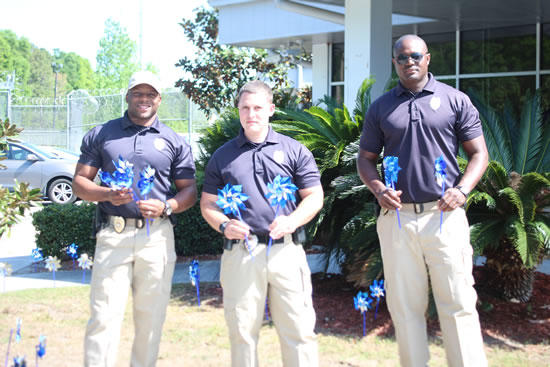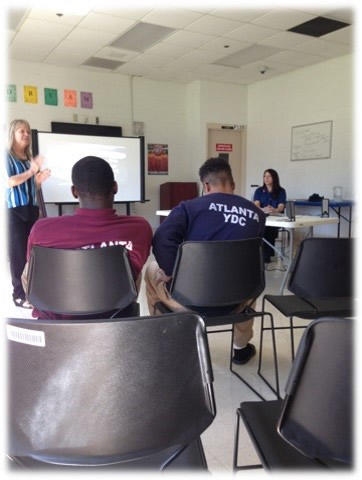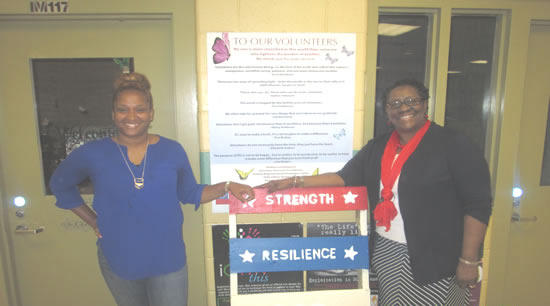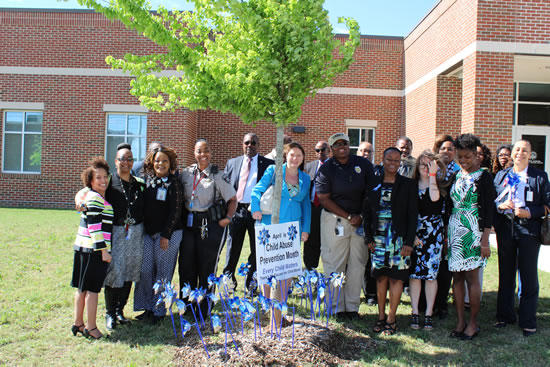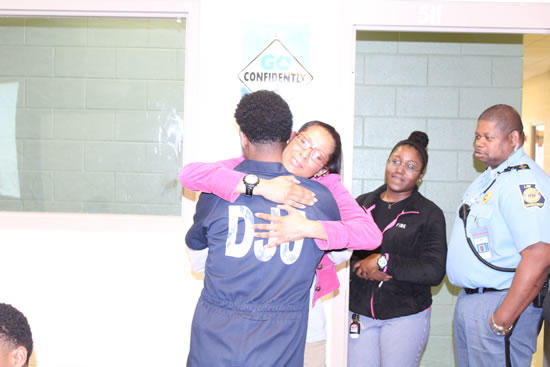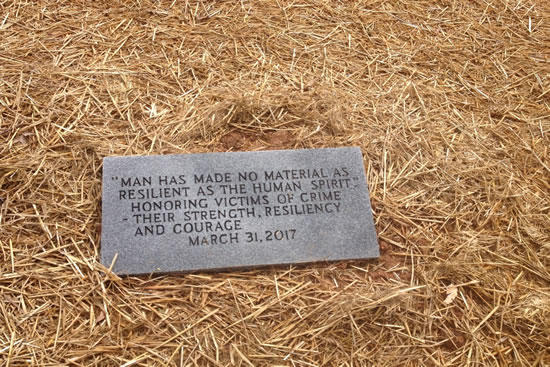 In partnership with Prevention Child Abuse Georgia, DJJ participated in statewide Pinwheels for Prevention, raising awareness around the prevention of child abuse and neglect. Pinwheels for Prevention took place in Georgia at the Athens-Clarke County DFCS office, Metro RYDC, Gainesville RYDC, Thomas Jackson Juvenile Justice Center in Macon, Rockdale RYDC, Terrell RYDC, Jeff Davis CSO, Evans County Courthouse, Bibb MSC and the Savannah RYDC.
ATHENS-CLARKE COUNTY DFCS OFFICE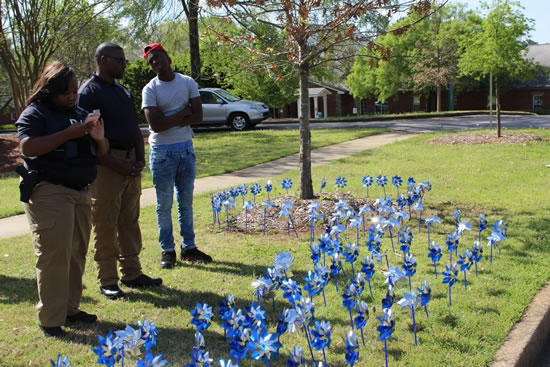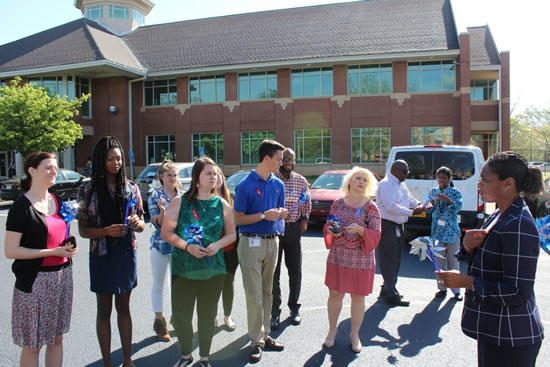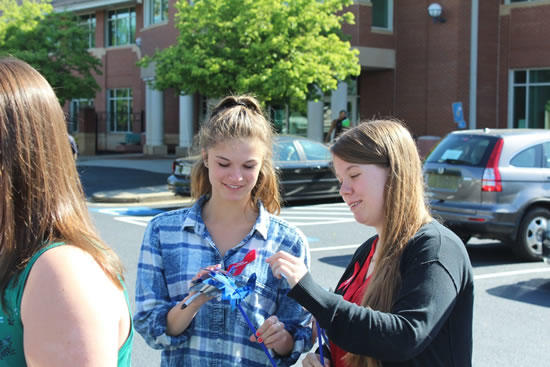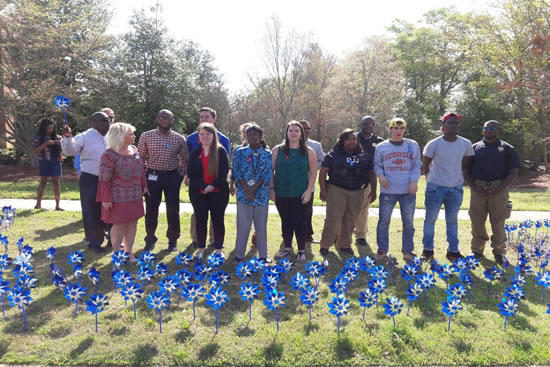 METRO RYDC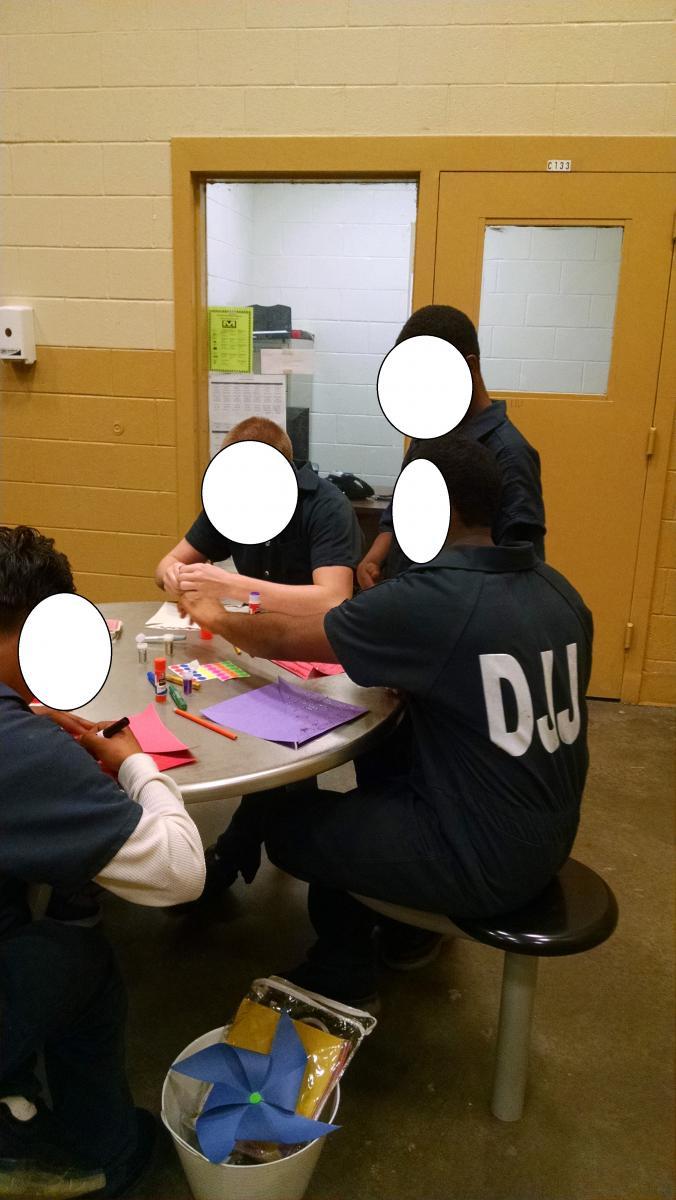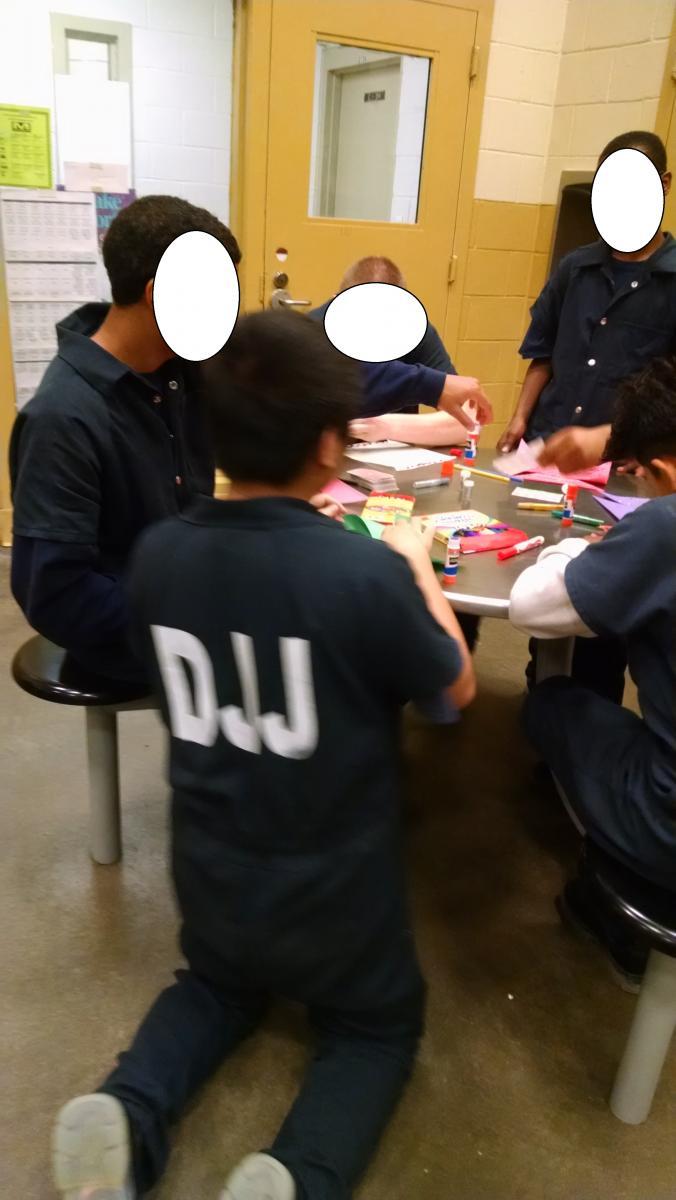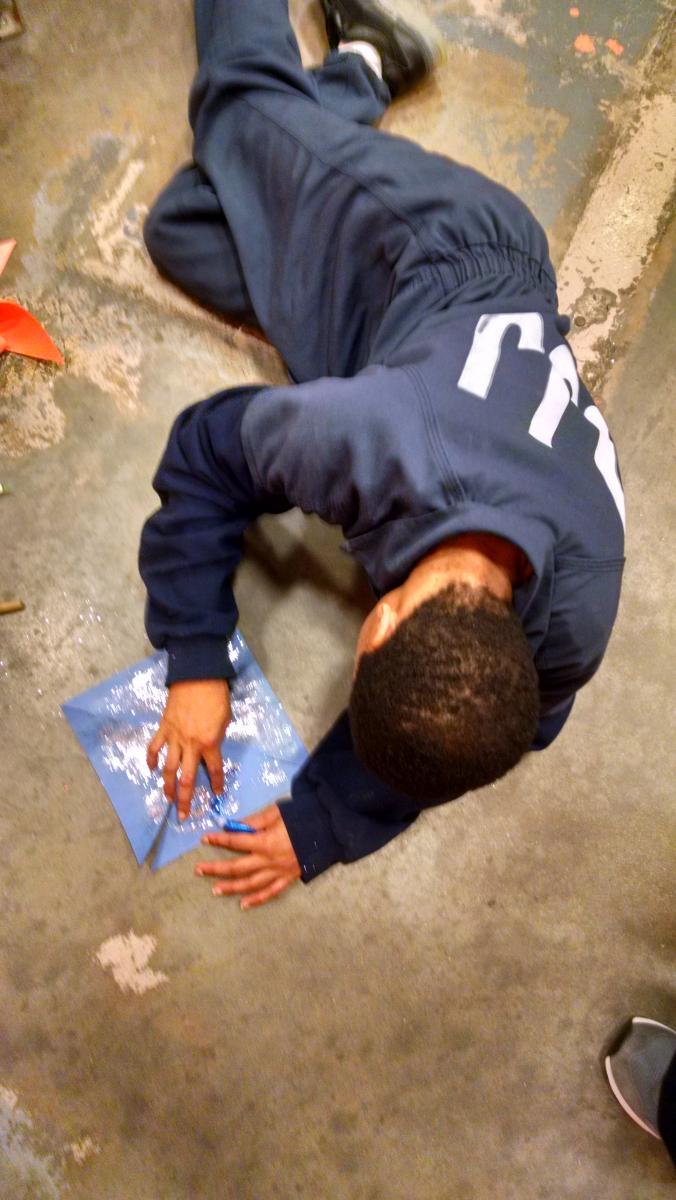 GAINESVILLE RYDC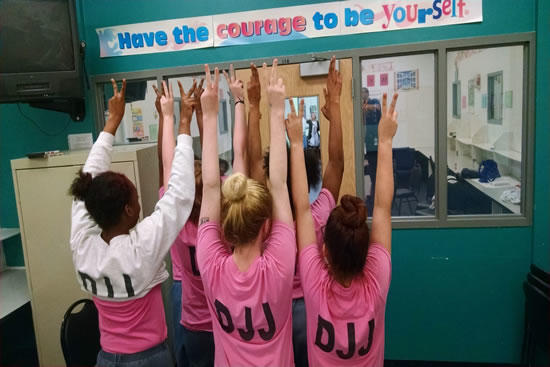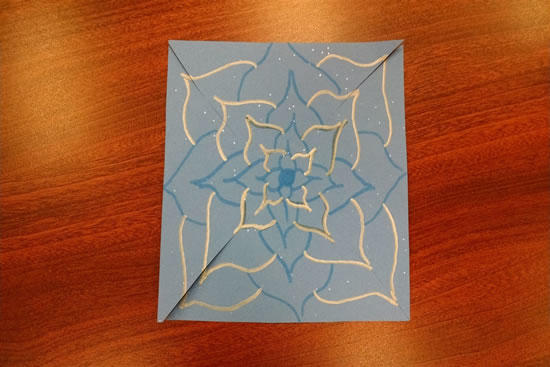 THOMAS JACKSON JUVENILE JUSTICE CENTER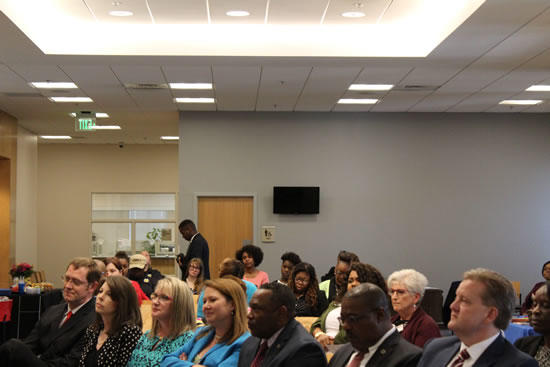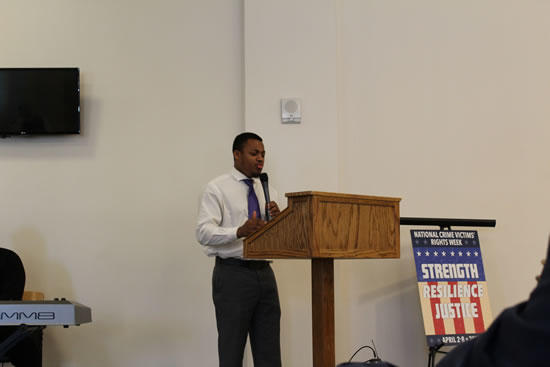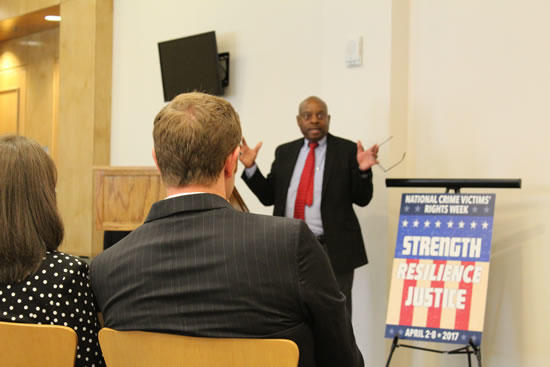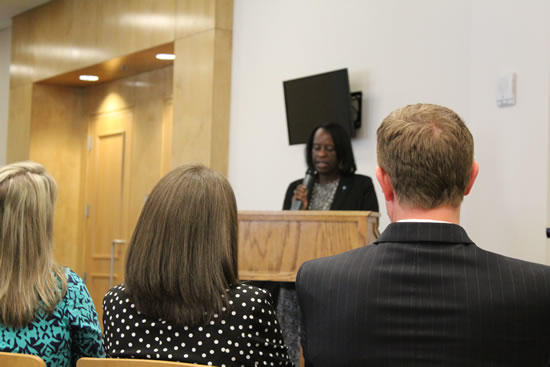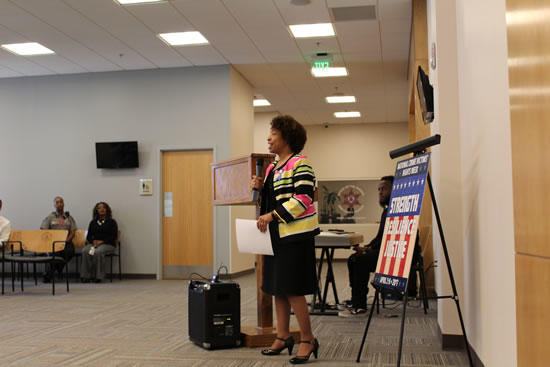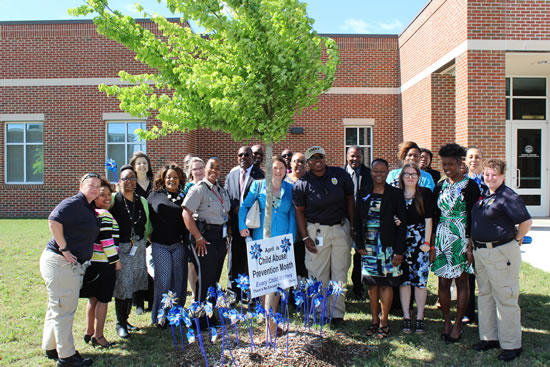 ROCKDALE RYDC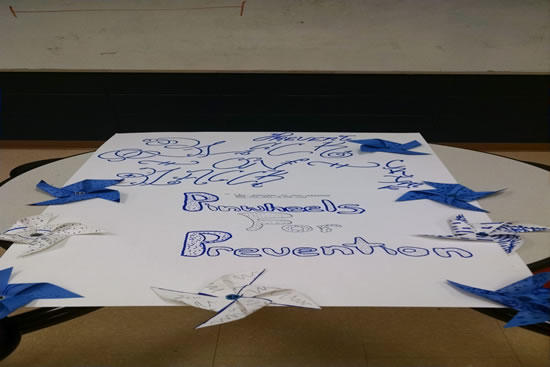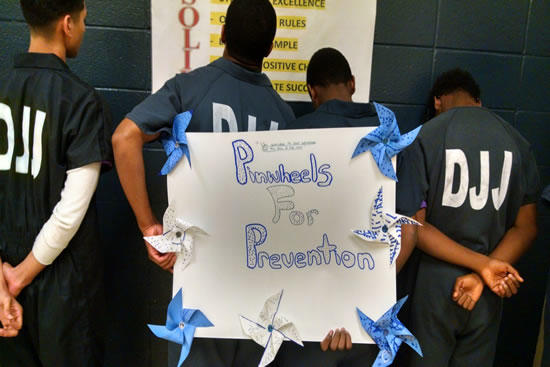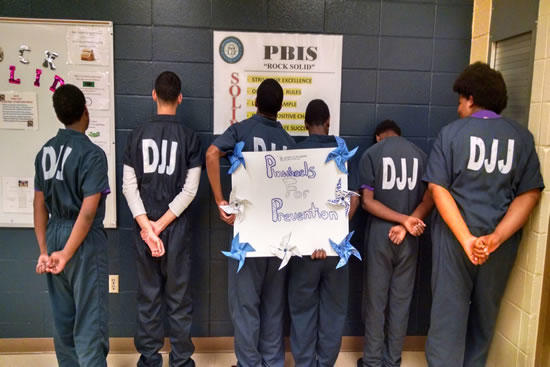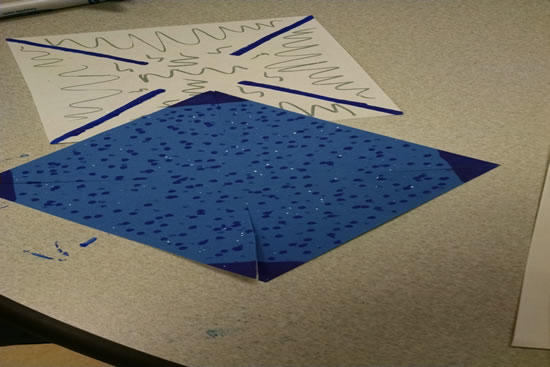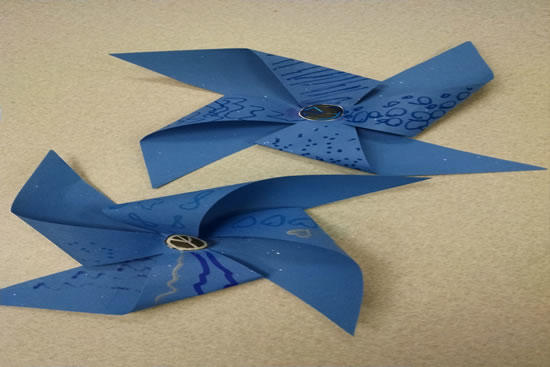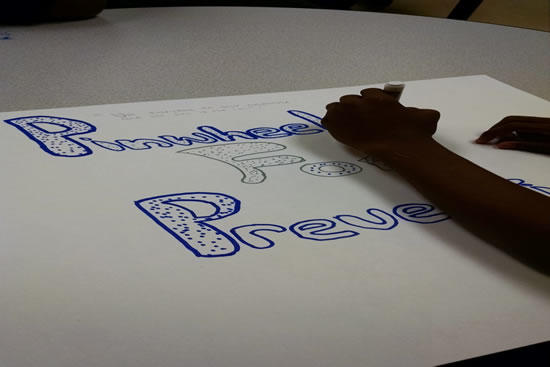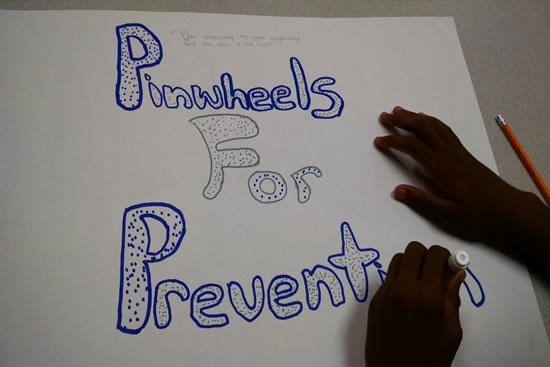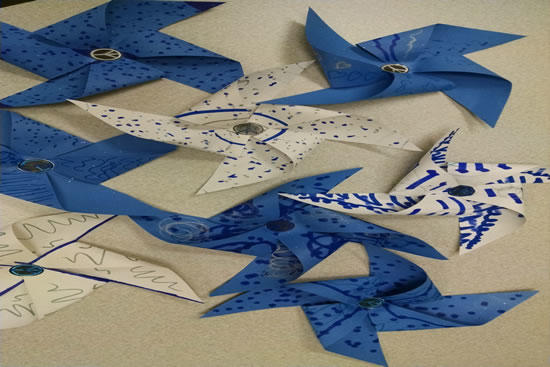 TERRELL RYDC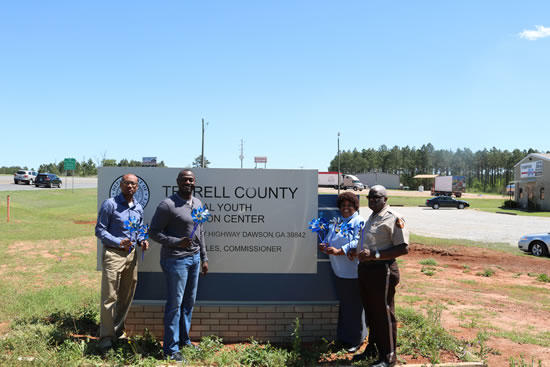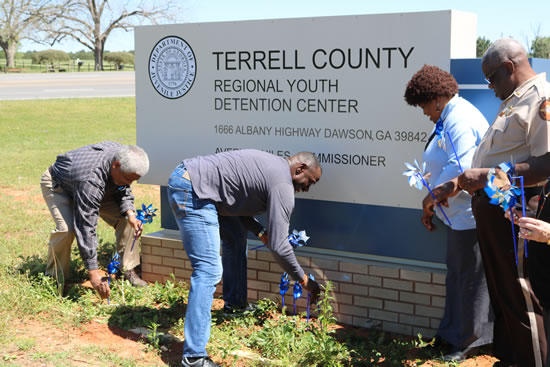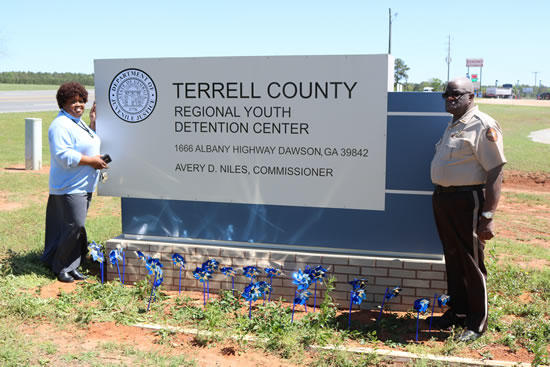 JEFF DAVIS CSO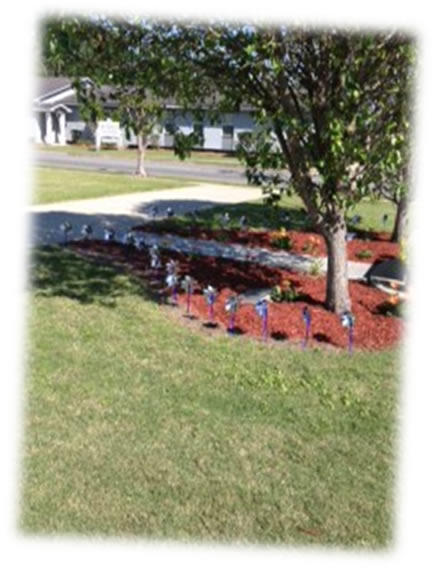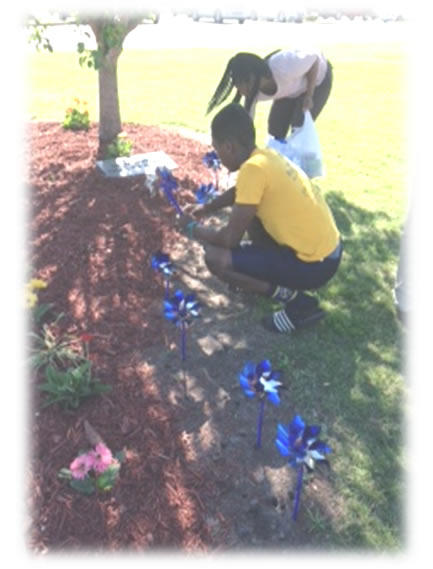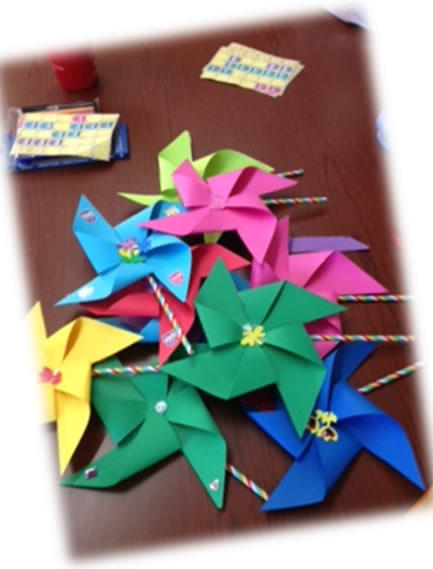 EVANS COUNTY COURTHOUSE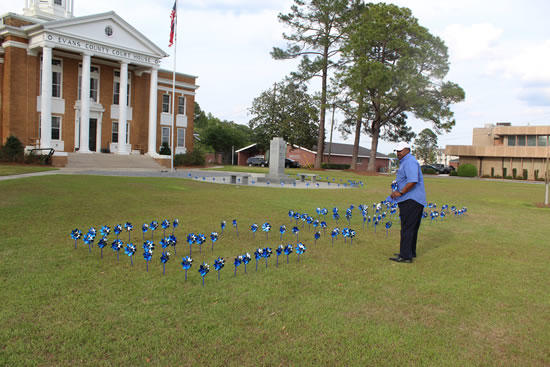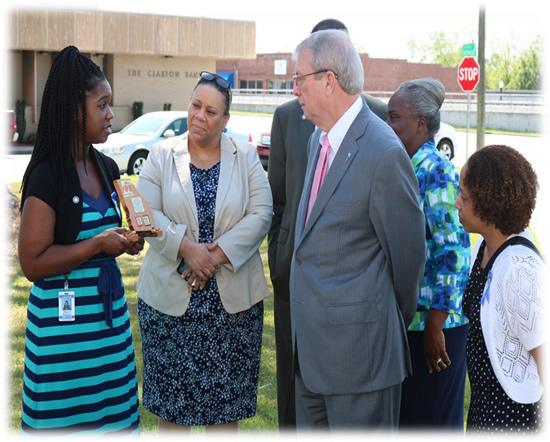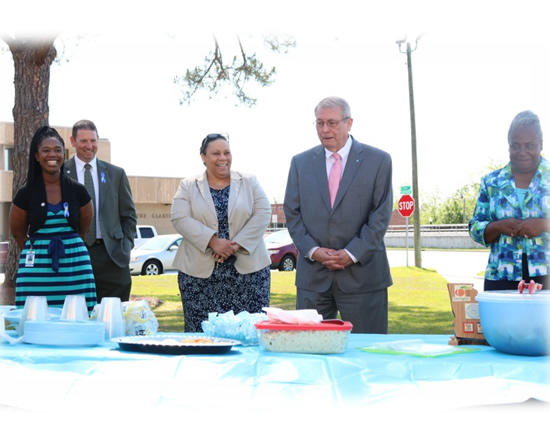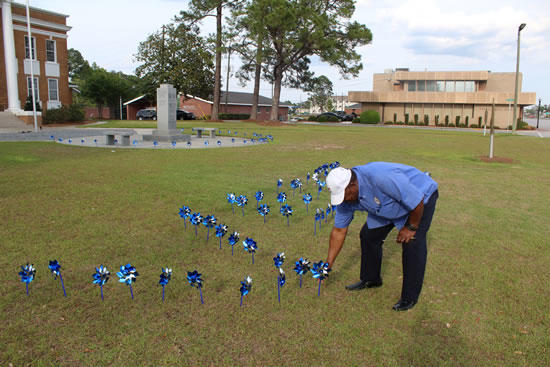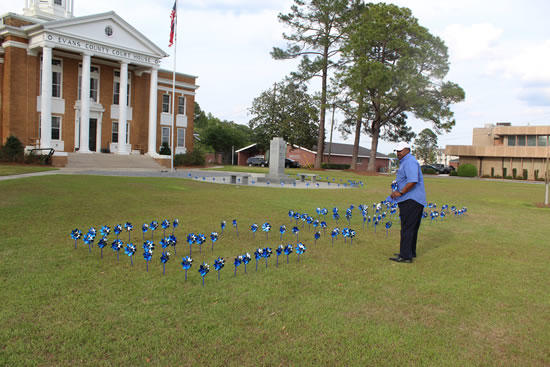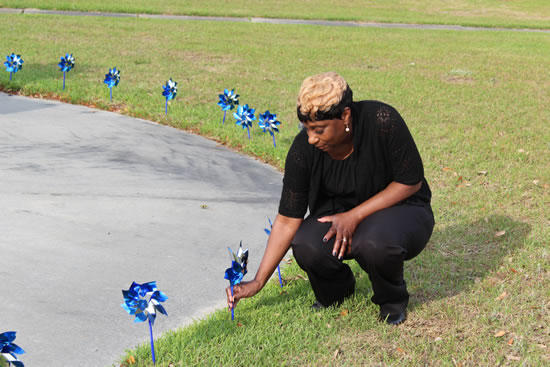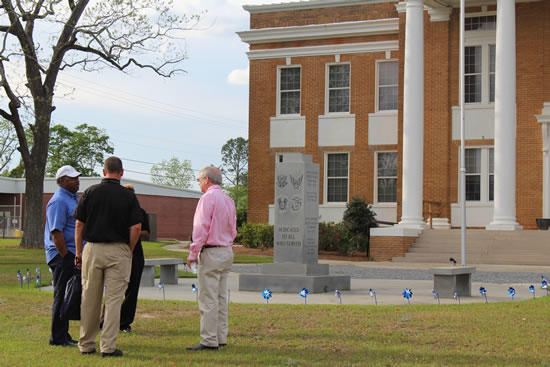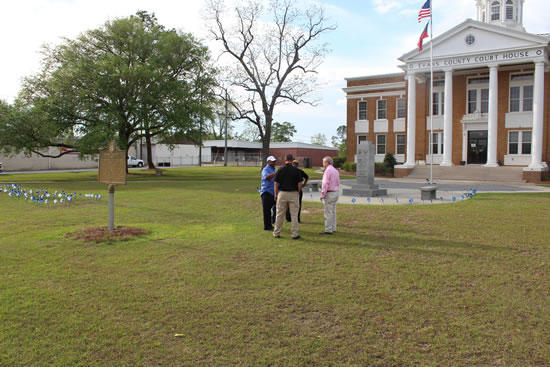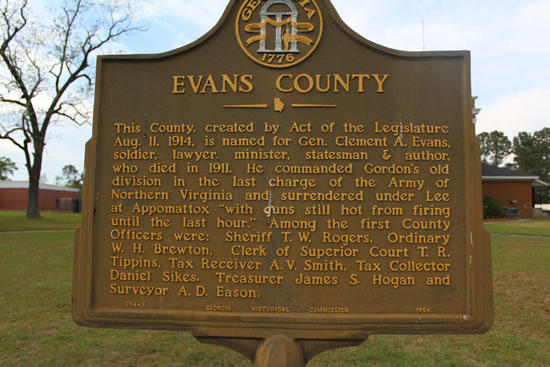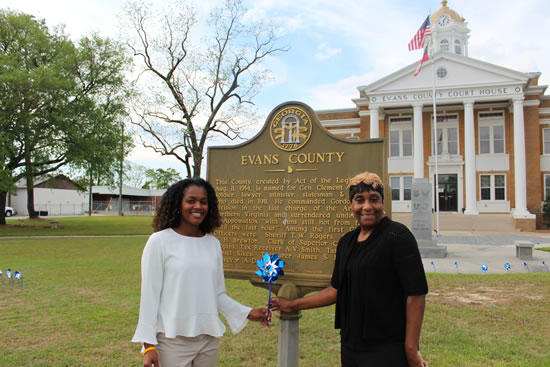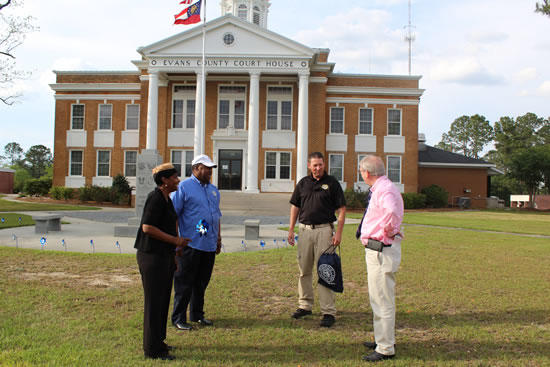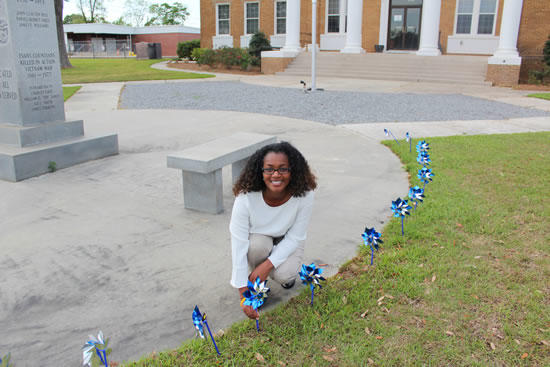 BIBB MSC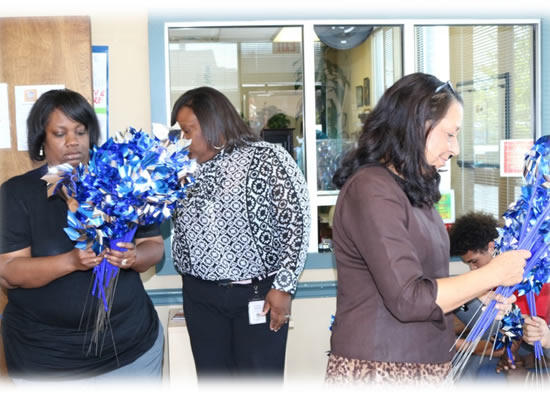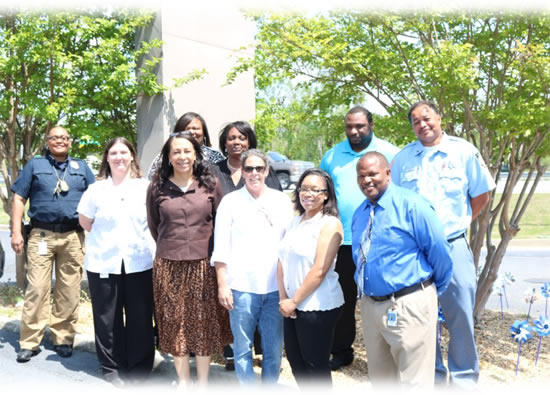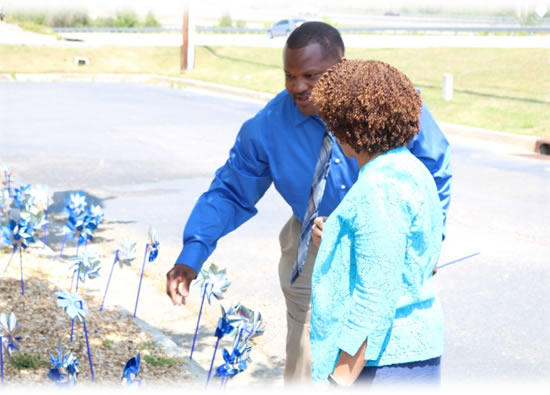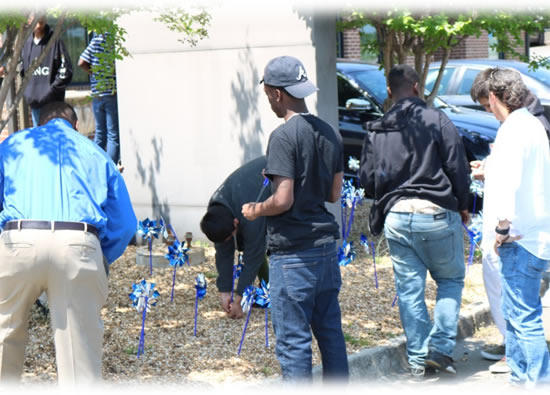 SAVANNAH RYDC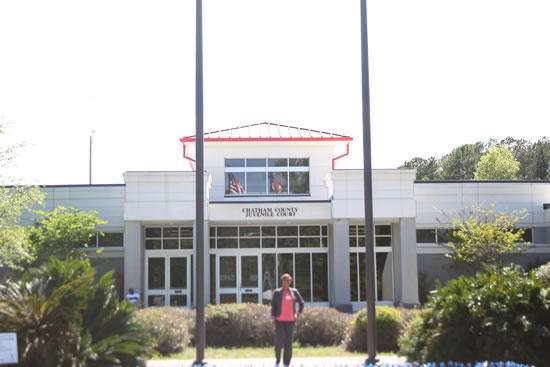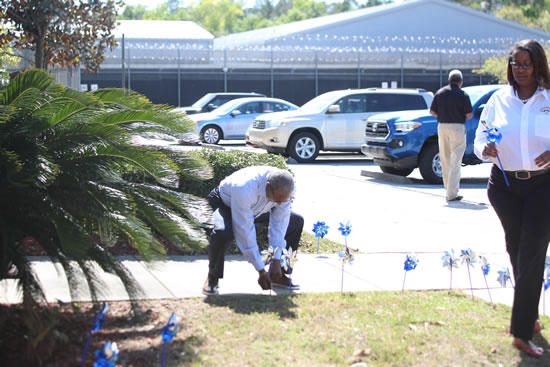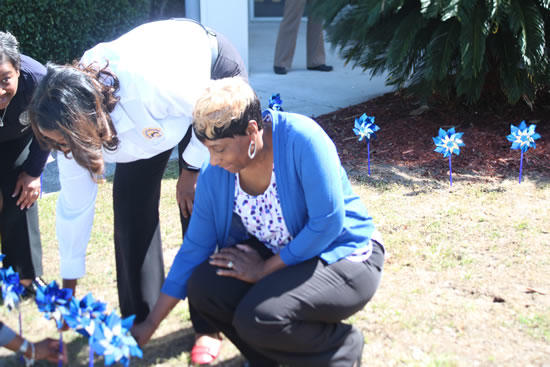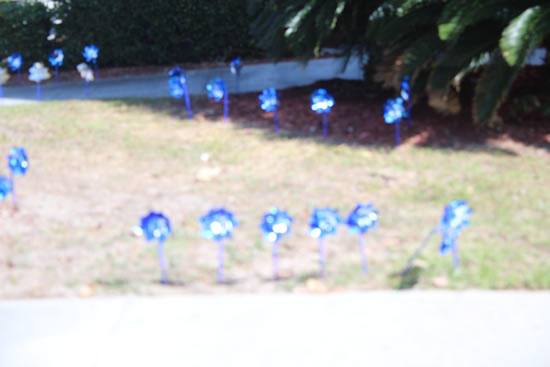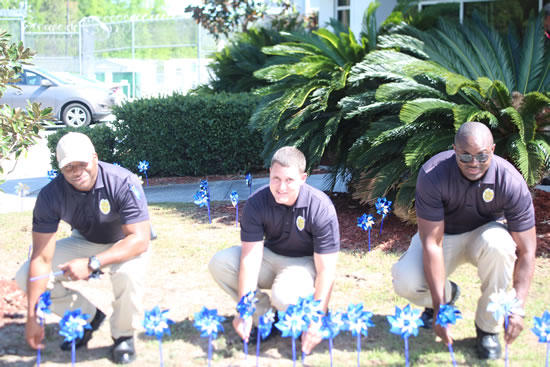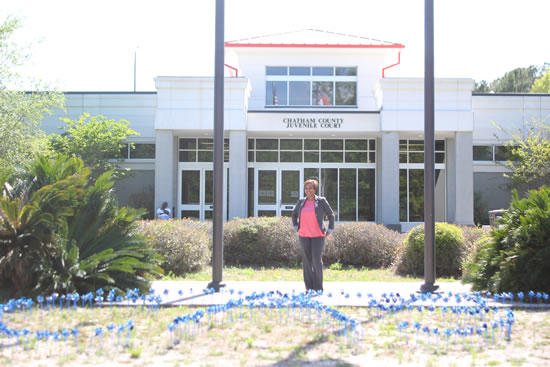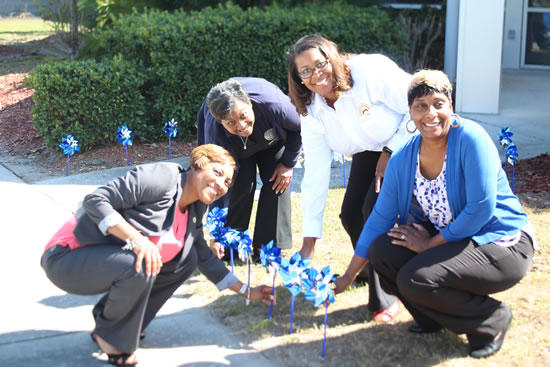 Partners and participants for the Pinwheels for Prevention program included:
Athens-Clarke County DFCS Director, Dawn Criss
DJJ Victim Services Staffmember Loronda Giddens
DJJ Victim Services Director Latera Davis
DJJ District Director Todd Bentley
DJJ Assistant Deputy Commissioner Victor Roberts
Metro RYDC Staffmember Shante Farley
Metro RYDC Staffmember Tasha Kenty
DJJ Volunteer Coordinator Christi Turner
Pastor Colonel Henderson Carswell
Bibb County Sheriff's Office Executive Pastor, Minister Alexander Gibson
Bibb County Sheriff David Davis
Macon Judicial Circuit District Attorney K. David Cooke Jr.
Macon-Bibb County Solicitor-General Rebecca L. Grist
Macon Judicial Circuit Public Defender Rick Waller
Vice Chair Christine Watson, Middle Georgia Alliance to End Regional Trafficking
Kemberlie Sanderson, Manager, The Crescent House, Navicent Health
Frank Mack, CEO, Family Counseling Center of Central Georgia
Shannon E. Fields, Director, Bibb County Department of Family and Children Services
Kawain Reese, DJJ Program Coordinator
Lalita Appling, DJJ Program Coordinator
SMRT Staff
Rockdale RYDC Staff
Terrell County Sherriff John W. Bowens
Terrell County RYDC Director Sandra Cawthon
Tim Worley
DJJ Regional Volunteer Coordinator Kawain Reese
Terrell County RYDC staff
JPPS Ryan Ledbetter
JPPS Jan Stone
DJJ Regional Volunteer Coordinator Cynthia Joyce
Victim Advocate Tiffany Robinson
Judge Benjamin P. Brinson
Evans County Court Services Office staff
Evans County Sheriff's Department
DJJ District Director Patricia Merritt
Department of Family and Children Services staff
DJJ Board Member Dr. Thomas Coleman
DJJ Assistant Deputy Commissioner Debbie Alexander
DJJ District Director Marcia Daniely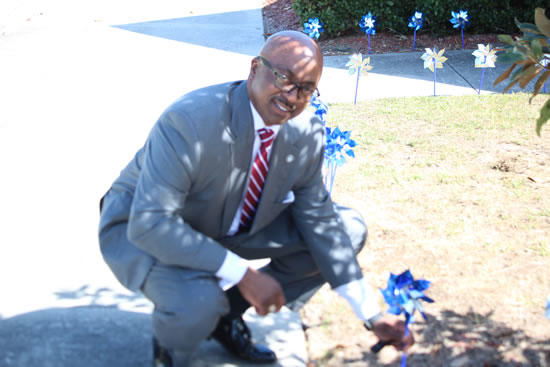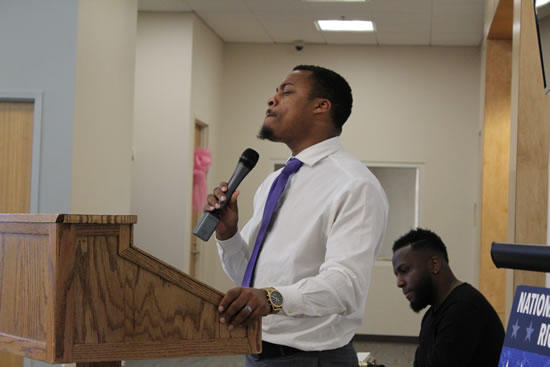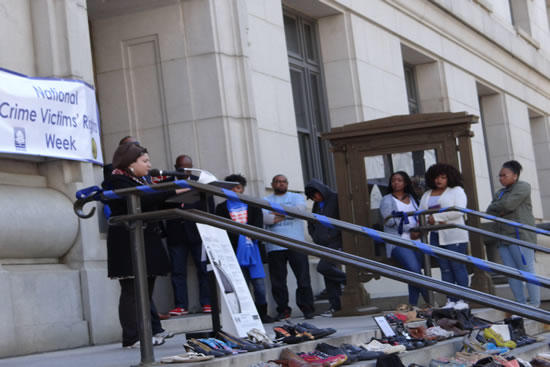 Guest speakers were also an important part of the 2017 NCVRW for the Department of Juvenile Justice. Three of the main speakers for this year's event included Keisha Head at the Macon YDC, Patty Zeitz at the Atlanta YDC and Monique Rivarde at the Marietta RYDC.
On April 3rd, child sex trafficking activist and survivor Keisha Head spoke to the youth of the Macon YDC. A nationally recognized speaker and advocate seeking the end of all forms of human trafficking, Ms. Head told her personal story of being a victim-turned-survivor to help provide a voice for victims who are not able to speak for themselves.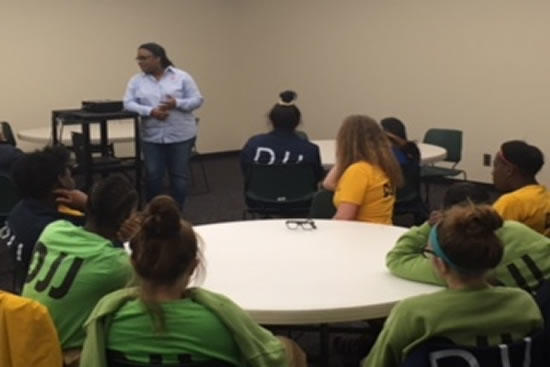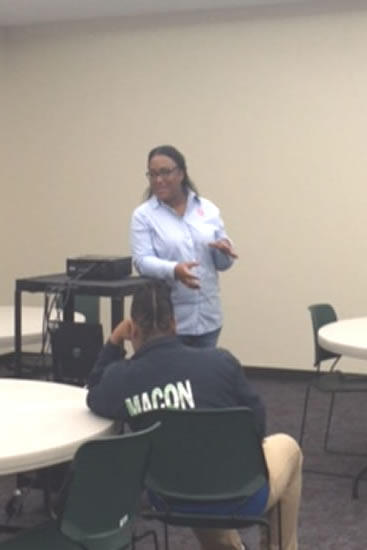 On April 4th, Patty Zeitz, mother of Danny Zeitz, told the story of the life and death of her son who was robbed and murdered by two teens using the online website Craigslist. An educator for over 30 years, Patty Zeitz stressed the importance of positive mentoring of youth to avoid a lifetime of tragedy in a single moment.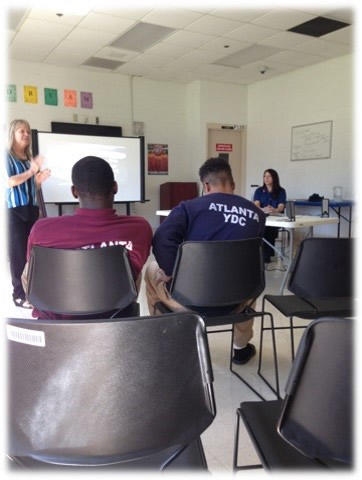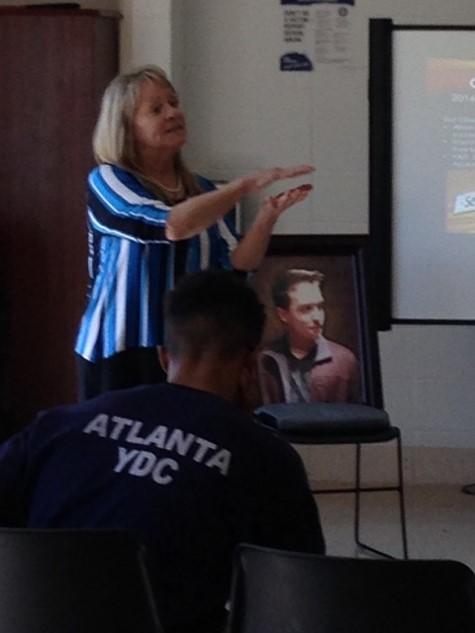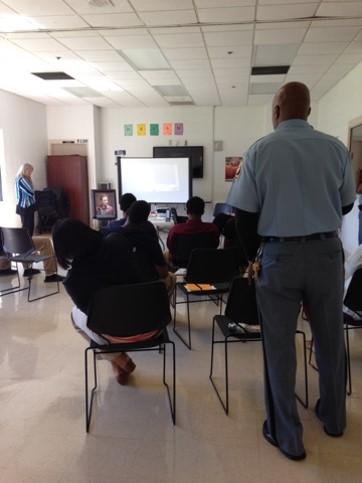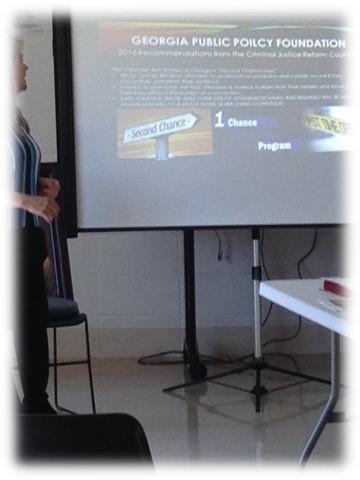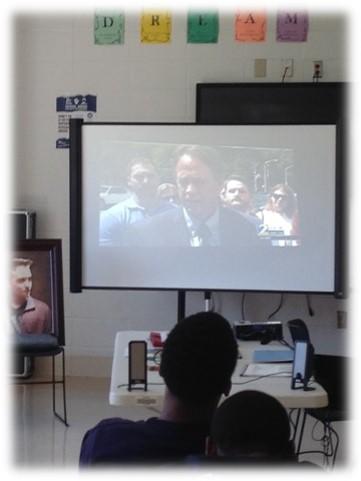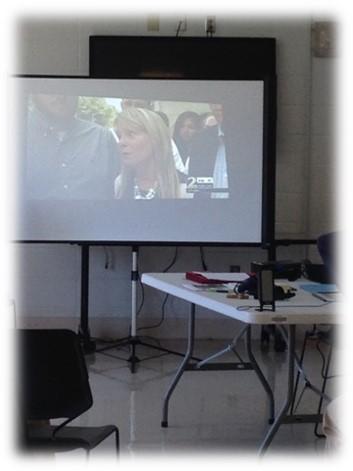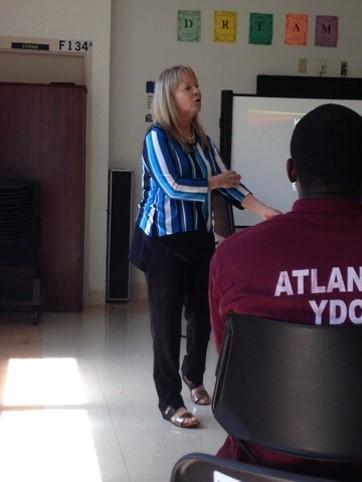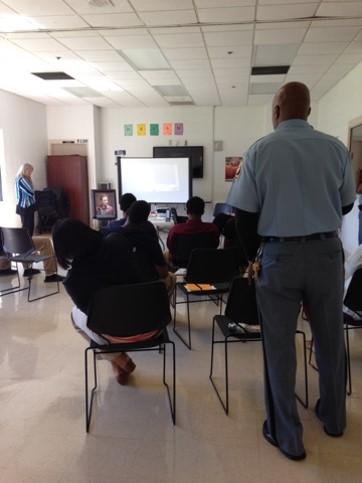 Youth at the Marietta RYDC heard about the life and death of Bobby Tillman from his mother Monique Rivarde. In 2010, Bobby Tillman was randomly beaten to death by teens outside of a local house party in Georgia. His death, while horrific, has helped raise awareness of the impact of teen violence while helping to inform our youth that their voices are being heard when it comes to the subject of bullying and peer anger.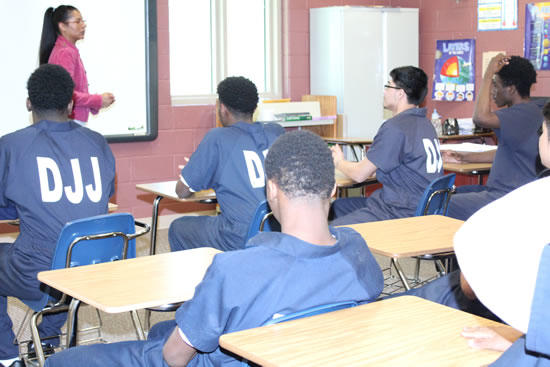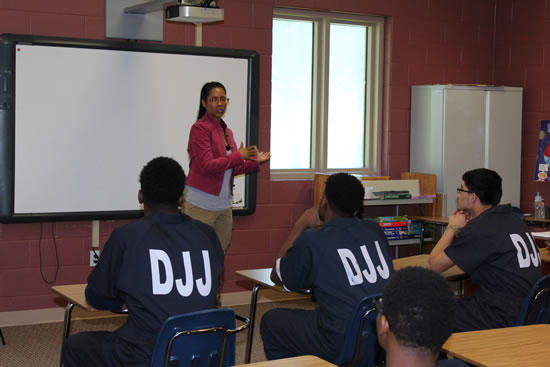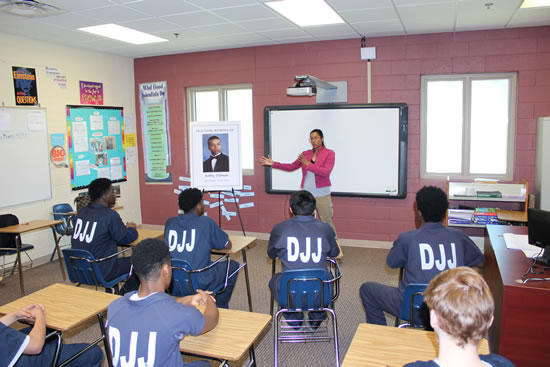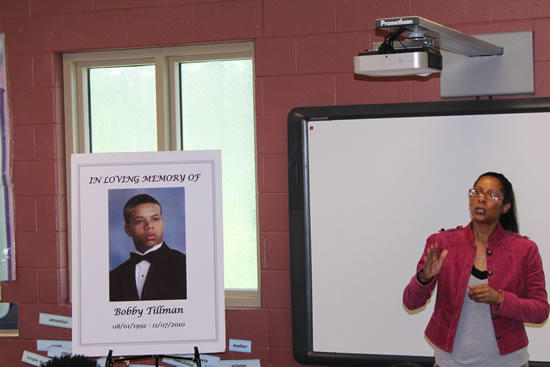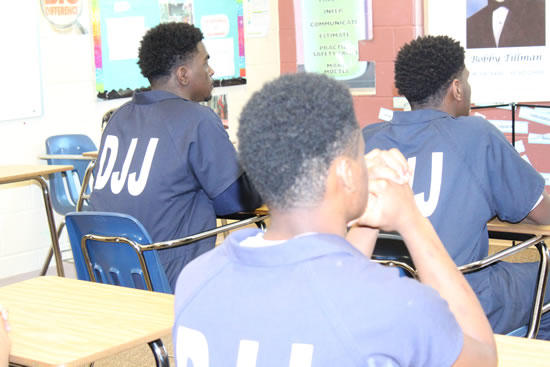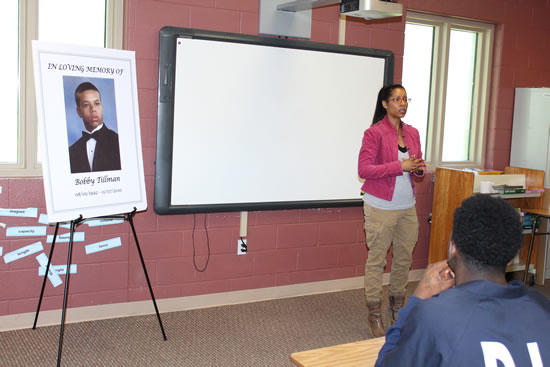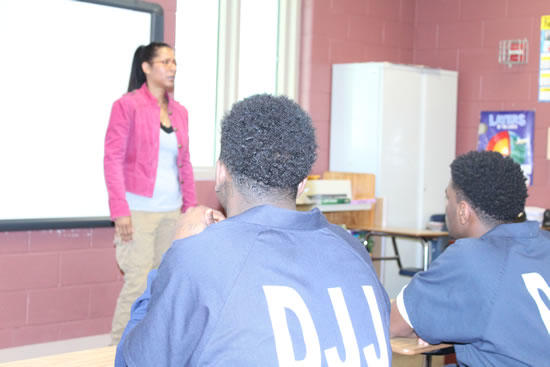 DJJ also had a prominent role in a series of memorial services for crime victims in Georgia. Some of the major victim recognition programs held included the McDonough Memorial Service, the Georgia Center for Child Advocacy Flag Raising Memorial, the Fulton County Crime Victims' Rights Ceremony and the NCVRW Columbus Memorial Service.
On March 30th, the 15th annual McDonough Memorial Service and Law Enforcement Recognition Ceremony was held at the Shiloh Baptist Church. A highlight of the service was a talk by Christy Sims, a survivor of a violent domestic attack, who spoke about her struggles to overcome the incident and persevere by bringing awareness of domestic violence to others in her community. The Henry County Police Department, Henry County Solicitor General Trea Pipkin and the founder of the Haven House domestic abuse shelter were all recognized during the service.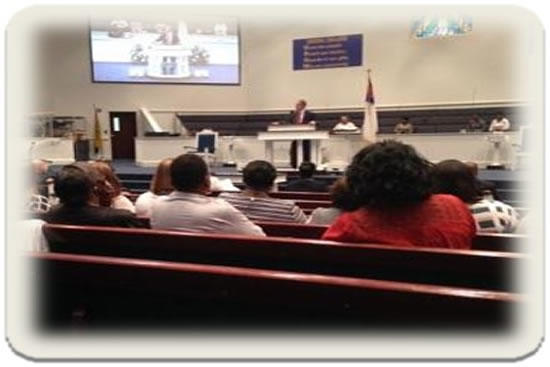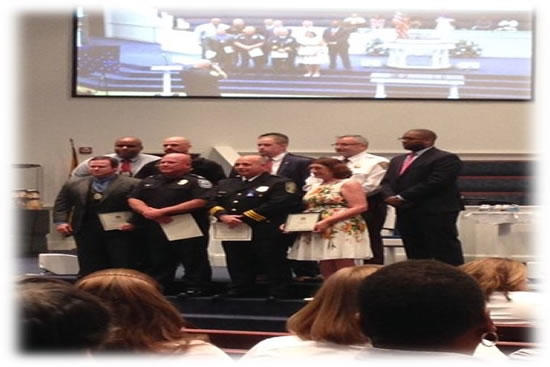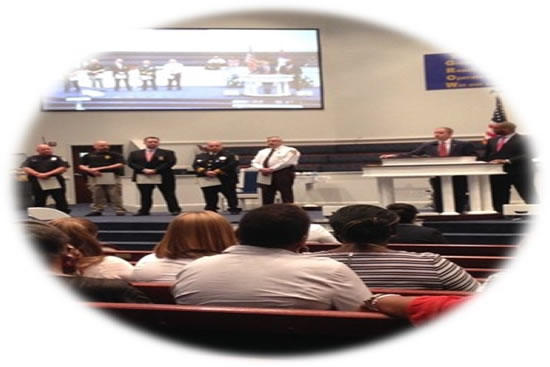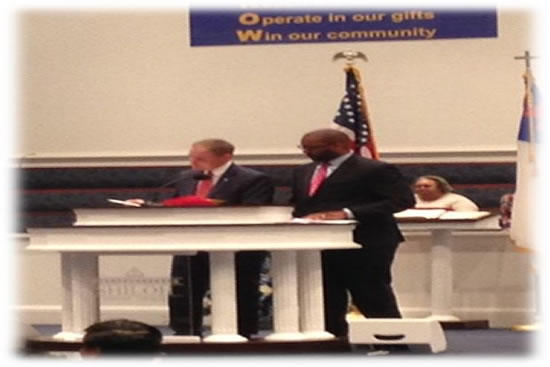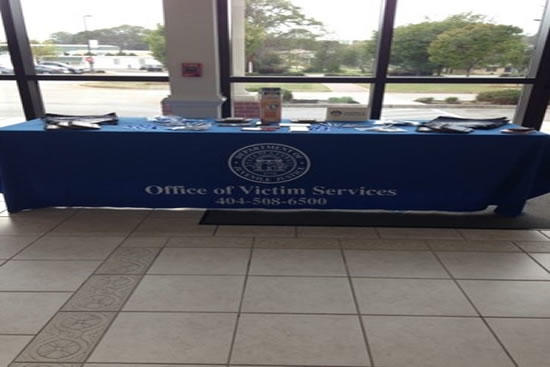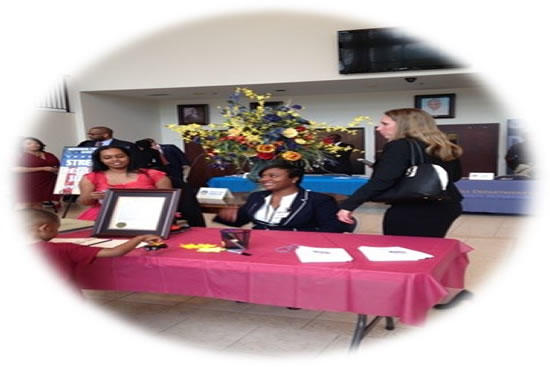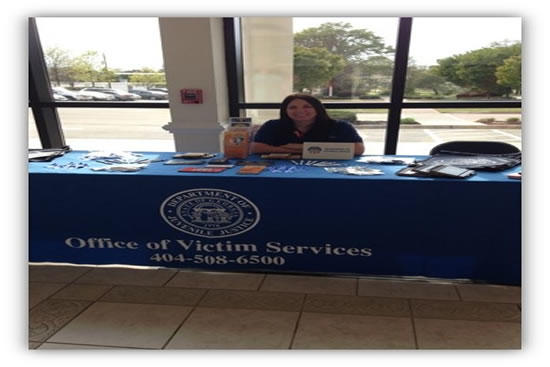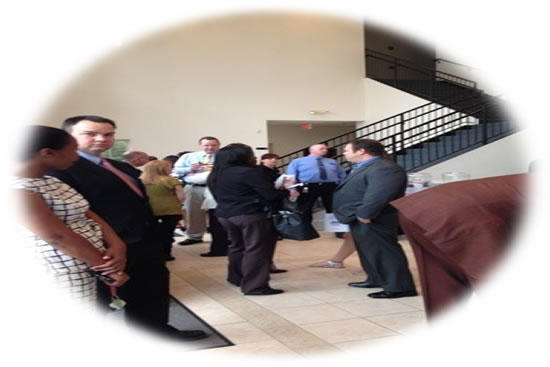 On April 4th, the Georgia Center for Child Advocacy (GCCA) hosted a Flag Raising Memorial featuring Fulton County District Attorney Paul Howard and DeKalb County District Attorney Sherry Boston. Event attendees stood together as a flag was raised in remembrance of the 47 children who have died from violence in Fulton and DeKalb counties over the past years. As memorial pinwheels were placed on the GCCA grounds, the names of the child victims were read as a reminder of the damage that child abuse causes each and every day.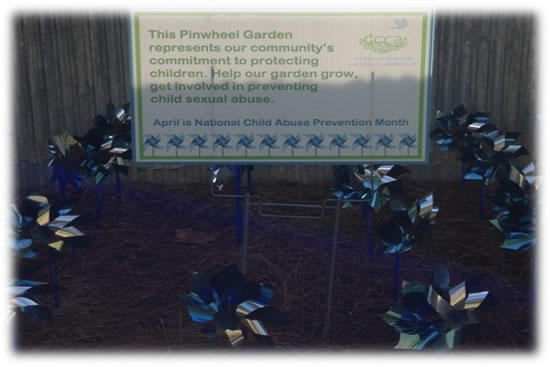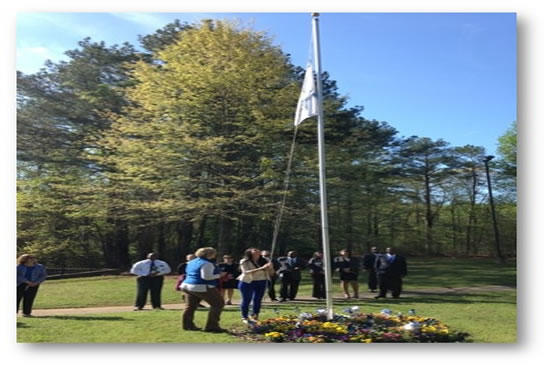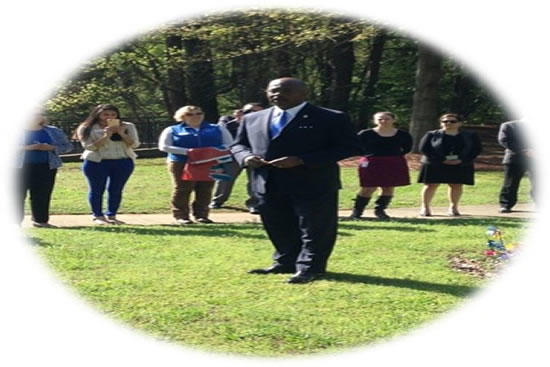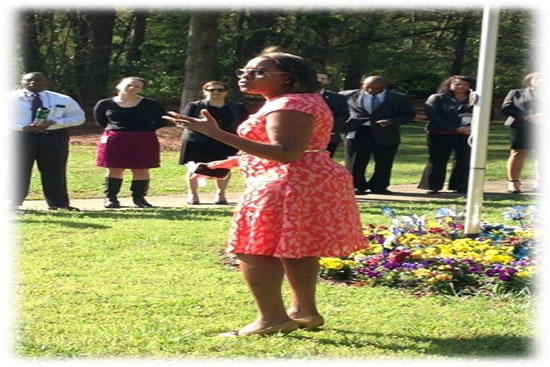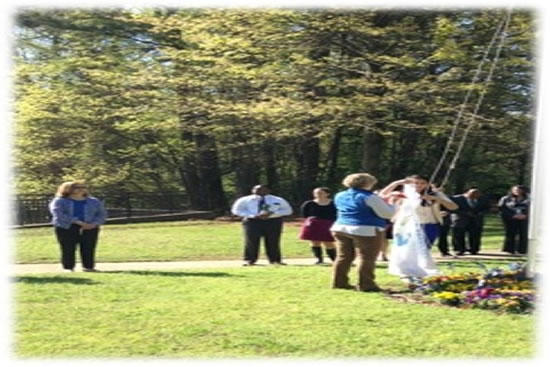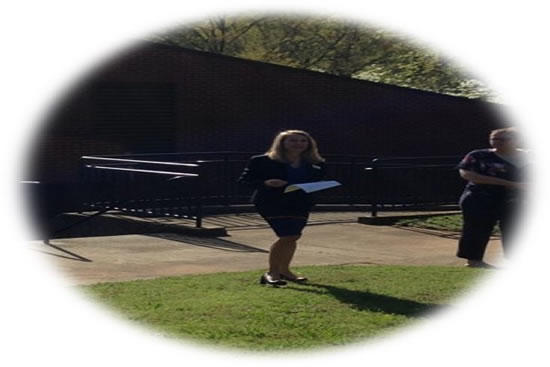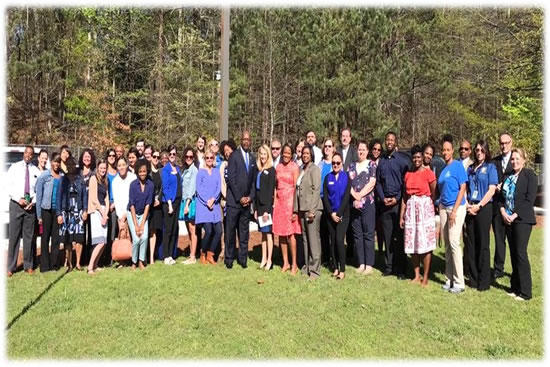 On April 7th, Fulton County hosted a Crime Victims' Rights Ceremony at the Lewis Slaton Courthouse steps in Atlanta. Featuring participants from the CJCC Victims Compensation Division, Atlanta Legal Aid Society, Atlanta Volunteer Lawyers Foundation, Tapestri, Ahimsa House, Georgia Center for Child Advocacy, Grady Rape Crisis Center, Georgia State Office of Victim Advocacy and DJJ, the ceremony featured the placement of hundreds of pairs of shoes to represent an individual story of violent crime in the area. Fulton County District Attorney Paul Howard spoke on the need for community education to help stop violent crime. Speakers and survivors of a wide range of incidents including homicide, child sexual abuse and domestic violence shared their experiences.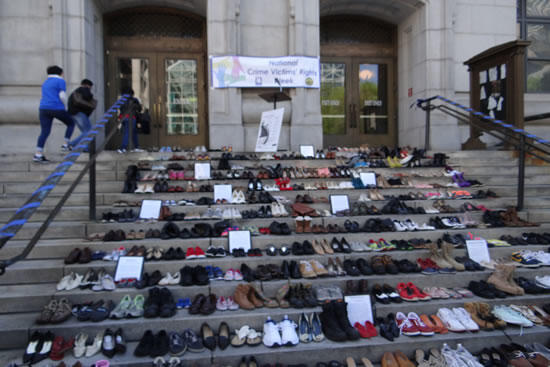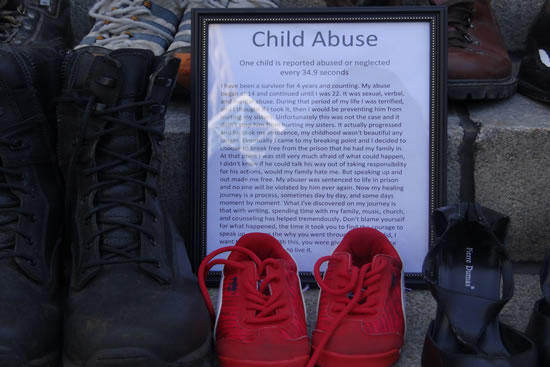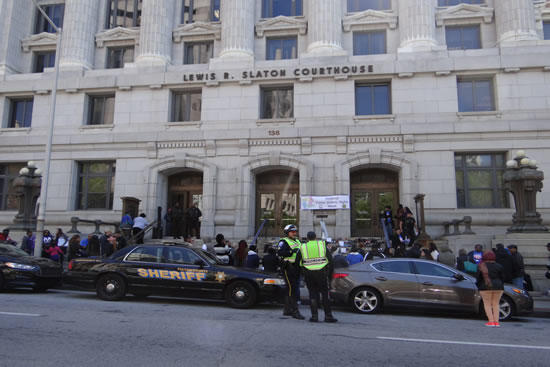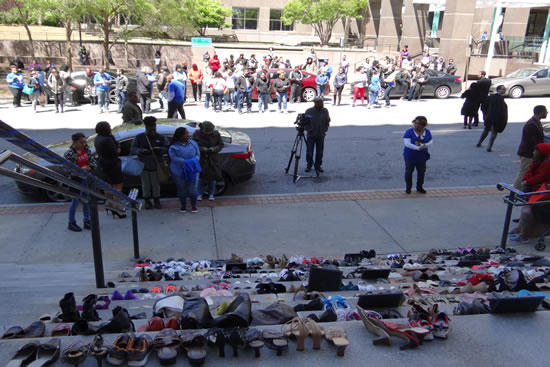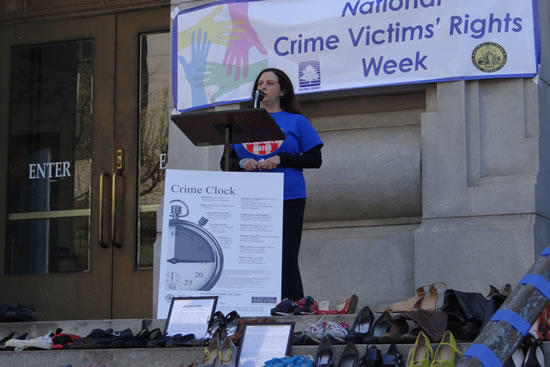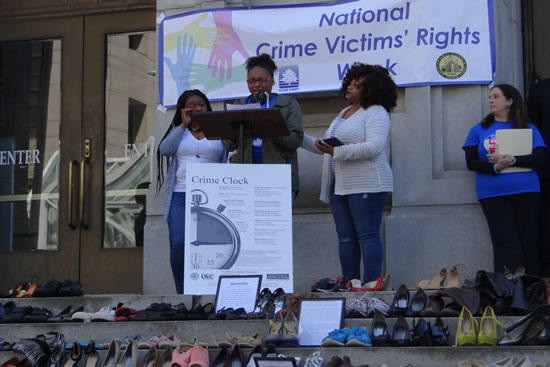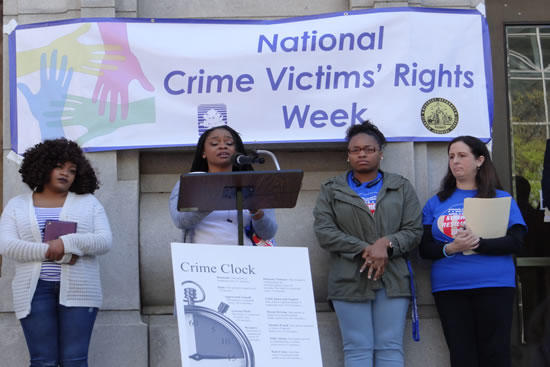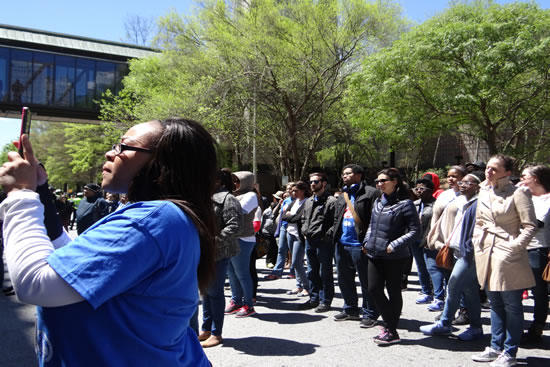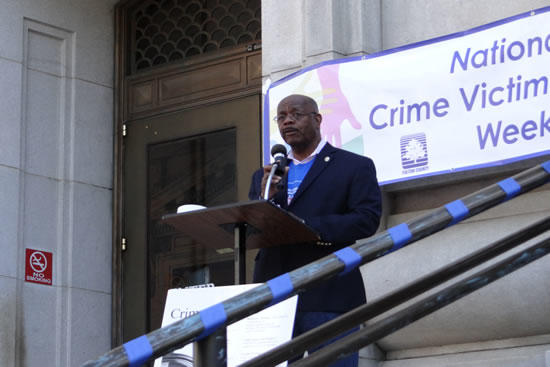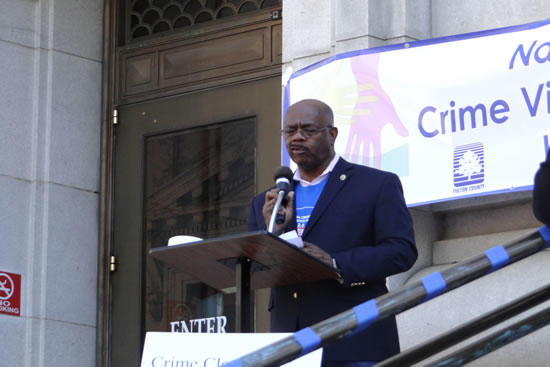 Columbus held its 2017 NCVRW Memorial Service on April 8th at its Government Center. Among those who attended the Columbus event were individuals from CJCC Victims Compensation Division, The Tapestries Group, Mothers Against Drunk Driving, Sexual Assault Support Center, Rainbow Care Mental Health Counseling Services and the Muscogee County Marshal's Office. After a brief ceremony featuring the Central High School JROTC, guest speaker Shameika Averett spoke about the loss of her daughter, sister and mother in a triple homicide in 2016. Following the speakers, an remembrance tree was created featuring the placement of individual ornaments for each local victim of crime the previous year.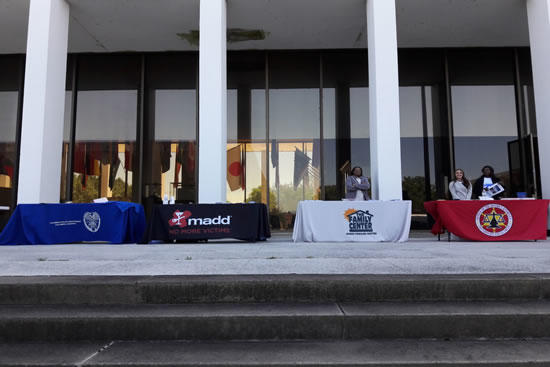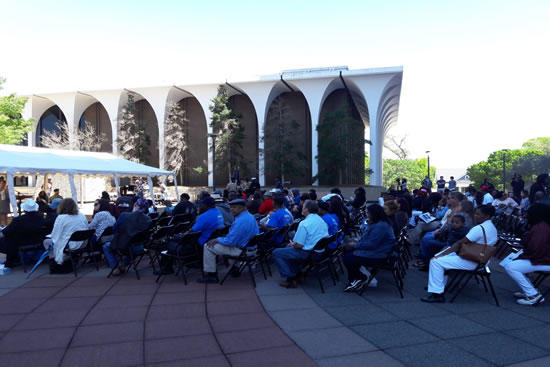 Youth in DJJ facilities also had the chance to reflect on the importance of National Crime Victims' Rights Week. Students at the DeKalb RYDC made pallets to represent Strength, Resilience, Justice - reflecting a vision for the future in which all victims are strengthened by the response they receive, organizations are resilient in response to challenges and communities are able to seek collective justice and healing. After the creation of the pallets,  they were donated to either the Georgia Coalition Against Domestic Violence or to Kimya Motley, founder of Haven of Light International.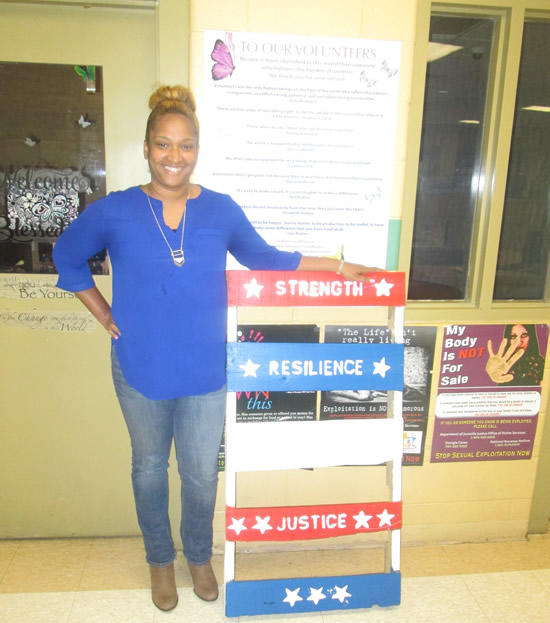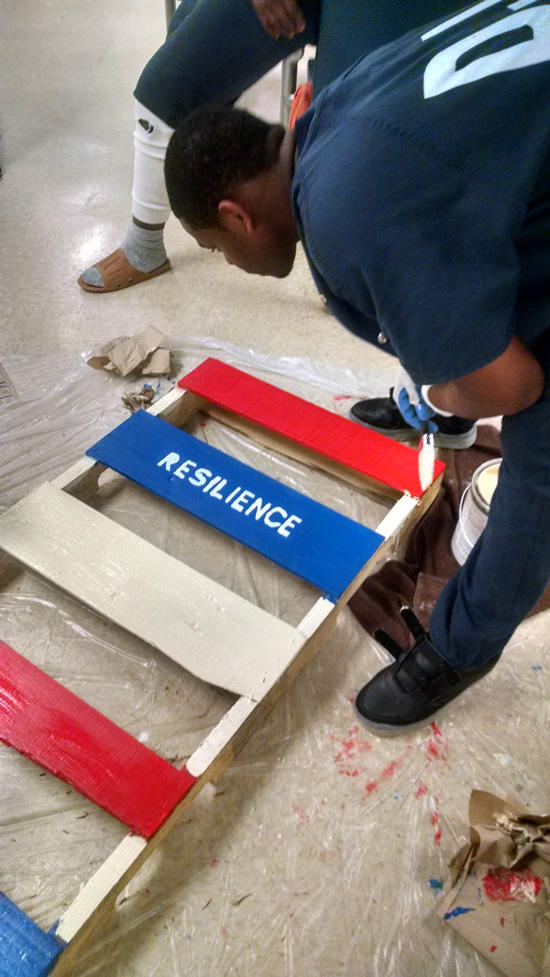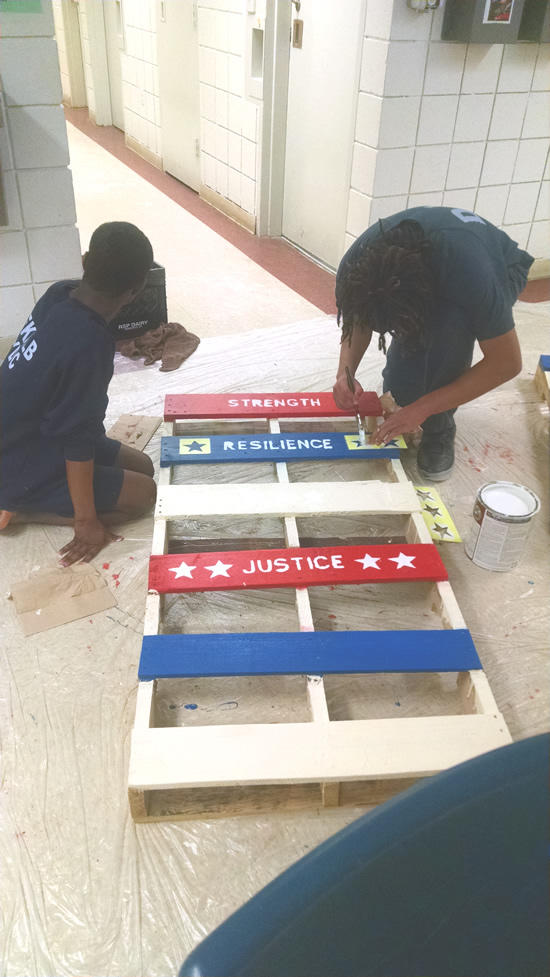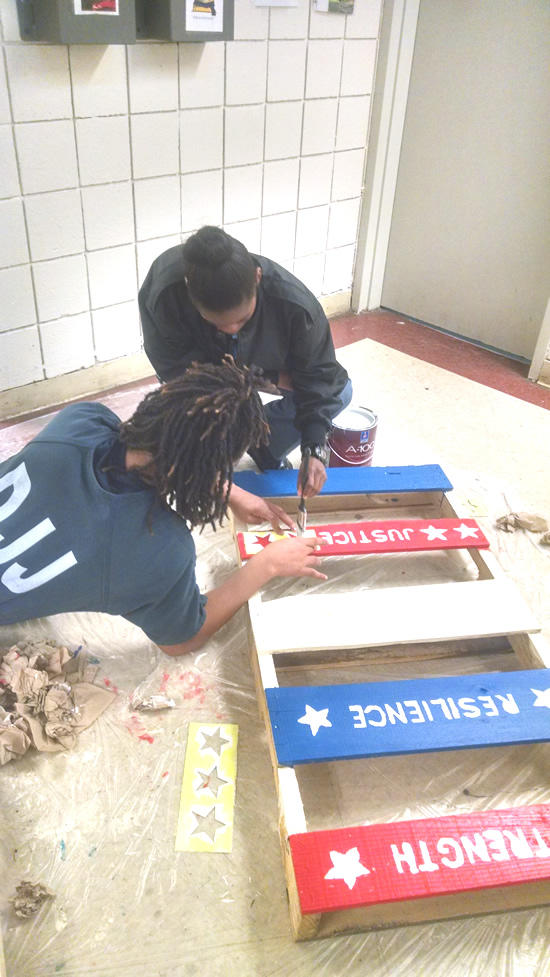 For more information on victims services in the USA, visit the National Criminal Justice Reference Service (NCJRS) at http://www.ncjrs.gov/. The Department of Juvenile Justice's Office of Victim Services can be found online at http://www.djjnewsandviews.org/victimservices/.
<div class="statcounter"><a title="godaddy tracker" href="http://statcounter.com/godaddy_website_tonight/&amp…; target="_blank"><img class="statcounter" src="http://c.statcounter.com/7906385/0/32260355/1/&…; alt="godaddy tracker"></a></div>